Today's real wedding has so much eye-candy! We don't even know where to start… the lovely ceremony details, the decor, the incredibly cute bridal shoes, the cake… we're gonna let the photo's speak for themselves! Beautifully taken by Jacques from Real Simple Photography.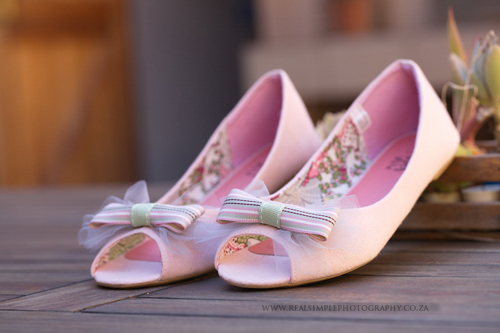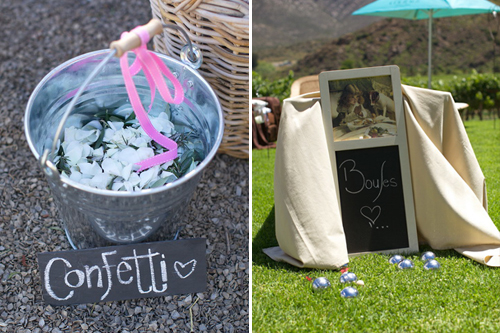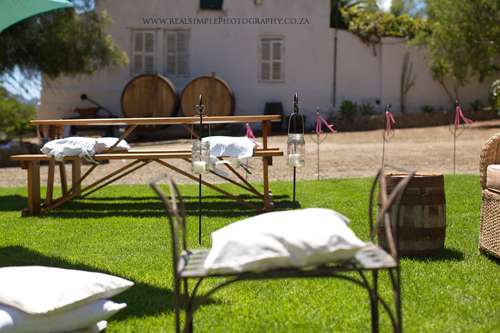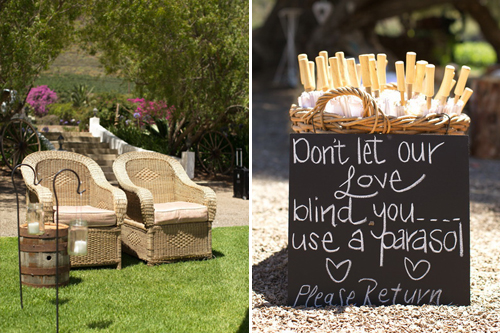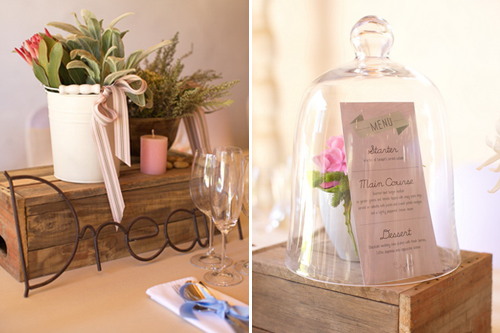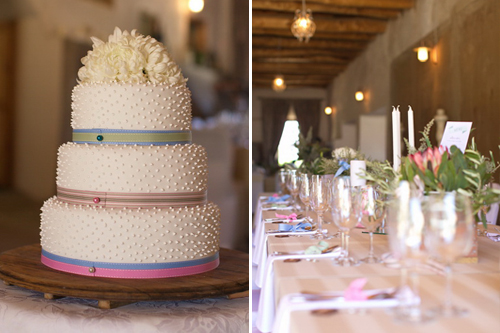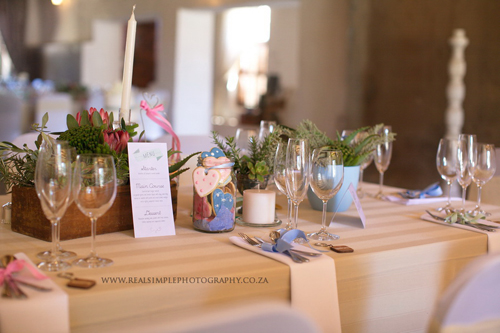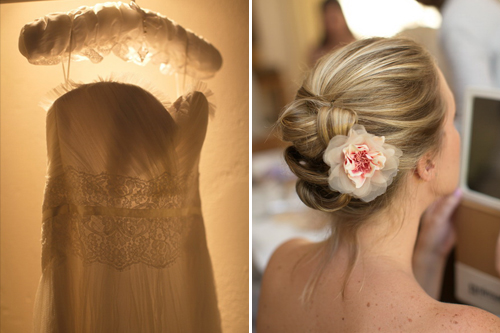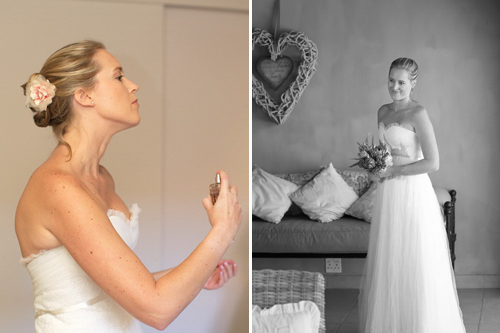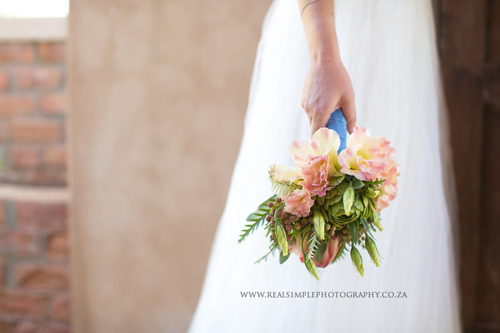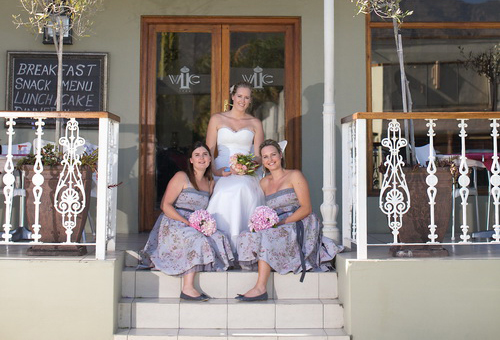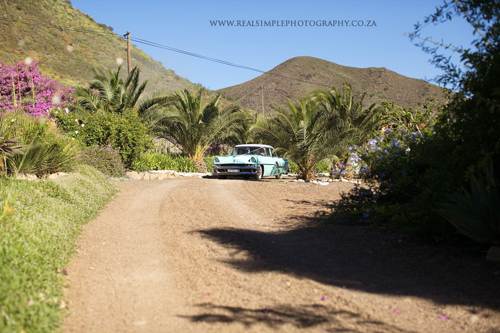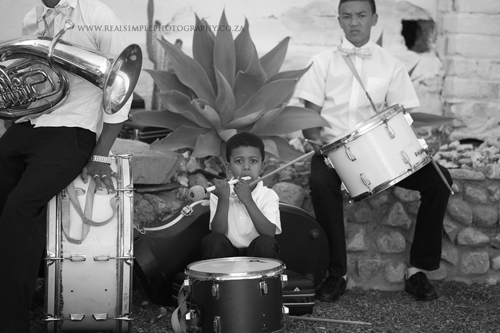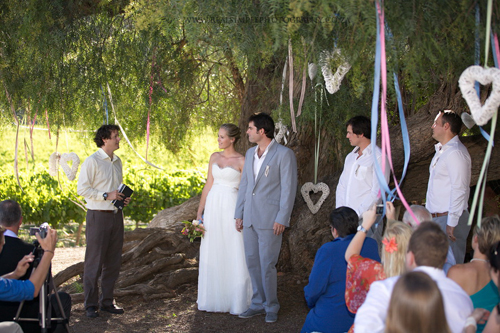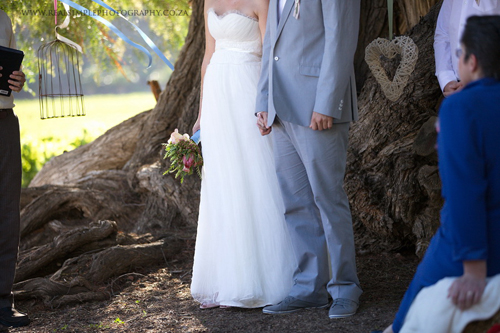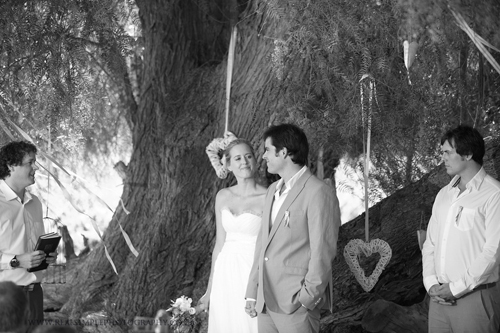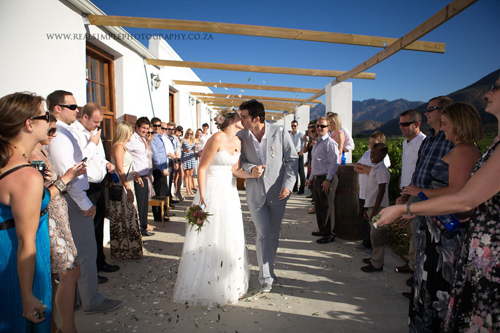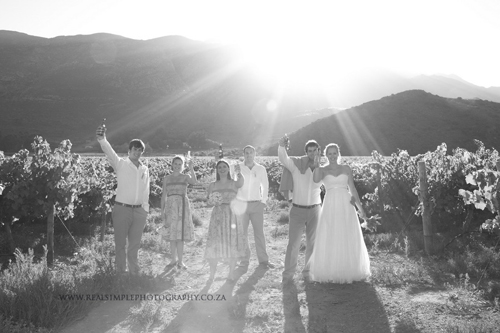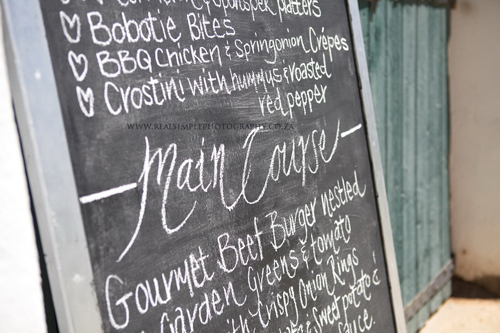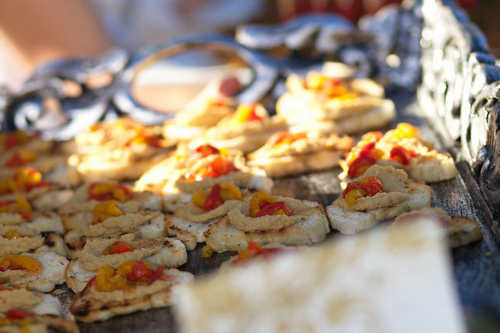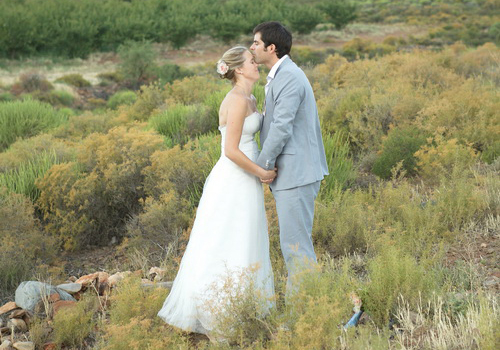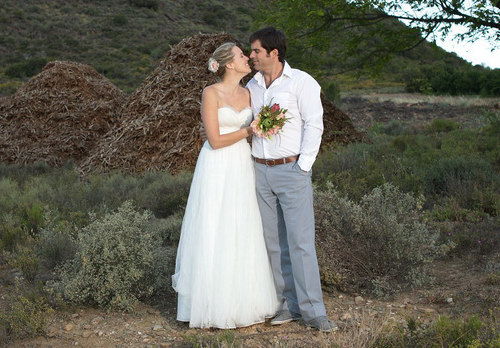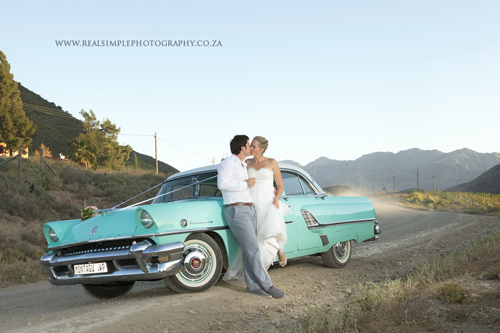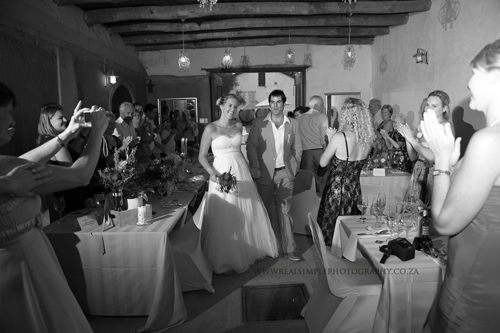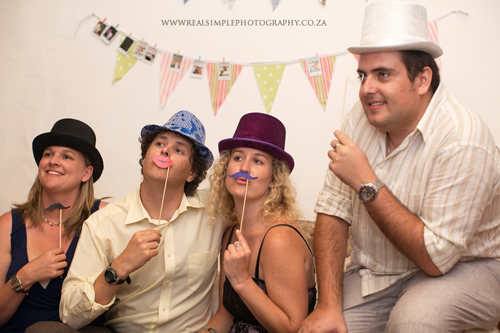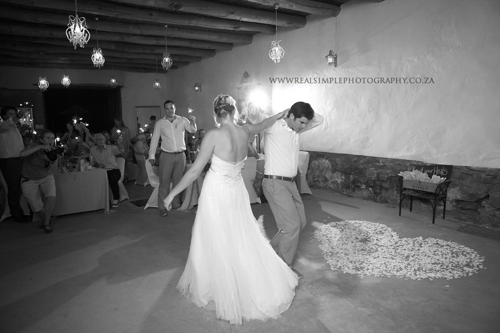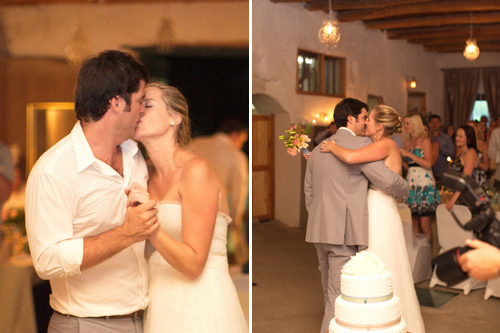 About the couple
Bride: Cairey, 31, Event Manager
Groom: Neil, 31, Account Manager
How did you meet?
We initially met in Johannesburg at a concert through a mutual friend, then we only saw each other again by chance a few months later and got together after that.
How long were you together before the wedding proposal?
We were a couple for just over three years when Neil proposed which meant we were together for four years when we got married.
Tell us about the proposal
Neil: 'I booked a hot air balloon ride in the Cradle of Human Kind on a Saturday morning with a table laid out for breakfast afterwards (with flowers and champagne). On the day of the planned proposal it was raining and the balloon company phoned at 4am to say the ride was cancelled. I had to think quick and made up a story as to why we had been woken up so early. At breakfast time I took her to the launch site anyway where I proposed at the dam with Zebras in the background. We had our champagne breakfast and afterwards. The weather cleared up on the Sunday and we got to go on our balloon ride as an engaged couple.'
How far in advance did you choose to have your wedding after the proposal? And, why?
It worked out to about 8 months after the proposal. We did want to wait until the next year to get married and the timing was good for family and friends coming from overseas.
How did you go about the wedding planning process?
I am an exhibition and event manager for a décor exhibition, so of course everything had to be planned to the T. However, I was unfortunately not one of those little girls who had dreamed of her wedding day all her life, so only once I was engaged did I even start thinking about what I wanted for the big day.
Once the venue was booked, I started the research and there was only one word to describe it – overwhelming! There are so many ideas and gorgeous inspiration on all the blogs, websites and magazines. It's hard to decide on exactly what you want. I suggest once you have made a decision about what you want you MUST try stick to it – don't look at too much after that otherwise it just confuses you. If you do decide to carry on searching for ideas, try stick to only the ones that fit your theme and venue.
I started putting an electronic mood board together first which I added and deleted things from until Neil and I were happy with the general look, feel and direction which was a more relaxed but pretty farm style wedding. Once we had the basics right we could then start looking at more detail like décor, dresses, invitations etc.
When I met with the venue two months before to discuss all the arrangements (they did the décor and flowers) I had a full brief and a clear idea of exactly what I had in mind which made it so much easier for all of us.
I'm not going to lie, it was very time consuming and I spent many evenings with my laptop but don't let small things get you down, remember why you are getting married and don't forget to include your hubby-to-be and family in the planning process. It really helps having people to do small tasks to make the process easier for you.
In the end my venue and other suppliers really came to the party to make sure the day was spectacular and I got everything I wanted and more.
Wedding Details
I will let the pictures speak for themselves but it was truly a wonderful and special day, the weather was perfect, the setting and venue was awesome, food was delicious, and everything went according to plan – just perfect!
If I could change one thing I think I would have started the ceremony a little earlier just so that I had a little bit more time to enjoy the whole experience.
Tips and / or advice for future bridal couples?
Cairey: 'I know everyone says this but don't sweat the small stuff. If your ribbon is tied the wrong way it's not the end of the world and quite frankly no one else will even notice. I also suggest you do up a brief for your photographer beforehand to make sure you get all the important shots of family friends etc. Lastly – if you have time go to the venue before your ceremony and take in all the details of the tables, the flowers and the décor. Remember you are usually the last one to enter your reception venue and you will never get to see how beautiful everything looked once the guests are already there.
Neil: 'Keep it light and simple, the day will always turnout well, remember to enjoy it as it goes very quickly. '
What was the most memorable part of your wedding day?
Neil: 'I think for me it would have to be the ceremony and then the photo's when it was just me and my wife. The food was also awesome!!'
Cairey: 'It's really hard to pick just one part of the day. I think getting ready with the bridesmaids, mom and gran was lots of fun and really special, then of course walking down the aisle with my dad. The speeches were also really memorable – parts funny and parts emotional. Also the car broke down when it came to fetch us at the house as we were supposed to leave for the ceremony – that is something I will never forget. I somehow still managed to get there on time!'
Did you go on honeymoon? If so, where? And, why there?
We went on a short break to Sani Valley Lodge near Underberg. Neil surprised me with a honeymoon package and we were really spoilt. It was so relaxing and just what we needed the break after all the busyness of the wedding. We are planning a trip to Italy mid-year and are both really looking forward to that!
Wedding Date and Time: 17 December 2011, 5pm
Number of guests: 80
Service Partners
Venue: Cabrieres, Montagu
Wedding coordinator: Jane Jordaan-Chambers, Cabrieres
Photographer: Real Simple Photography, Jacques Lloyd
Bridal Dress: Didi Couture
Bridesmaids Dresses : Holmes Brothers with lace additions by Didi Couture
Suits: C2 Carducci at Stuttafords
Flowers: Flamboijant Décor
Cake: Cabrieres
Food: Cabrieres