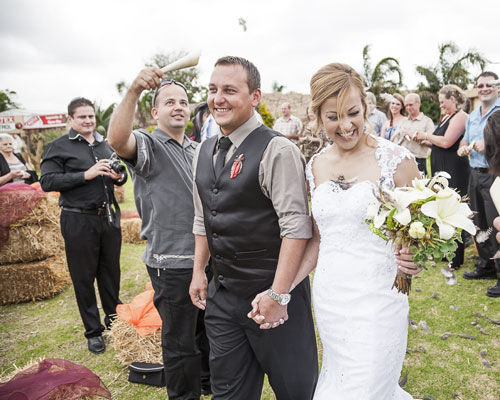 Date and Time: 23 November 2013 at 16:00pm
Wedding Location: Open Sky, Port Elizabeth, Eastern Cape
Number Of Guests: 65
About the bride
26, Jeffrey's Bay, Lawyer.  "Simply coz I love my hubby"
About the groom
31,  self employed, Jeffrey's Bay. "Wanted to spend every moment of my life with her"
How did you meet?  
Through the bride's brother (which is also the groom's brother in law now)
How long were you together before the wedding proposal?
7 years
Tell us about the proposal
Deon proposed on the same day Elaine graduated with her degree in Law Strand, Cape Town.
How far in advance did you choose to have your wedding after the proposal? And, why?
On the exact date we had it because it was on our 10 year anniversary and it was enough time for Elaine to finish her articles before being admitted as an attorney.
How did you go about the wedding planning process? Did you do it yourself? How long was the planning process? How did you find it?
It was planned for months, it had to be unique, work started months before since the bride made all the flower, hearts, roses etc herself.  We decided on a rustic chilli theme and that is where Nandos came in.  Nandos was kind enough to cater our wedding, also their first.
Did you have a hen party / kitchen tea / stag night / bachelor / bachelorette party? If so, what did you do and what did you enjoy most about it?
Yes, the bachelor party was an all nighter where the groom was punished by not having a single drink until midnight. The bride had a kitchen tea and bachelorette party.  I enjoyed having my best friends there.
Wedding Details (the whole story…from start to finish)
I met the man of my dreams and soul mate exactly ten years before our wedding.  It was only fitting that we tie the knot on our ten year anniversary.  We promised our hearts to each other under open skies (@open sky) where the guests all sat on hay bales that formed a spiral isle for the bride.  The theme of our wedding was Rustic Chilli.  All the décor was handmade.
Nando's did the bridal couple a huge favour by doing their catering for the special day.  It fit perfectly with the chilli theme.  The guests loved the food from the entrée to the desert even the coloured champagne made a lasting impression. The red, brown and orange colour-scheme gave a warm undertone to this special day and the burlap, book page flowers and wire ensured the "rustic" feel.  A super special moment was when my husband- to-be walked down and met me halfway in our spiral isle.  ( I chose to walk it alone since my father passed away 2 years ago)  I walked the rest of the isle hand in hand with my best friend and soon to be husband.
Our first dance was through thousands of handmade paper hearts strewn in a heart on the dance floor.
Our song choice was our favourite Daughtry song, with perfect lyrics:
"All that I'm after is a life full of laughter
As long as I'm laughin' with you
I'm thinkin' that all that still matters is love ever after
After the life we've been through
'Cause I know there's no life after you"
Our love for each other is so obvious in all our photos it is plain and simple CHEMISTRY.  Our wedding cake was a Red velvet top cake with 65 Sweety Pies. Every sweety pie had either a small chilli on top or one of the elements that formed the table décor.  Tumbleweed with fairylights was our "stars" in the sky and wooden words whispered inspiration throughout the venue.  Real blood red chillis, seeds and 5 cent coins covered the tables and barrels and  Afrikaans-print overlays and serviettes accentuated the "so-right-from-pinterest" effect.
My wedding gown was designed exactly the way I wanted it, from the lace to the coloured under dress…one word PERFECT.  Our wedding and every aspect of it was so special and made special in some or other way that I will never think "maybe I should have done it differently…".
Tips and / or advice for future bridal couples?
Stay true to yourself and each other's better halves.  When it comes down to planning the wedding, pick your style and stick to it.
What was the most memorable part of your wedding day?
Officially being MRS ELAINE GEYSER
Did you go on honeymoon? If so, where? And, why there?
Leaving for Thailand end of February since the hubby had to work.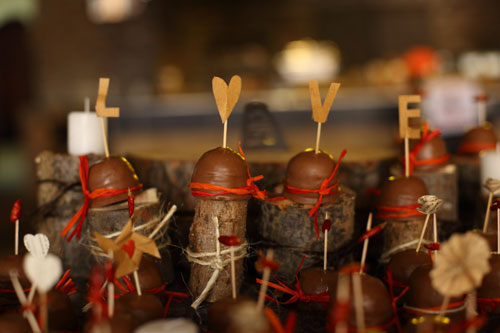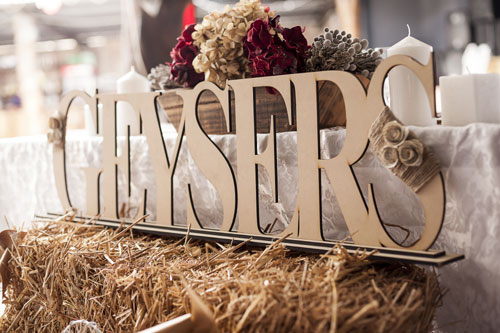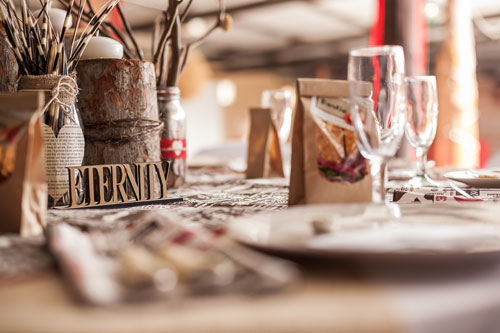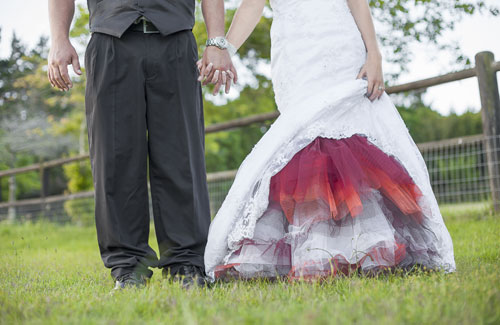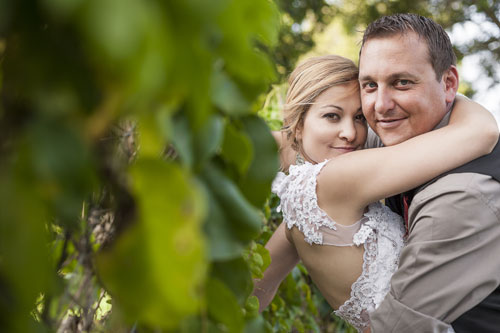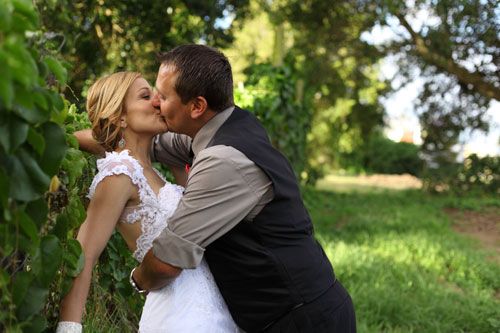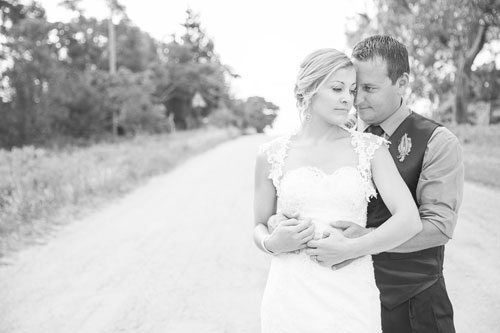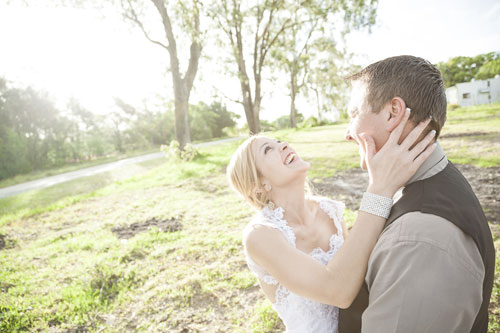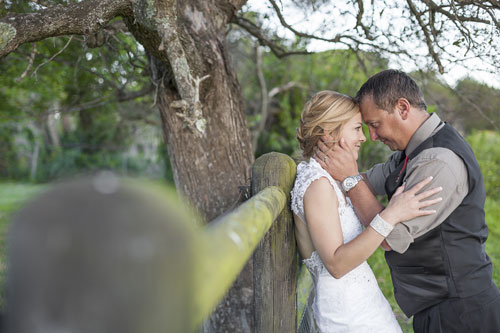 Wedding Suppliers:
Wedding Cake: Red Velvet cake and Sweety pies
Catering: Nandos
Photographer: After Effect Photography
Wedding Dress: Corne Rademeyer
Suits: Heinz in Style, PE