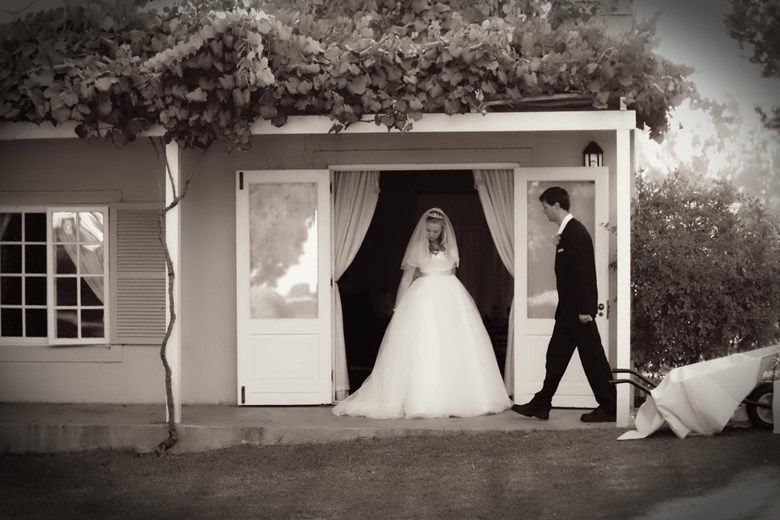 Date and Time: 1 March 2014 at 16h00
Wedding Location: Blue Gum Country Estate, Stanford
About the bride
I'm 22 and grew up in Tulbagh and moved to Hermanus 6 years ago. I'm a admin clerk at Hermanus Pharmacy for the last 2 years. My parents are married now for 36 years in April and if they can be that happy after all these years why not give it a shot? We're happy and been threw a lot in the short time we've been together and I'm not the easiest person so if he wants to be with me who am I to disagree?
About the groom
I'm 29 years old and grew up in Sasolburg. I moved to Hermanus 7 years ago to run the family computer shop. At the moment im the Callout Technician at Overberg Computers in Hermanus. I wanted to get married because the girl that walked into the shop that day, stole my heart completely, I loved her so much that i decided that this would be the next step in our relationship. We are very happy together and I suspect we will be for the 100 years to come.
How did you meet?
I was actually still busy with studies and my computer gave me a lot of trouble so my dad wanted to buy me a laptop. I went to Matrix Computers and before I knew it the technician had me head over heels.

How long were you together before the wedding proposal?
He waited a full 3 years and 1 month to pop the question!
About the proposal
On the 19th October 2013 it was my brothers daughters second birthday and with all the planning between my mom and I we were very busy that week before. We baked cakes and tarts etc. I didn't really see anything else but flour. The day of the party when everything was set etc.Juan was quiet- he normally is but this was dead! I didn't really take it seriously until at about 22hoo when I said I need a shower and a bed. We said goodbye, got home and after I showered he made coffee. Everything normal until I heard noise coming from the bedroom and he sounded in pain. Put down the coffee and got up from the couch(in pain as there is enough cake for 50 people!!!) and went to look for Juan. The lights were all switched off and as I entered the bedroom, switching on lights as I go, no Juan.
Then as I stepped in the small walk-in closet there he was kneeling with the ring. After all the I love you's etc I really didn't take in what was happening and my response was "Did you ask my dad?" and then "yes"
How far in advance did you choose to have your wedding after the proposal? And, why?
We actually said only in 2015 as the planning takes time and we need to save up but after a month everything I wanted was on paper and we just needed the smaller detail. My father covered 99% of the expenses and there we went. When I found my dress beginning of November everything fell into place.
How did you go about the wedding planning process? Did you do it yourself? How long was the planning process? How did you find it?
I already knew what I wanted it was just the big thing to convince Juan in the farm idea. The horses, hay, wheelbarrow, etc all was planned in a month. I wanted chickens but Juan refused… My mom helped with everything and my dad was the referee between us and a week before the big day my aunts came to help with the last small things. We went to each place ourselves, both had planning books, dates, times, etc. All in all it took about 3months to make all the things- after work, meetings in lunchtime etc. In the end it wasn't so bad as I expected and if you're well organised and have back-up you can't go wrong and yes I will do it again!
Did you have a hen party / kitchen tea / stag night / bachelor / bachelorette party? If so, what did you do and what did you enjoy most about it?
My bridesmaid held it at Coco's it was very nice! Everyone who is important was there! We played games and I had to buy a cupcake at the closest bakery. Nothing was too much it was clean fun. The best part was when I was allowed to take a shower to wash all the lipstick off!-and that everyone went out of their way to make that day special.
Wedding Details
The Friday before the big day my dad already took things to Blue Gum. All the vases, tablecloths, etc and all the flowers! We went through at around lunchtime and started with all the decorations and the table layouts etc. All the family started to arrive around 15hoo and Lelanie was there shortly after! Everyone helped where they could from pinning up a Chinese lantern to hanging hearts in the trees. My mom and aunts did all the flowers from the tables to the ceremony's vases while Lelanie and I did our bouquets.
At around 18hoo Nicole was very sweet to come through and take pictures of the dresses hanging from the tree as on the Saturday there was no time and people will see my dress. By that time the fire was going and everyone was helping to get dinner ready that as plain hotdogs. We went to bed at around midnight and all the final small things that took a lot of time was finished. Lelanie spend the night with me and her husband was in the room next to us.
The big day finally arrived and when I opened my eyes Lelanie was already making coffee, the doors wide open and the first thing she said was the sun is shining! The grass was still wet from a light drizzle but not a cloud in sight! Lelanie's husband,soon to be mother-in-law, sister-in-law and brother joined us outside for coffee. After about an hour we got dresses and went to the isle to start making the two lines of hay and stacking the hay bales. Juan was having breakfast with all the family and everytime I should pass Lelanie shouted and he would close his eyes. It took us about 2hours to finish the isle with the help of my soon to be sister-in-law. All the staff was helping inside and outside!
By that time my mom called us-our breakfast was served at our room. Lelanie and I went up and ate breakfast that was divine! After breakfast we went down to the reception area and got the cake and cupcakes ready. All was set from the hay and flowers at the ceremony to the lights and candles at the reception! It was around 11h30 now and Sandie just arrived for the hair. I was first and then Lelanie and while she was busy I did my make-up and then Lelanie's. The time was flying past now and my mom and aunts was running back and forth between the villas!
Nicole was there early morning and was taking photos of the venue and Juan and his best man. I actually had forgotten that she was there and the next moment she was standing on a lather behind me! We had lots of fun in the room from me pleading please don't fall of the lather to the lillies that we were massaging so that they can open! At exactly 16hoo everybody was ready!-except me! I still had to get into my dress. Everyone was panicking and the one that should was fine. I was sitting enjoying a glass of wine. At 16h15 we were ready and off we went! I was so nervous I couldn't stop shaking! -and try walking on Aldo heels!
Lelanie and my brother's daughter went off and my dad and I followed. Everything was perfect! The horses was in the background as I wanted and everybody was there. After the ceremony we were attacked with popcorn and the photos started. First the group, then the family and finally the two of us. The horses were in some photos and some just trees and garden. Everything natural and relaxed. The time came for the reception and I had to get in the wheelbarrow with the huge dress! The first try and I landed on the grass! It was like one of those old movie scenes when the dress goes over the woman's head and the only thing you see is shoes! I was hysterical while my dad, Juan and Nicole rushed to see if I was ok. The second try worked. I had an white umbrella in my hand and Juan had a sign on his back- Just Married!
The speeches started and right after we opened the dance floor and then dinner was ready. My dad and I had our father daughter dance and Lelanie and her father joined. Right after we cut the cake and then it came time for the garter and bouquet. As there was so little people that was single my dad auctioned the garter, that he won!, and there was only two single ladies so they played rock-paper-scissors! By this time everybody was enjoying the party-some dancing and some eating. The fairy lights was on and the candles was burning outside with the small campfires everywhere.
At the end of the night everything was a huge success!
Tips and / or advice for future bridal couples?
The very first person that tells you to take a deep breath and calm down-throw a brick!!! It will only get worse so let the first one understand you!
If a supplier doesn't give you GREAT service- there's plenty more when that one comes from.
Make sure the food, accommodation, and people that will be helping you from the venue understand completely what you want and are capable to do so. Have a meeting two days before just to make double sure.
Make check lists- you can never have to many that's why there's 100pages in a exam pad.
"Don't worry about the weather you can't change it"- Yes I know that's why I picked summer
What was the most memorable part of your wedding day?
When I was on my way to my dad just before walking down the isle. We had to hold hands because my dress was to big and he was stepping on it! Giggling all the way!
Did you go on honeymoon? If so, where? And, why there?
We went to V&A Waterfront for two nights as we still had family at home and wanted to spend time with them before they leave. It's the closest to home and it doesn't feel like it.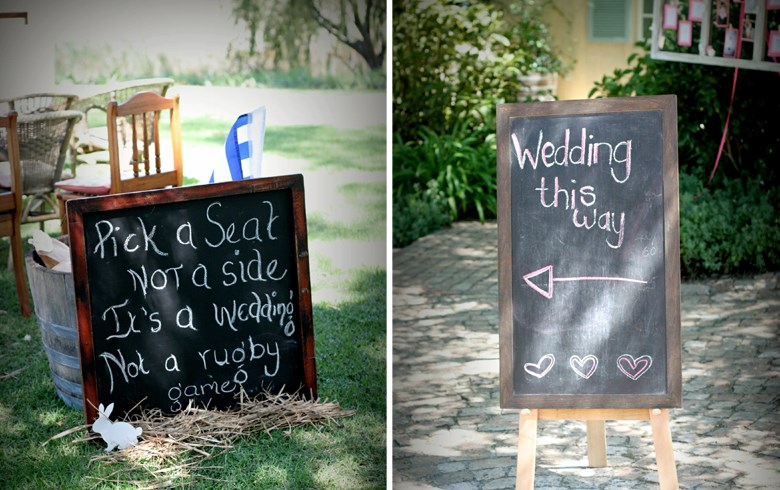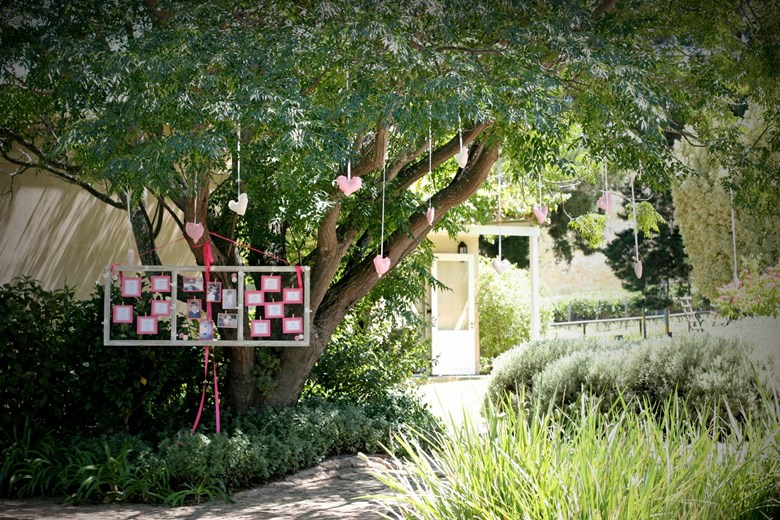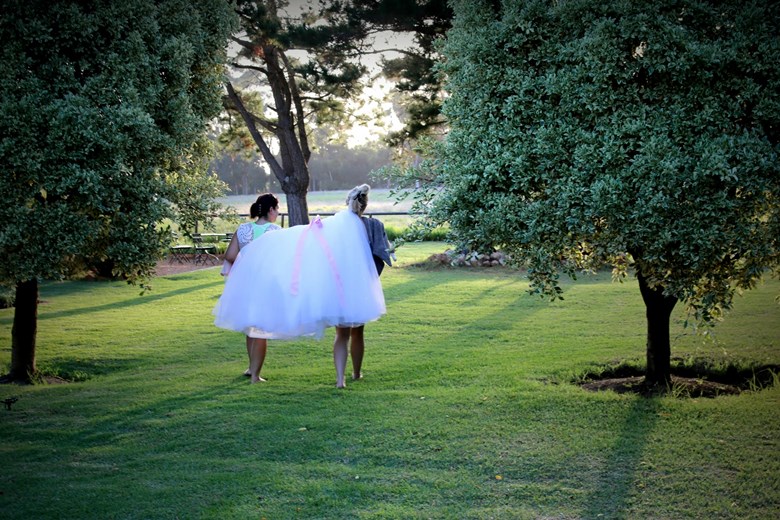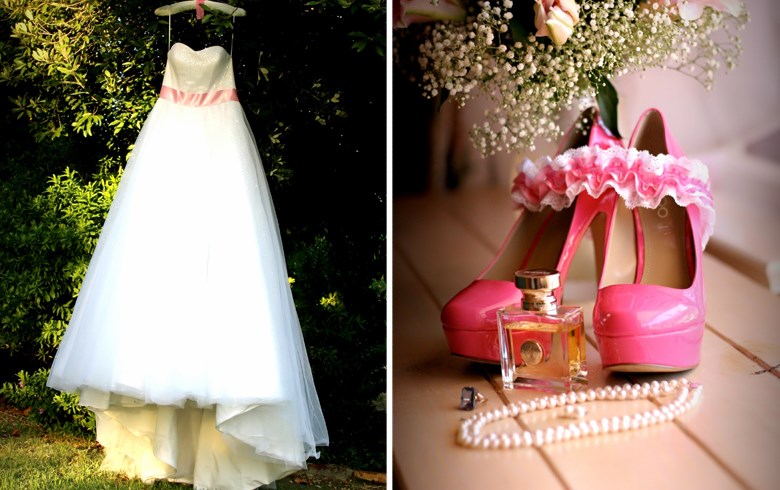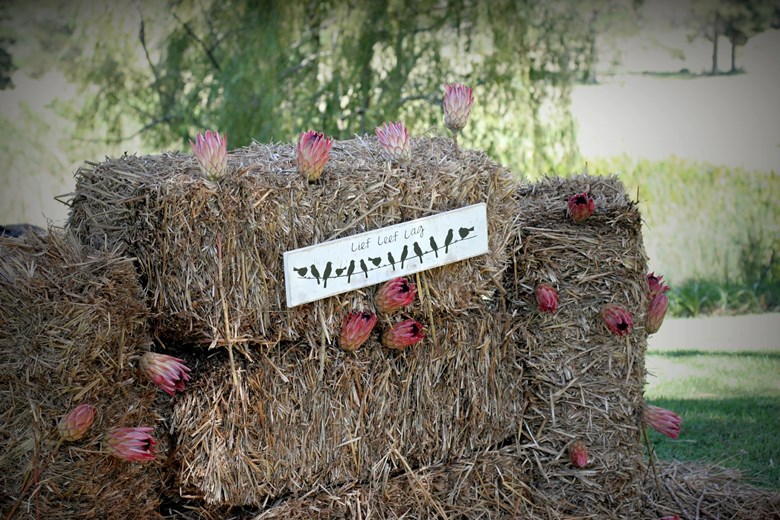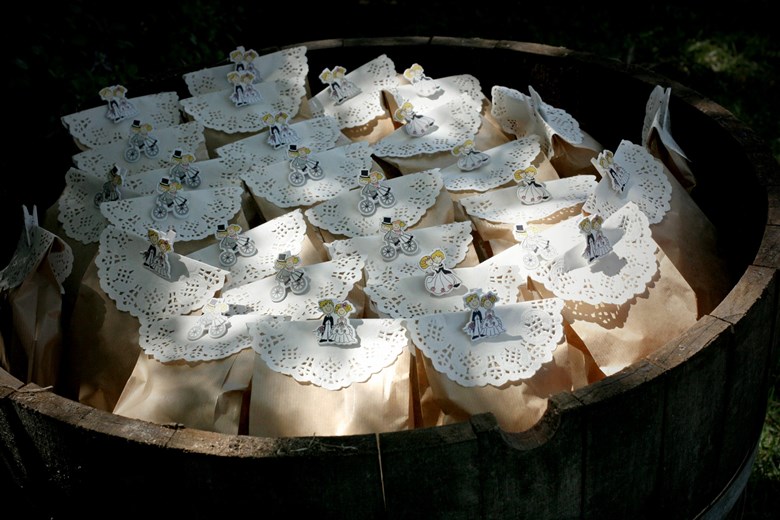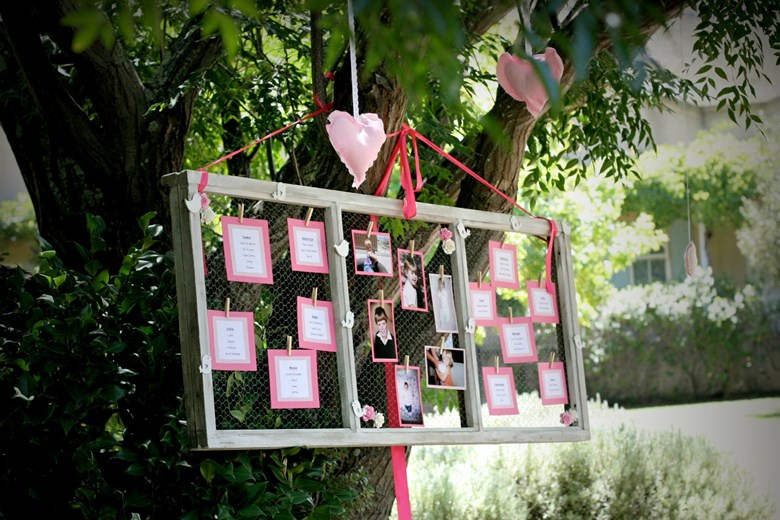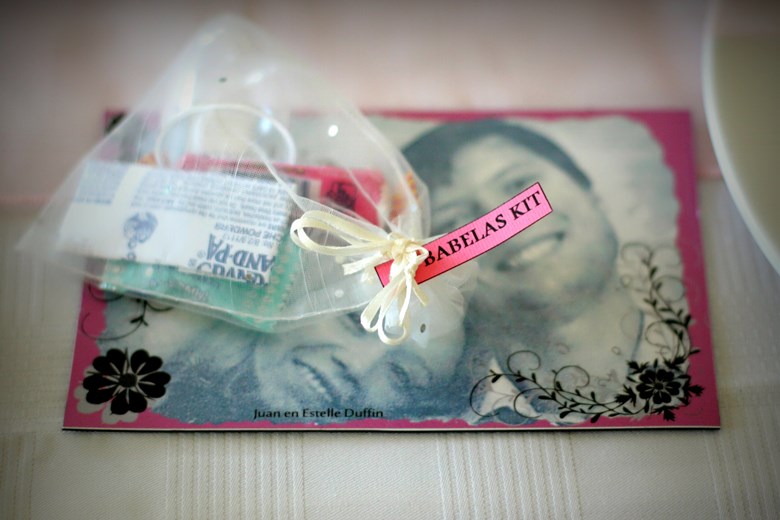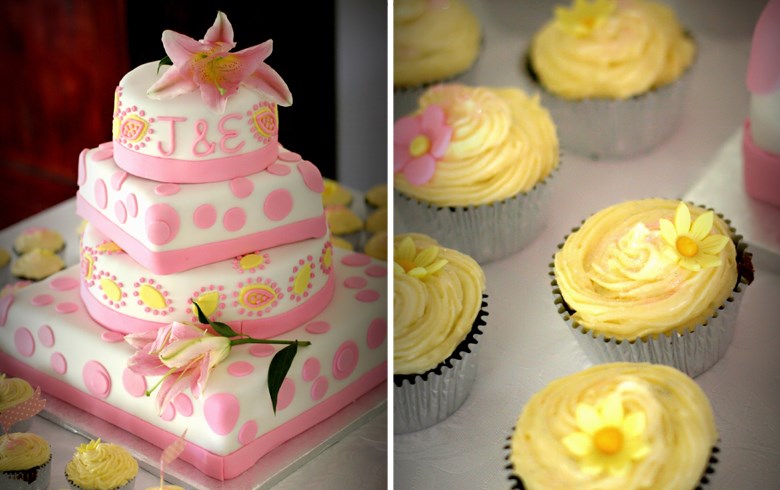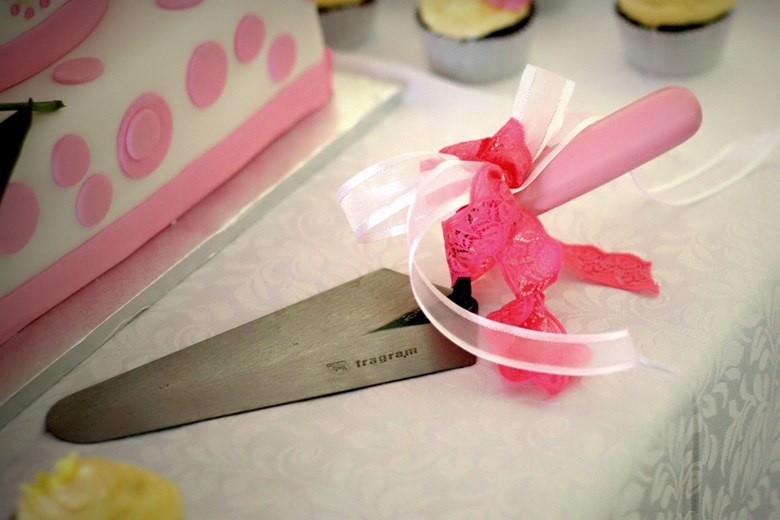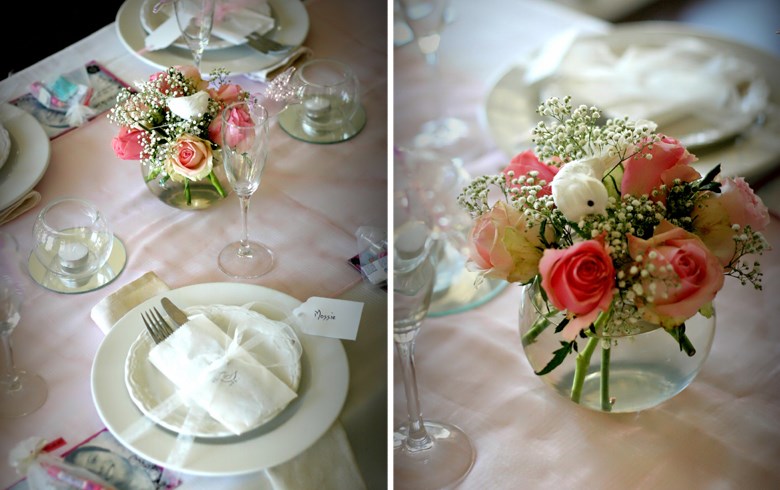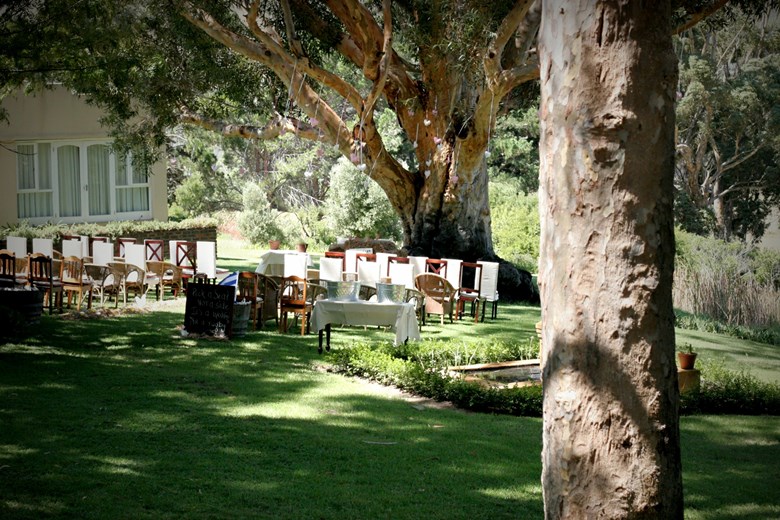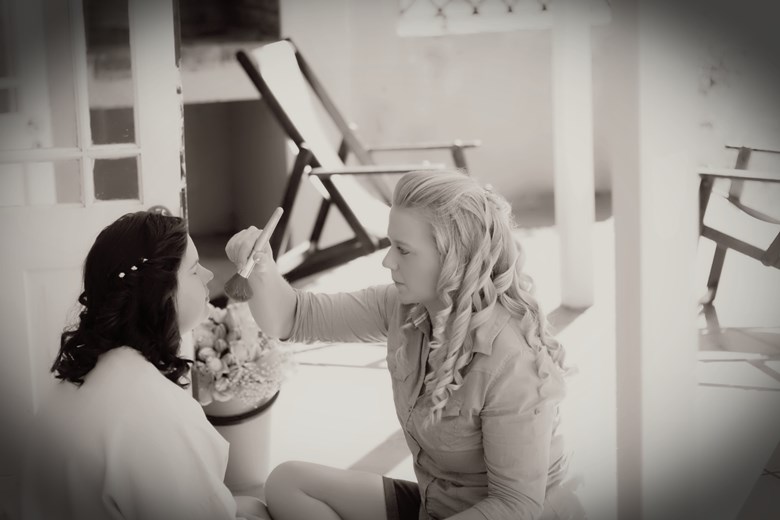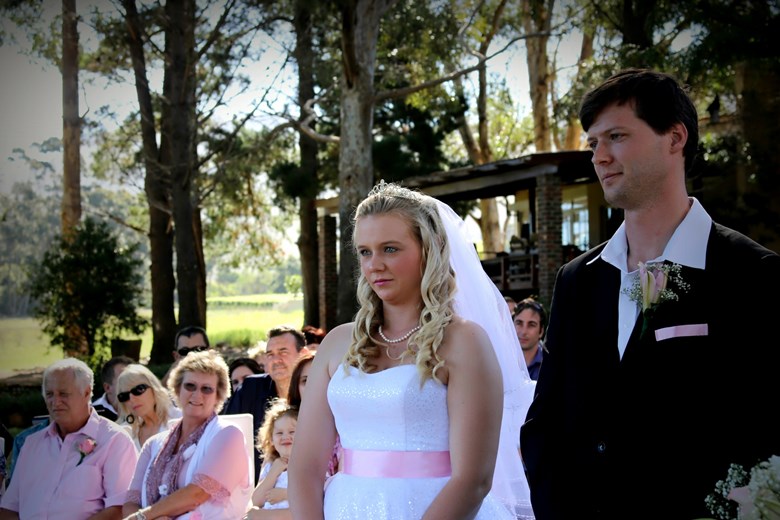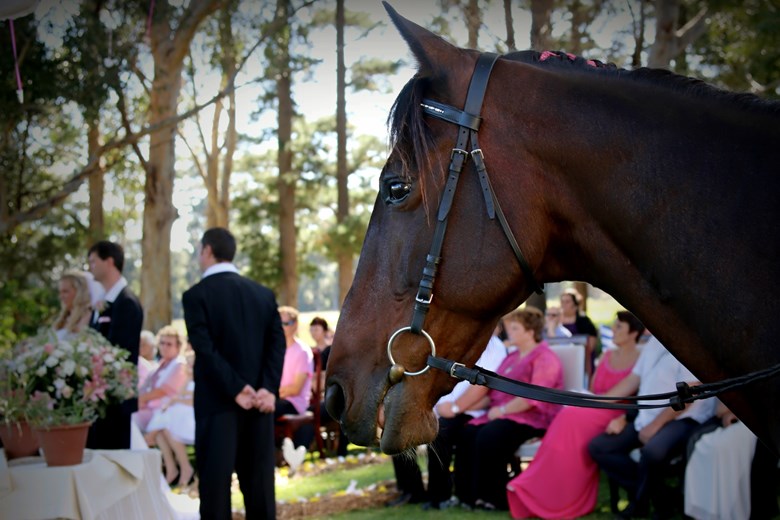 Credit:
Photographer: The fabulous Nicole du Toit
Dresses: Bride & Co
Suits: Sedgars
Flowers: Hermanus Vars Blommemark
Cake: Sugar Plum
Food: Blue Gum