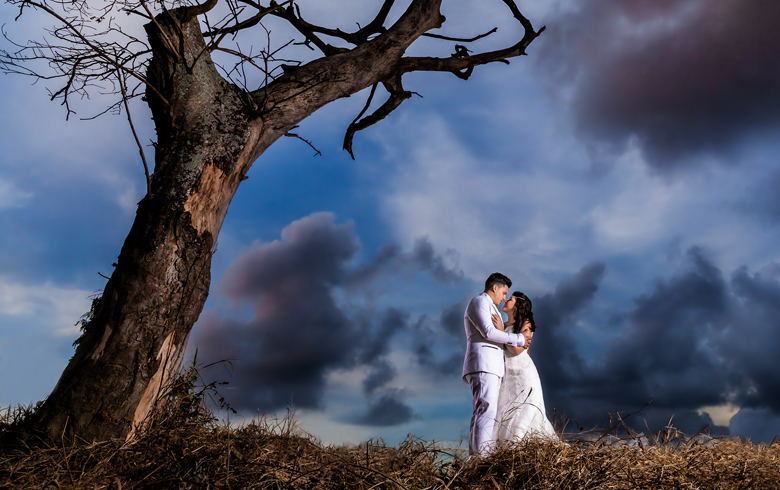 About the Bride
I am 28 years old, I am a customer services co-ordinator dealing with West African countries such as Ivory Coast, Senegal, Benin, Togo, Nigeria. I am based in Mount Edgecombe, Durban.
Myself and Stanton have a 6 year old boy, his name is Sachio Daniel Lewis. I wanted to get married when Sachio turned 1 year, we both love being parents and we wanted to give him the security of a united family. But I mostly wanted to get married because I have not stopped loving Stanton, and I knew that he is my person. He is an amazing dad, and a fantastic partner. He is my best friend, and I wanted to build a life with him that was blessed by God.
About the Groom
Stanton is 28 years old and he is a professional football player. He is based in Durban at the moment. He moved away from home when he was 13 years old to Cape Town to play soccer for Ajax Cape Town. At the age of 19 years old, he signed a 4 year deal with the giants Ajax Amsterdam. He is a very talented, driven and determined man that always provided for myself and Sachio. Other clubs he has also played for are: Kaizer Cheifs, Amazulu, Golden Arrows.
How did you meet?
It was my friend, Melissa Dreyer's birthday party held during the school holidays. I pitched up at the party with my boy who was really interested in my at the time, and Stanton pitched up with his girlfriend. We were sitting at opposite sides of the entertainment room, and the moment I saw him I could not stop looking at him. It was not long after that, when I suggested to the guy I was with to rather go home as he was no longer enjoying the party, however I will stay and get a lift home with my girlfriends. Obviously I had an alternate plan, I wanted to get more information about this mysterious, HOT guy standing across the room. My friends could unfortunately not tell me much, other than his name, that he lives in Cape Town and plays soccer. We did not get a chance to talk or even exchange numbers and my heart was so sore. The following day, I left with my parents and my brother on our annual vacation to the South Coast in Kwa Zulu Natal. I was mopping the entire trip in the car, and not very excited that I would most probably NEVER get to see this guy again. We reached our destination and I threw myself on the top bunk, where I stayed for most of the afternoon. Out of the blue, my Nokia 3310 cell phone buzzed and I opened up the message. A cute teddy bear message appeared on my screen, and the message went something like this:
"It was great seeing you last night, and I am sorry that I did not approach you and have a chat. I hope you don't mind that I got your number from a friend of yours. I really hope we can chat and get to know each other better. From Stanton"
I was so excited, jumping and screaming with joy that he was attracted to me as well. We became friends and managed to grow closer and closer despite the distance between us. Two year later, he asked me to be his girlfriend and the rest is history. We have been through so many ups and downs, and travelled a lot due to his career. But we never stopped loving each other, and are even more attracted to each other than that first day.
How long were you together before the wedding proposal?
We were together for 5 years before the proposal, and we were engaged for 6 years before we tied the knot.
About the Proposal
I received a voucher for a Resort and Spa in Magalies Burg, and we went together. After our full body massages, we went to have lunch in the restaurant in our white gowns. While we were waiting for the food to come, he dropped down on one knee and took out this ring in front of the entire restaurant. I was naturally blushing and shy, but so happy as I knew in my heart this is my forever after.
How did you go about the wedding planning process?
The planning process was very daunting, as we live on our own in Durban and the rest of our family is in Johannesburg. Doing our own research and comparing prices was a bit of a nightmare for both of us. We searched for a venue first, and this was a pretty big deal to us. We wanted a certain look and feel to the wedding, but we were not quite sure what. The date of the wedding was in the heart of winter, as this was the only time we knew for sure that Stanton would be off from soccer. We both agreed that we wanted the wedding in Durban, as we knew it would be much warmer during winter. A friend of Stanton referred him to this hotel and we went to have a look at what they can offer. The breath-taking views and the modern, sleek decor blew us away and we booked our reception on the 11th Floor of Coastlands Umhlanga Hotel, called the Sky Room. Once that was booked the next step was to find a decor company. The hotel referred us to Event Styling, and I gave Marge B a call to set up a meeting. This meeting changed our lives. Marge discussed in length what our expectations are and what her company can do to make that come to life.
We attended a couple of bridal fairs in and around the Durban area and I read a lot of articles and blogs online. But once we decided to use Event Styling, we worked together sharing ideas and used Pinterest and other media options to envision the decor for the day.
The church ceremony was so emotional, I was trying to keep in the tears in the car drive to the church. I was sitting next to my dad in a beautiful Rolls Royce Ghost and just thinking how blessed and lucky I am to have amazing supportive parents and family. Our son was the ring bearer and I heard that once he started walking down the aisle, everyone began crying. Stanton could not keep it in either, and the tears just rolled down his face once he saw me. that was such a special moment, the look in his eyes was what I always wanted. We could feel the love from God shining down on us, and it just hit us that this is going to be forver.
At the creative shoot, with Sean Baker Photography, we had so much fun. Sean is extremely talented and directed us in the right direction in order to get the perfect shots. We both cannot wait to see the photos.
Once we reached the the reception, we were both calmer and excited to see exactly what Marge B had done. I walked into the venue and I could not believe what I saw. The most beautiful scene that came straight out of a fairytale book or movie. All our dreams and visions came true that day and Event Styling made it happen. We are extremely happy with how the day turned out, and I promise that we will never forget this day.
Did you have a hen party / kitchen tea / stag night / bachelor / bachelorette party?
Jade
I had a kitchen tea on the 2nd May 2015 in Johannesburg, and my maid of honour and bridesmaid planned everything. The colours of the day were white, black and tiffany blue/green. It was decorated so beautifully and all my family and friends attended. The theme was ""DRESS LIKE A LADY"" and my girls pulled it off so well. We had a pole dancer come out and teach all the ladies how to pole dance. It was so sexy and so classy at the same time. They also suprised me with ""Bear Butlers"" that served my guests drinks the entire day dressed only in an apron. It was loads of fun and beautiful memories were made.
Stanton
He did not want a normal ""Teazers"" kind of batchelors, so he invited all his guys and family to have a few rounds of paintball. All the men dressed in their army gear were ready to have good, clean, painful fun. After that, they all made their way to Stanton's dad place for some drinks and a braai. He really enjoyed bonding with his uncles and his brother and had more fun than if he went to a stripshow.
About the Wedding
The wedding was held during the winter season, and we both loved the crisp, clean and soft feel of snow. So we decided on the magical, winter land theme. We wanted the decor and the atmosphere to be stylish and elegant, and classy. The magical, whimsical feeling filled with the love of each other and our families. Our decor was to be crystal and silver with white elements throughout the venue, as we wanted the winter theme and feel to come across. For our flowers, we did not have a particular flower in mind just that the colours must be white with a touch of pink and green. We were pleasantly surprised by Event Styling when we walked into the venue on the day of the wedding. We chose, Cheerleader by OMI to enter the reception hall with as we love the beat and rhythm of the song and both enjoy dancing. Also the words are relatable, as I have also been his No.1 cheerleader when he is on the soccer field.
For our first dance – we chose Thinking out loud by Ed Sheeran. The singing group, called FOUR, won X-Factor South Africa 2014, sang this song in acoustic style with a live guitar for us and all the guests. It was amazing and so unique and special to us.
I wanted a classic, elegant dress but also to show the shape of my body. I am only 1.55m tall and felt that a ball gown swallowed me up, so I went for the mermaid fitted dress. I knew I wanted it to be in ivory and some lace and beadwork on the dress would be ideal. I knew I found the one when I put it on. It was so classy and so sexy at the same time, and I fell in love with it. It had a beautiful long train, and I chose a long detailed veil to go with it. I felt like a sexy princess, and I hope that feeling comes out in the photos. For the bridesmaids, I wanted long and flowing dresses in a champagne colour. But after doing some window shopping the colour looked to bland and washed out. Then my maid of honour found a place called, Icandee Infinity Dresses, in Johannesburg. So I flew to Joburg and met with them and loved the dresses they offered. The colour I went for was a dusty pink colour, as both my maid of honour and bridesmaid looked stunning in that colour.
Tips and / or advice for Future Bridal Couples
Enjoy the planning process, and always always make decisions together. Go for appointments together and truly support each other throughout this process. That way you know for sure, that on the day, both of you can just enjoy being with each other and trust that the planning and decision making you made together will work out. Soak up every moment, including the tough moments.
What was the most memorable part of your wedding day?
For both of us – definitely me walking down the aisle and looking at each other. I will remember that moment for ever. Saying our vows was very emotional for both of us, and we were so overwhelmed with love and devotion to each other.
Did you go on honeymoon? If so, where? And, why there?
We spent 2 days after the wedding in the hotel, as most of our guests travelled from Johannesburg. Also our son is in grade 1 and had to return to school for his formal assessments, so we decided we will go away over the Christmas break to Mauritius.
Comments from the Wedding Planner on some of the elements included in Jade and Stanton's wedding:
We believe that every bride needs to feel like a Princess on her wedding day. Here are some of the elements included in the wedding:
Bubbles for congrats at the church as bride and groom exited.
A Snow Bombe for the bride and groom's grand entrance into the Sky venue at Coastlands.
A 4 Tiered fantasy Winter Wonderland cake with a soccer ball and bling topper as groom is a pro footballer for Amazulu.
A glass table that the cake was placed on made the cake appear to be floating.
An authentic white Japanese Katana Sword for the cutting of the cake.
The groom performed the Sa'brage with the same sword.
A Champagne Tower.
First dance was a "Dancing on the clouds" effect created with 50kgs of dry ice on the dance-floor which created theatrical smoke and swirling fog.
Lighting effects were dancing snowflakes in Magenta as blue is so overdone for Winter Wonderland themes so I decided to call it "A Magical Winter Wedding Celebration".
A Wish tree for guests to write their wishes to the bride & groom.
Multiple Ice carvings around the venue.
Champagne sparkles were attached and lit as each champagne bottle was popped for the toast.
A 20m imported Italian white carpet led guests into the venue at Coastlands Umhlanga.
An Instabooth with Hashtagging during the course of the reception  –  #Lewiswedding2015.
A performance by the X Factor winners boy-band FOUR – Ed Sheran –Thinking out loud.
A Star burst Glitteratti bombe for the grand send off at 12 midnight.
Giant Sparkles for all guests.
Flowers and the table scape consisted of Ice white King Proteas, White Snowdons, White Ayrum Lillies, Lizzianthus,dusted &  embellished with silver dust to create a magical feel.
Crystal décor elements with white petrified trees added to the look and feel of the theme.
Gel Snow that felt like real snow were accented on the table scape and cake table.
The bride was appointed a dedicated a "Lady-in Waiting" who shadowed her from start to finish –  as part of Event Styling's package to their brides.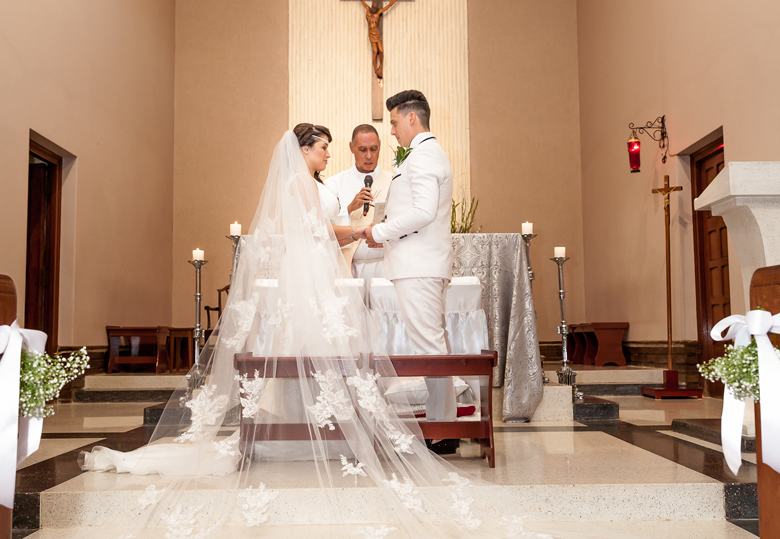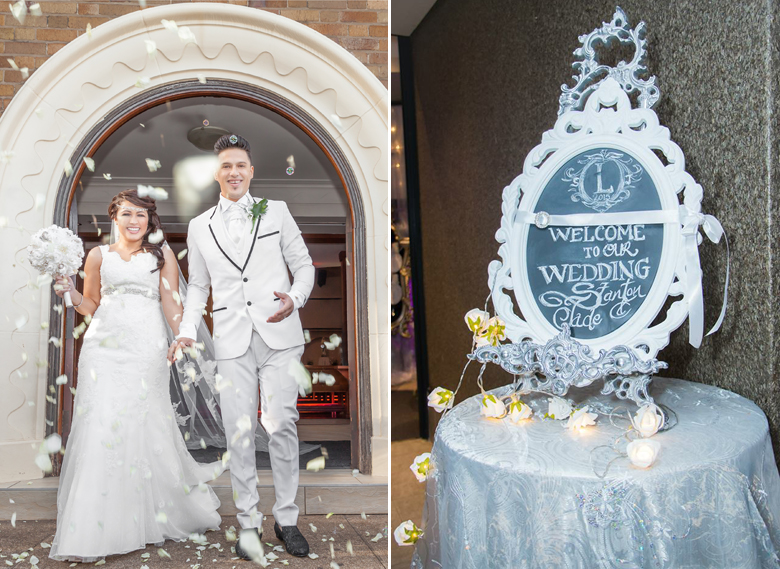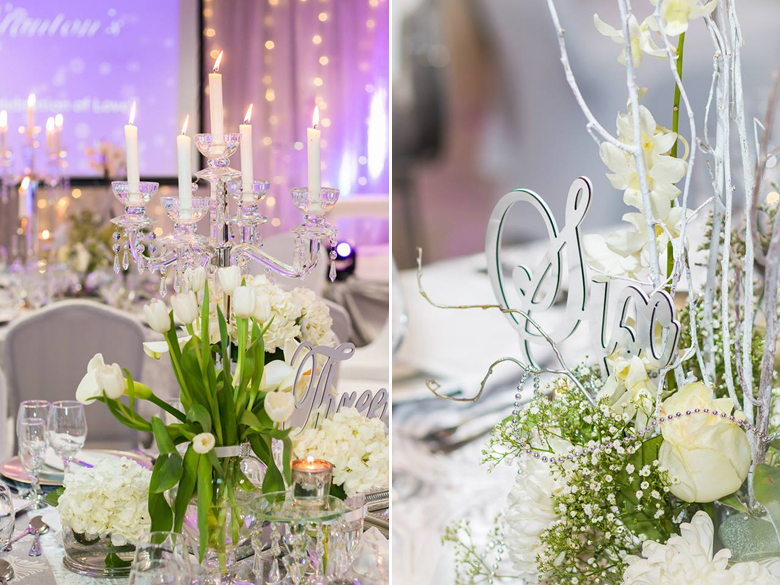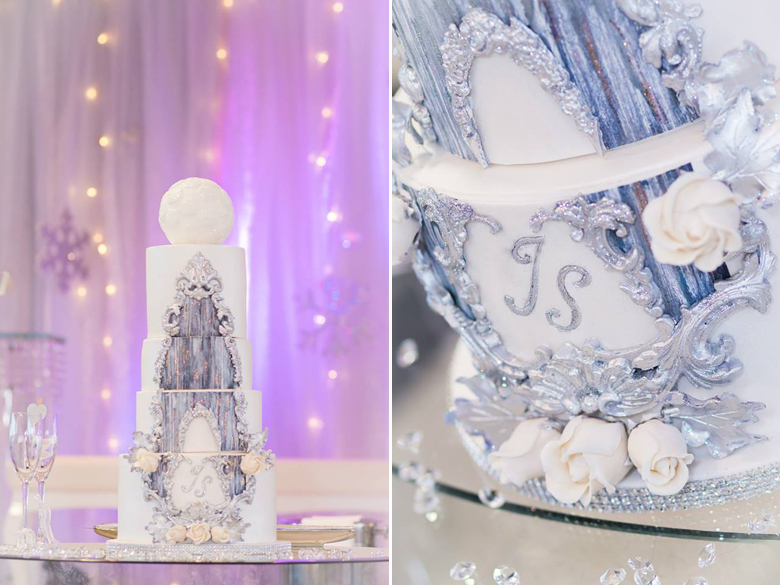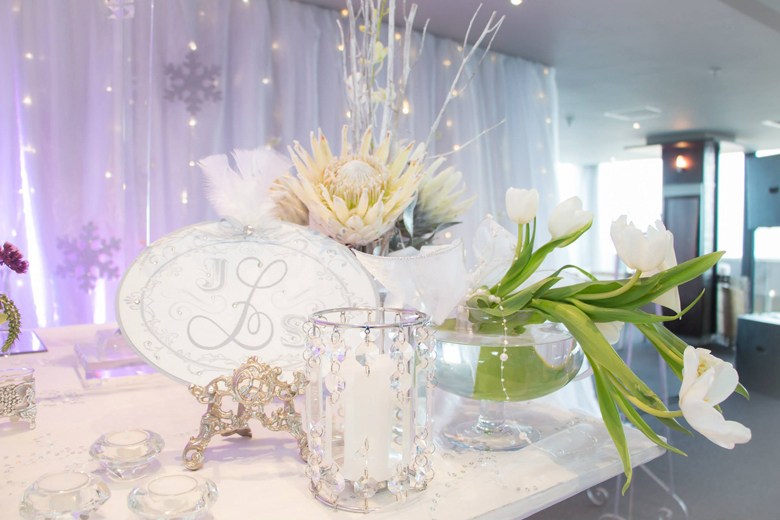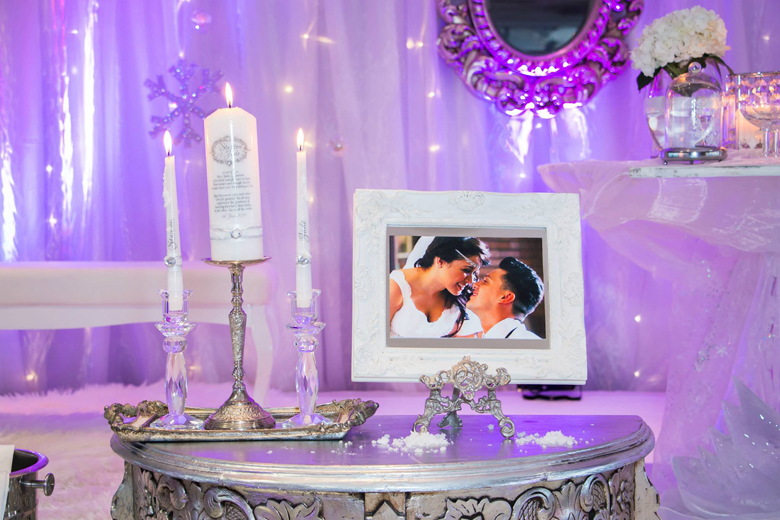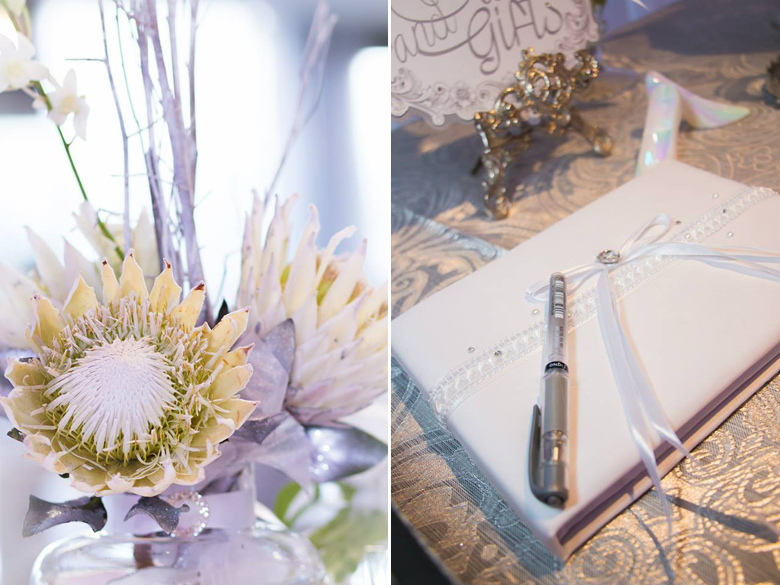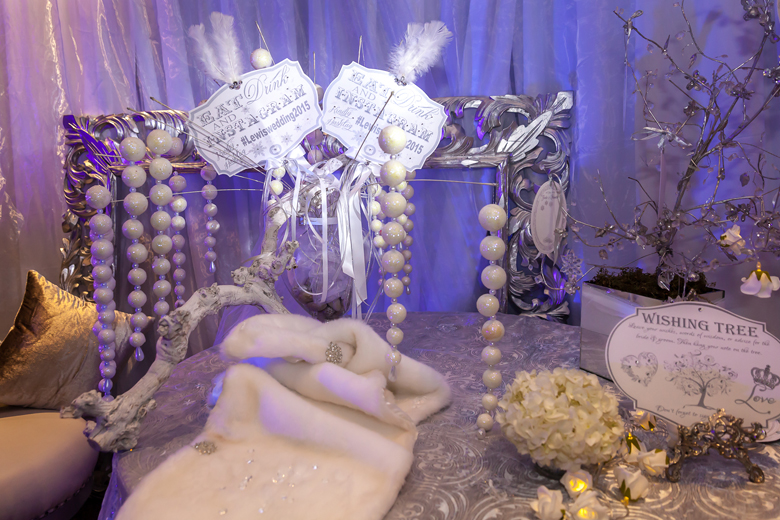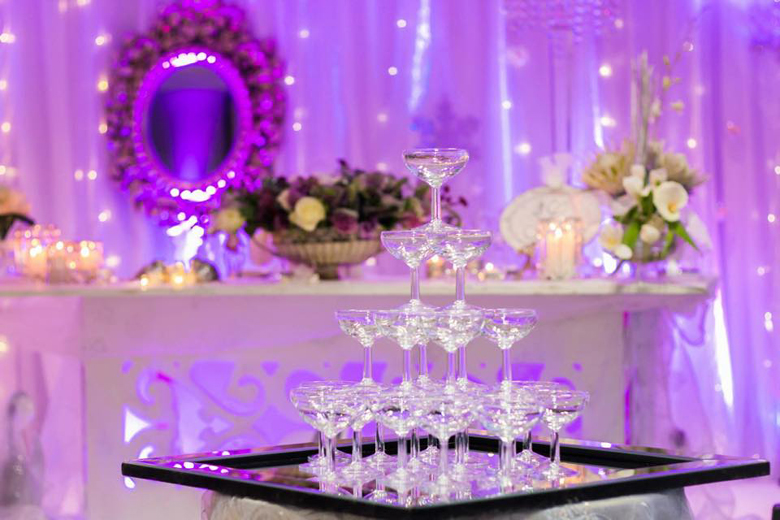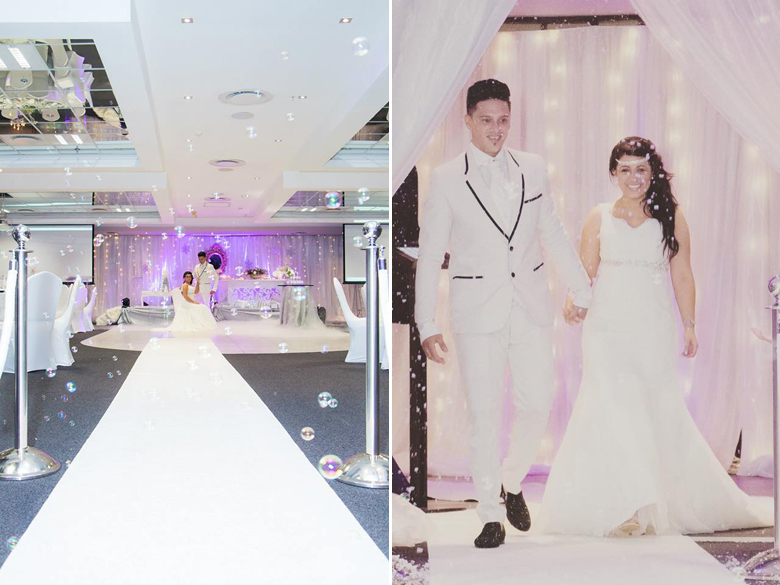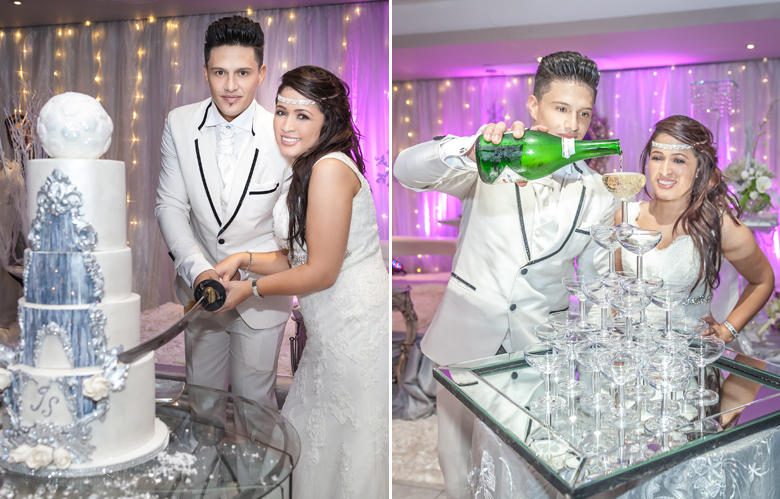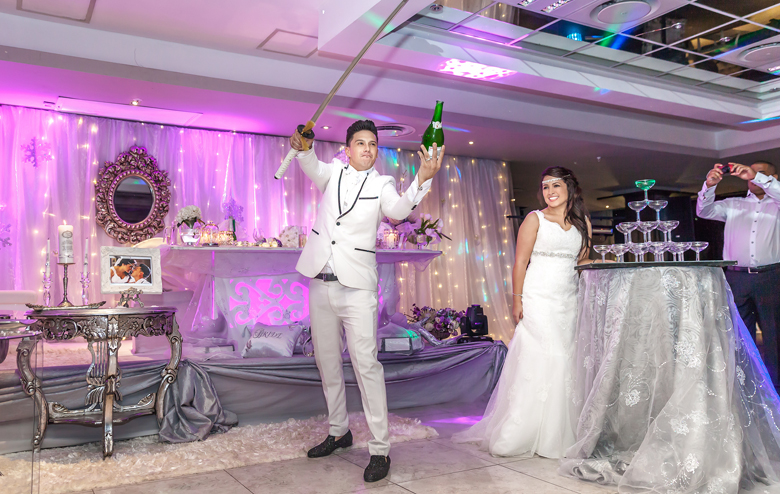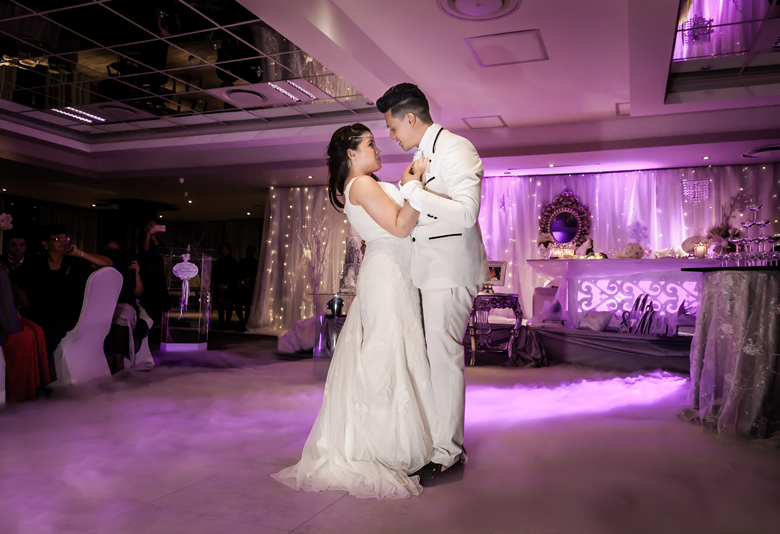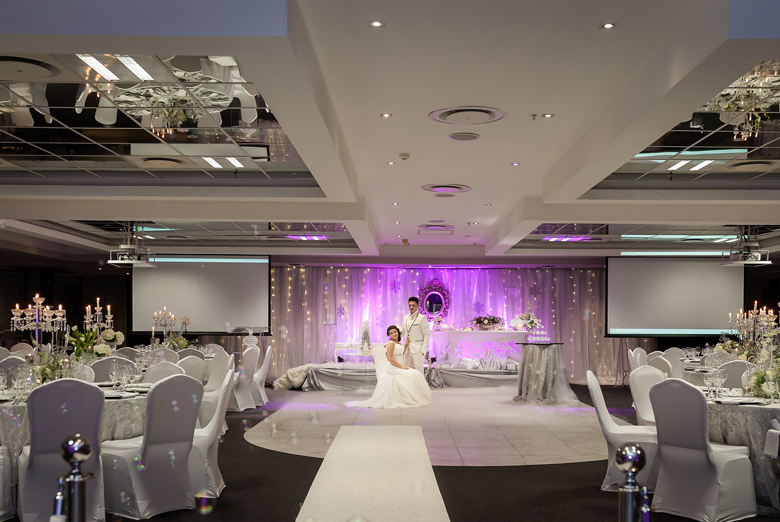 Credits
Wedding Planner / Co-ordinator and Stylist: Event Styling Couture Event Design
Photographer: Sean Baker
Creative Shoot: Chris Saunders Park, Umhlanga
Event Styling Cinematographer: Hayley McNiell
Event Styling In-house photographer: Gareth Du Plessis
Wedding Venue: Coastlands Umhlanga, Sky Venue
Video
Want to see a quick summary of this Winter Wonderland Wedding, then check it out below: