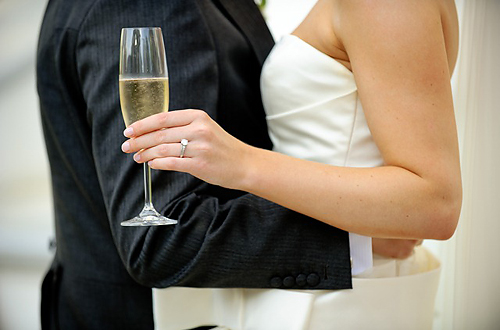 Combining the sophistication & traditions of their home countries France and South Africa – Jeremy & Lindy asked us to design a Winelands wedding of elegance & class with some modern twists. There was to be no compromise on the top-quality of the five star boutique location – a hidden gem in the Wellington Winelands – and the culinary delicacies they would have on offer to their well-travelled guests.
For this designer, wedding sleek grey tones with rich purple touches and shades of ivory created a contemporary colour palette that complimented the elegant winelands setting.
The debonair Jeremy, decked out in top hat, tails and of course a cane, was met at the alter by the uber-elegant Lindy, to exchange vows in an outdoor ceremony surrounded by picturesque forest and mountain views of the Bainskloof Valley. At pre-drinks a spirited and highly interactive African drumming circle proved to be the highpoint for the international crowd – whilst award-winning chef, Luke Dale Roberts of The Test Kitchen, featured his world-class signature food with culinary highlights such as Kudu tartar, warm crayfish salad and truffled Springbok Loin but to name a few.
The chic wedding reception was arranged under a Bedouin marquee that covered the stylish courtyard and water feature. Table tops were adorned with contemporary floral installations, stylish stationery elements, each with a personalised wax seal and exquisite lighting concepts. A renowned swing band kept guests boogying on the silver striped dance floor; designer cocktails matching the wedding colours were a special feature in their own right and finally – a delectable Candy Station presented alongside a five-tiered African-themed wedding cake ensured every person's sweet tooth was spoken for. Unique wedding gifts like "dancing flips flops", candy boxes for the trip home and personalised Gerald Hoberman coffee table books were given to the guests to ensure that this was one African celebration that they wouldn't soon forget!
The magic is in the detail – one of South Africa's top chefs, a 5-course signature menu, hand-crafted stationery, live entertainment from African Drumming to a Swing Band and a designer wedding cake at this sophisticated, purple infused celebration.
Wedding Details:
Wedding Date: April 2011
# Guests: 70 International Guests
Location: Paarl/Wellington Winelands
Theme: Neo-classical revival – Winelands sophistication at its best
Co-ordinator: Christina Holt from Wedding Concepts
Photographer: Jean-Pierre Uys