What could be more romantic than an intimate celebration on the beach with loved ones? We love the simple yet stylish details of this wedding, beautifully captured by Kobus from Dreampix Weddings. Enjoy!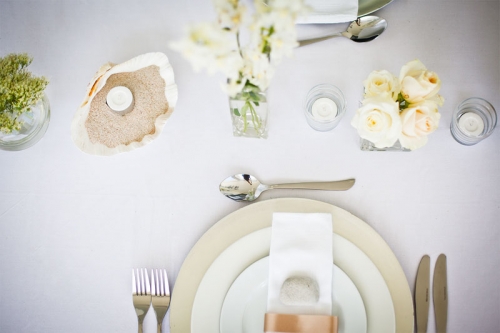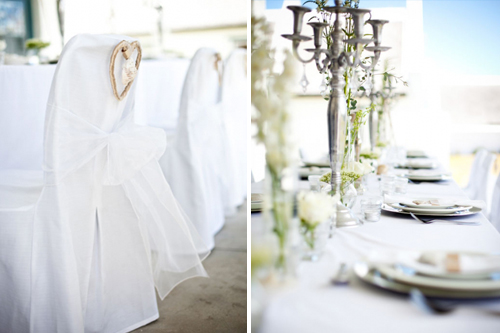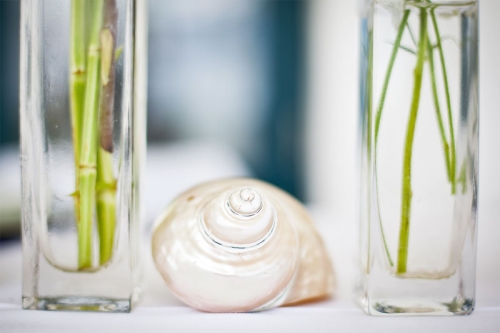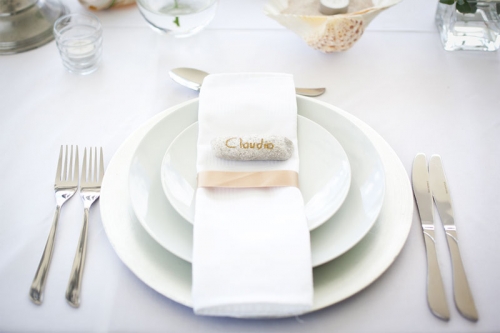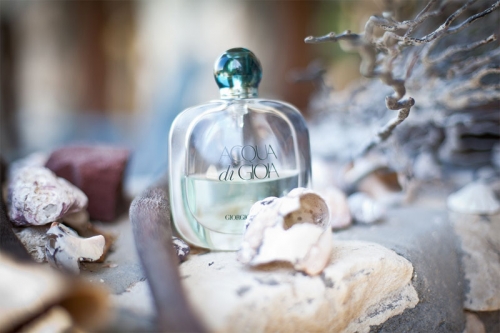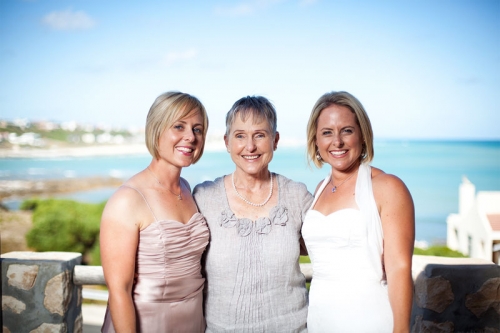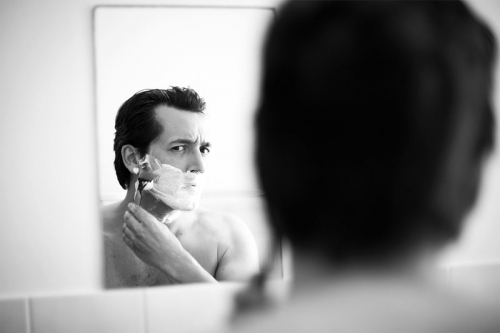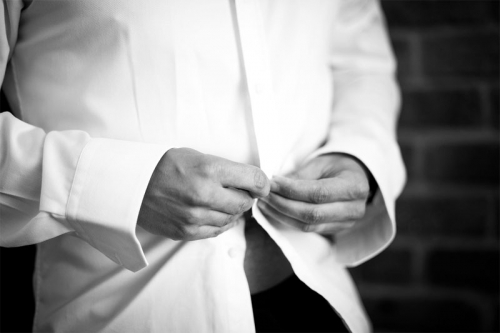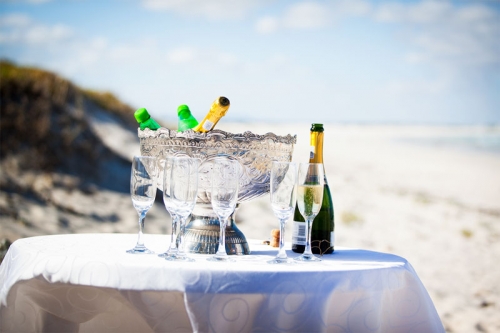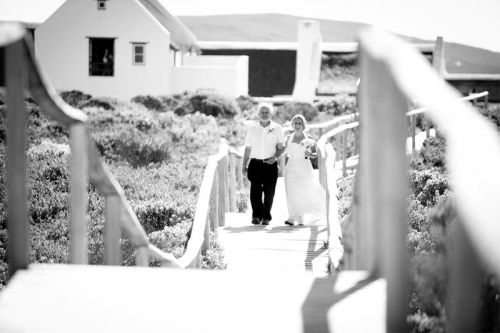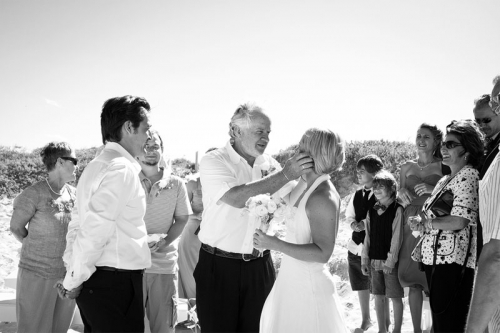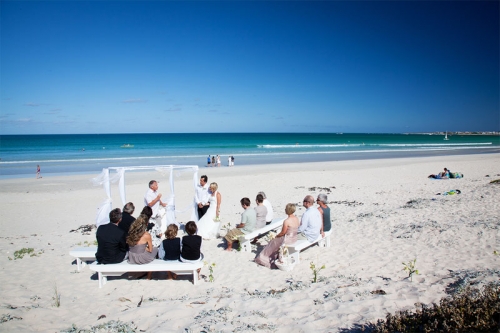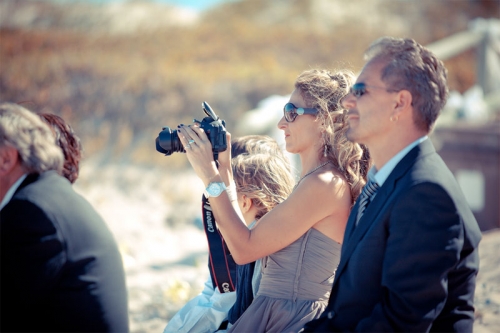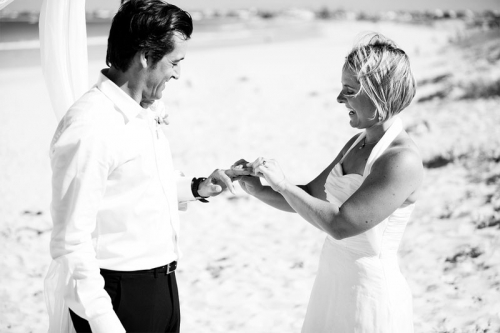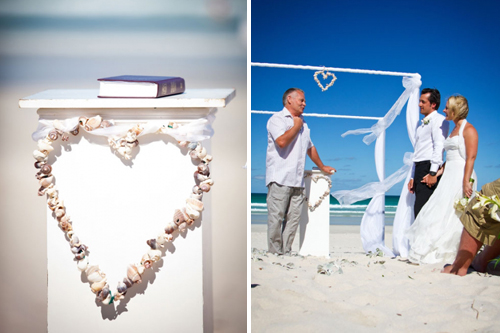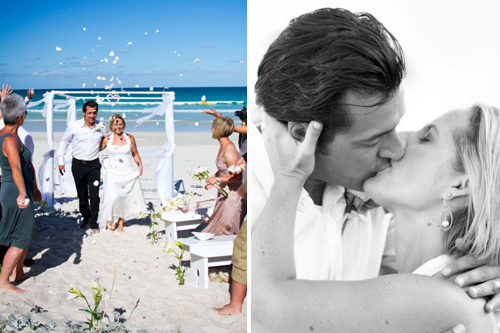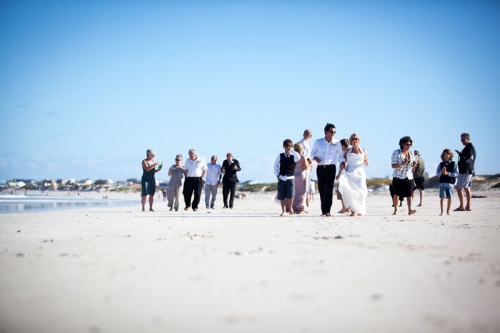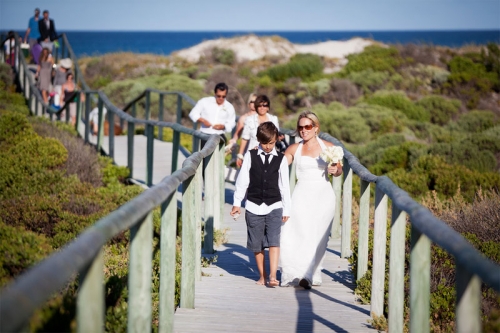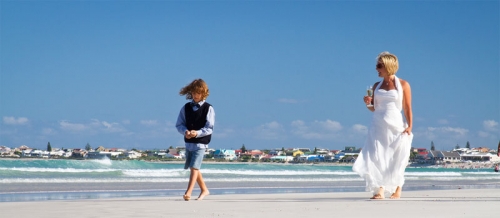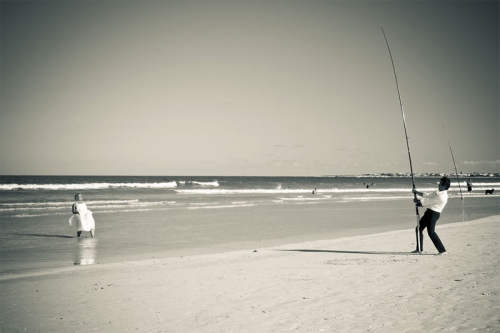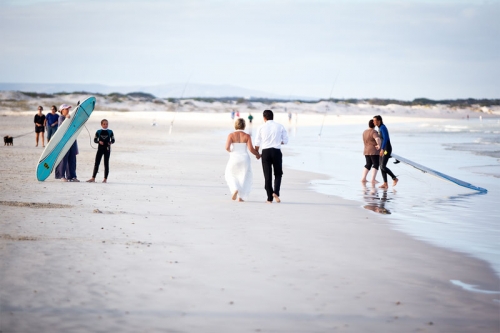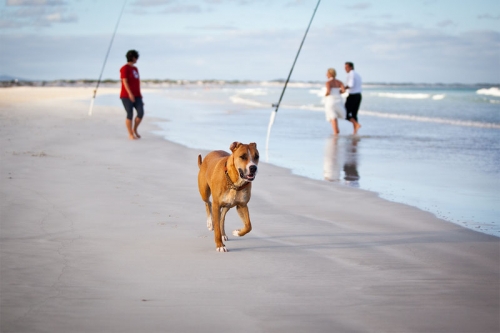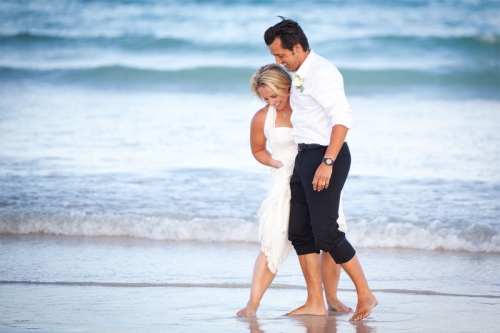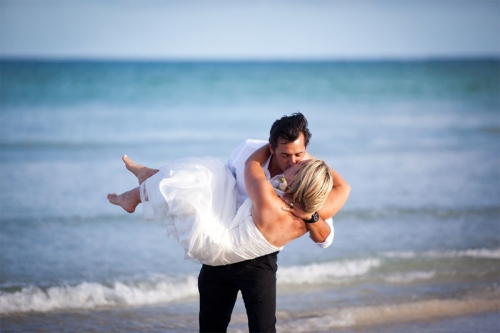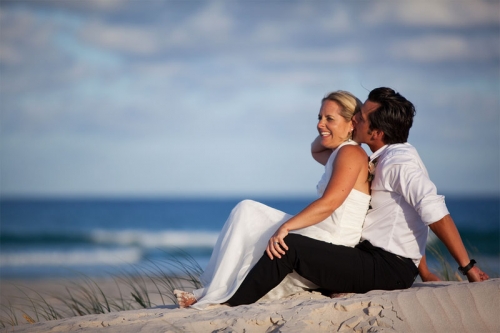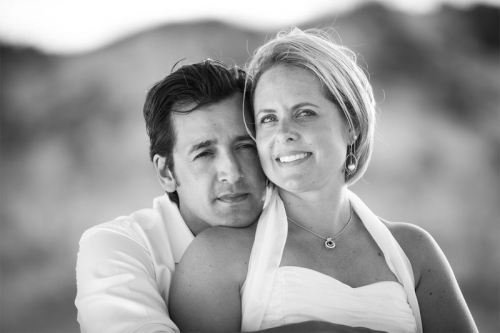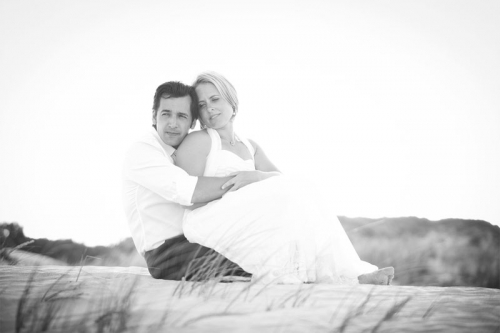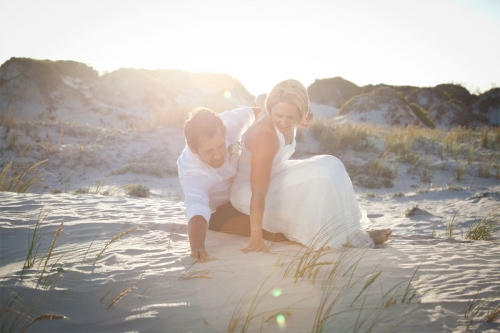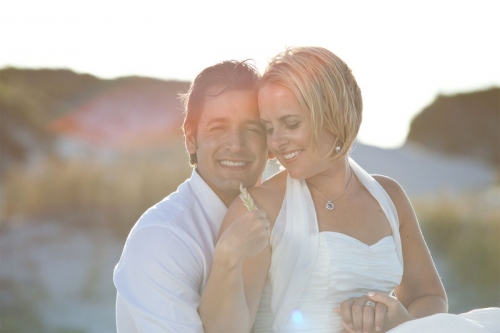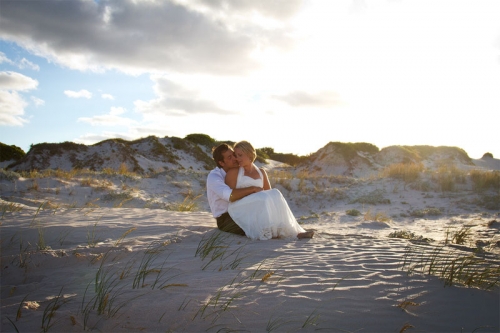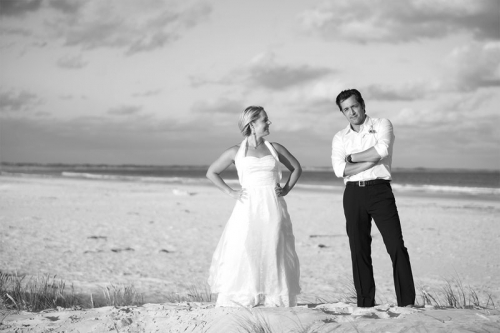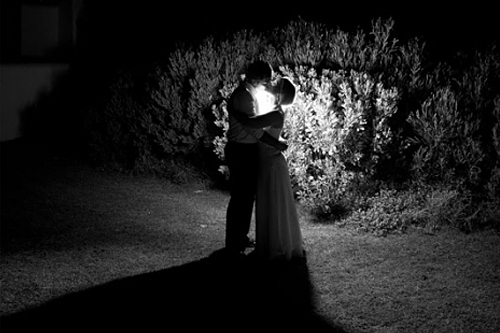 About the bride
"I am 35 and work for the company DHL as an Audit manager for their DGF business unit in Singapore. I travel for my work and enjoy it immensely. Ever since we met 4 years ago, Claudio and I knew that we would like to spend the rest of our life together. Getting married was just a celebration of this with our family."
About the groom
"Claudio is 41 and also works for DHL as an operations manager. He grew up around the world as his father was an ambassador and as a family they travelled every 4 years to a next destination. His father is German and his mom is Italian / Chilean. He got her looks and when I met Claudio I thought he was Italian…"
How did you meet?
"We met at work in Belgium where we were both working at the time, in the smoking room. I promised that I will audit him because he was not coordinating his smoking with me (I am an auditor after all!)"
How long were you together before the wedding proposal?
"We had been together for about 2 years before Claudio proposed."
Tell us about the proposal
"I had an awesome proposal from Claudio. Our anniversary is 14 Feb and we flew to New Zealand for a short break. Claudio mentioned that he had a present for me but did not pass on anything to me during the day, so I got rather upset about it. We even had a small argument about it. Later in the evening after returning to our guest house after dinner I found the box beneath my pillow. I immediately knew what it was and did not make him sweat. I immediately said YES!"
How far in advance did you choose to have your wedding after the proposal? And, why?
"At the time of the proposal we just moved to Singapore and were settling into our new lifestyle. There was no time to think about a wedding. But during our 2010 holidays in Struisbaai with my parents, we decided that December 2011 would be the right date for us to celebrate with our family."
How did you go about the wedding planning process?
"I had a stroke of luck by meeting Lizbé Vorster (Langezandt, Struisbaai) early in May 2011. She made me see what my wedding could be like and had all the right contacts for me to work with – the BEST in the Struisbaai area! It was a relatively painless process considering that I am based in Singapore. If it was not for Lizbe though I think it might have been a totally different ball game. Thanks Lizbe!"
Did you have a bachelor / bachelorette party? If so, what did you do and what did you enjoy most about it?
"I had a hen party with my girlfriends and they made it very special for me. First we had a high tea at one of our best venues for that here in Singapore (Raffles Hotel), then we went for dinner before we headed off to a free-flow champagne bar in one of the hotels (M-hotel). My favourite part of the evening was when Joanna asked me some questions about Claudio which I am expected to know, like the size of his shirt, shoes, favourite dish, mother's maiden name etc. It was a good laugh and I just realized how much more I can learn about him!
What I found very special is that my girlfriends compiled a recipe book for me with recipes from my family, family to be and themselves. It is a real treasure and brought tears to my eyes as I recognized all my childhood favourites…"
Wedding Details
"Struisbaai has been our holiday spot since we were approximately 12 years old. It holds a lot of nostalgic and special memories for us as a family. Therefore it was the perfect location for our wedding.
I have a twin sister – Naomi – we slept over at a guest house in L'Agulhas the evening before the wedding with my mom. In the morning we went for a nice walk along one of our favourite jogging routes next to the sea. That was a perfect start to a perfect day. The wedding was around 4:30pm and the men spent their day together having a brunch, while the women spent the day being groomed! That was an awesome experience and the girls (Chariska and Michelle) made it very special – a relaxed atmosphere and nice chit chats about family with some jokes thrown in. We were on time without stress.
The wedding took place at Langezandt, a resort of fishermans' houses as you enter Struisbaai, and we used one of their board walks to get from the house where our reception took place to the beach.
Carin, our decorator, did an awesome job of giving the wedding a romantic touch. The theme was nature, and she used beautiful shells on the table, hearts was everywhere and the flowers were divine. If I can say one thing it would be that everything was just right. Not too much and not too little of anything.
Naomi and Carel walked ahead of us to the beach. Carel, also the ring-bearer, carried our rings in a big shell filled with sand (another excellent idea from Carin). Dad and I followed and it was a sight to behold. The Gazebo, white pews, lily's in the sand, a light breeze stirring the chiffon attached to the Gazebo, and Claudio, waiting for me next to the pastor. I asked my father to brush a tear from my eye as he handed me over to Claudio.
Our pastor – Bremer – did a great sermon in which (by chance) his theme was also closely related to nature. The Ederer family is truly people dedicated to NATURE so this was a nice touch for them.
Once the sermon was over, we said our vows and kissed, it was time to have a wonderful glass of Pongraz with the family. After relaxing a bit the 15 of us went walking on the beach, an activity we often do in Struisbaai. It was wonderful to be barefoot on the beach and this time around with my wedding dress!
Our reception was held outside and the evening played along magically. We had wonderful South African delicacies to treat Claudio's German family and introduce them to South African dishes in style. Our wedding cake was an ultra cool "cheese" platter! And we still enjoyed the cheese for days to come afterwards. The speeches was a bit emotional as my brother Christiaan could not make it to the wedding, but sent a very heartfelt wedding message to be read to us. Everyone's eyes clouded over.
As we were exhausted we called it a day after dessert and went to our guesthouse for a last glass of champagne and celebration…"
Tips and / or advice for future bridal couples?
"I think I could describe myself as the most relaxed bride ever – having a small family wedding just takes off the pressure and adds such a degree of energy and warmth to the actual day – it was absolutely incredible. I recommend a small intimate wedding!"
What was the most memorable part of your wedding day?
"The most memorable part of the wedding was when Lucas (Claudio's nephew of 10) decided spontaneously to contribute to the speeches by saying : You are the best family ever! All of us were a bit stunned for a moment to realize a boy of 10 can have such insights…it touched our hearts!"
Did you go on honeymoon? If so, where? And, why there?
"We still have to choose a destination although I have a faint idea that it might be a diving experience as Claudio is crazy about his new hobby…diving!"