Lelanie and Hardus: Stunning Farm Wedding
On 17 September 2011 Lelanie and Hardus tied the knot in Lichtenburg and had their reception on Hardus's parents farm called Platvlei. And we have to say... well done on transforming the barn into a magical reception venue! We absolutely adore the vintage tin details!
Have a look at all the gorgeous details below, beautifully captured by Stella Sassen.
About the bride
I have a Wellness Centre in Sandton where I offer Natural Health and Psychological Services. I am busy with a Masters degree in Play Therapy. We live in centurion. I (34) wanted to get married to Hardus because he is my best friend, he challenges me and we can share absolutely everything.
About the groom
I am 32 years old and live in Centurion. I grew up on the farm. We first stayed on a farm close to a small town called Makwassie and then we moved to Lichtenburg. I studied at the University of Pretoria, where I graduated. I am a consultant working for Andile Solutions, a company that a few of us started 3 years ago. I work in the Capital Markets industry and my focus is on financial markets and Algo trading. I wanted to start my life with my partner and to share in every moment of our lives together.
How did you meet?
We met in London (England). I lived there at the time and Hardus was on a 2 week work trip. We have communal friends and went to watch rugby (during the previous World Cup, England vs SA) at the Barracuda Bar. We immediately connected and a 2 year long-distance relationship started, filled with lots of long flights, Skype, SMS and chats. This was such a special time because we took so much time and effort to write letters to one another.
How long were you together before the wedding proposal?
3 years
Tell us about the proposal
Hardus surprised me with a weekend away at a game lodge (he told me that someone at work could not go an he took it over from the friend). We went on an early morning game drive with a group of people, so I had no idea that something was up.  On the way back to the lodge we stopped at a beautiful spot along the river, and we were told to get off. Hardus planned a pretty picnic with all my favorite food, a bottle of champaign (that he bought on a wine farm as a student with the intent to ask his wife to get married one day) flowers and the most beautiful view of the river that you can imagine.  He got down on one knee and asked me to be his wife. When he took out the ring I was shivering so much (as I had NO idea what it looked like). Hardus really bought me the perfect ring, and I still love looking at it!
How far in advance did you choose to have your wedding after the proposal? And, why?
3 Months.  Hardus grew up on a farm, and we have always said that we would like a farm wedding, so we decided not to stretch things out to long, as booking a reception venue was not an issue... why wait?
How did you go about the wedding planning process? Did you do it yourself? How long was the planning process? How did you find it?
Working full time and doing a masters degree is a challenge in itself, not to talk about arranging a wedding yourself!  Hardus also has a very demanding job, but we really wanted to be involved, and have our own special touches throughout the wedding.  The barn where we wanted the reception was just a roof at the time, and  walls and a floor needed to be build!  We made finding a photographer and a wedding dress the first priority as everything else could be arranged around these.  We put all our ideas together, and it was a great advantage not to have months and months as decisions were made without over-thinking everything.
My sister in law, Sonja, has a wedding flower business and we gave her free reign to embrace the farm topic.  We rented some of the decor, but most things were cheaper to buy. We wanted a lantern chandelier as focus point and Hardus and my Dad started drawing up a plan. We really wanted to use drapings and bought 1000m of earth toned coloured  organza.  Our gifts for the ladies were old fasioned sweets in a glass bottle, wrapped with material, and we had mampoer for the guys. Our families and us were all on the farm the Tuesday before the wedding and things just fell into place (with lots and lots of hard work!!)
The roof that needed to be turned into our wedding barn: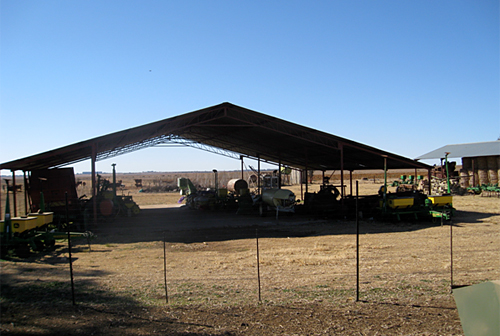 Did you have a hen party / bachelor party? If so, what did you do and what did you enjoy most about it?
I had a kitchen tea, quite relaxed. Just had drinks and snacks with my girlfriends and were treated with gifts and a very funny slideshow of Hardus and my childhood pictures. Hardus started with a grooming package at the Egyptian barber, followed by golf with his friends and a poker evening at his best man's guesthouse in Evander.
Wedding Details
The bridesmaids, mothers and I started the day with a breakfast at the guesthouse where I got dressed. Soon the make-up and hair started and before I knew it, I was putting on my dress. Hardus was still on the farm making sure that everything is where it should be.  I felt so overwhelmed when I walked down the aisle on a beautiful instrumental version of "Here comes the Bride" to meet the man of my dreams.  It was so special that Louis, who is Hardus' brother in law, was the minister that married us.  He had such a meaningful message to share with us on the day.
We used popcorn as confetti and were surprised with the remainder of the popcorn when we least expected it. We drove all over town to find exciting spots for photographs, and our wonderful photographer (Stella Sassen) knew just where to take us for the most beautiful photographs. In the meantime the guests went to the farm to have welcome drinks and snacks, served in the garden under a huge, old pine tree, decorated with flower filled lanterns and Consol bottles with candles hanging from the branches.
Hardus's mom spent weeks preparing the garden for the guests. We had Bernini and beer in wheelbarrows and hay bales for the guests to sit on. Our guest book were Jenga blocks- we really didn't want to have a book that will just be forgotten about. We also had a photo corner in the garden for guests to take photos while waiting for us.  As dusk fell, the guests followed a path of garden torches to the barn for the reception.
We walked into the reception on Lucky (Jason Maraz) and I felt truly lucky to be in love and to share this day with my best friend. We had traditional farm food, lamb on the spit, pampoen koekies etc. for the main course, and the most delicious biltong starter served on individual wooden cutting boards. The food was made by Tannie Dinie, a lovely old lady from the area.  We made milktart in small tin cups and had koeksisters and wedding cake for dessert.  Before we could open the dance floor, Hardus and his groomsman spread maize meel across the floor.  We did a Foxtrot dance on Independent Love song (Scarlett) and it was so special to share this moment between us. We danced the night away with our friends and felt so privilege that everything just worked out perfectly for us.
Tips and / or advice for future bridal couples?
Do not be engaged for to long! The longer you have to plan, the more hesitant you will be to make decisions and the longer the process will consume you!
What was the most memorable part of your wedding day?
When I walked down the aisle and saw the look on Hardus' face when he first laid eyes on me... and of course looking into his eyes while saying our wedding vows.
Did you go on honeymoon? If so, where? And, why there?
The honeymoon was a surprise, and I only found out on the way to the airport that we were going to Kenya! What a beautiful country! We spent the first 8 days in the Dream of Africa hotel in the coastal town of Malindi. We lazed around the swimming pool, snorkeled in beautiful reefs and even went deep-sea fishing. After that we went to Tsavo National park for a 3 day safari in the luxury tented eco-camp.  The watering hole was right in front of our tent, and it was so special seeing hundreds of animals walking past us as we lay on our stoep...