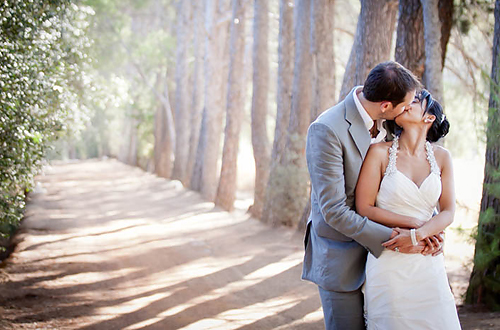 About the Bride
35, lives in London, I run a company called Win That Bid that specialises in preparing and writing bids for other companies. I wanted to get married because I was ready after being together for the best part of 6 years. We'd just finished a full house renovation without killing each other so I guess I'd passed the test!
About the Groom
36, also lives in London. Matt is Director of Proposals in a large US firm. He wanted to get married because and I quote "I was getting older and balding and was probably past my peak" and then he said "We were living in the house together and having fun so why not make that forever?"
How did you meet?
We met in a really dodgy nightclub in Bristol, UK. Matt was stationed there with the Navy and I was working as a lawyer. We were both pretty hammered and spend the whole evening at the bar doing shots and guessing the next cheesy tune.
How long were you together before the wedding proposal?
We met 6 years before the proposal but split up for 18 months in the middle.
We were on holiday in Italy, in April 2011, initially Lake Garda followed by Venice. I was pretty sure Matt would choose this time to propose but when we went to a rooftop bar overlooking Venice island (which is totally his style) and the wind came rushing in followed by a conversation about landscaping our garden back home I had my doubts it was ever going to happen. The following day was April 28th our last day, we went over to San Giorgio Island, a small island facing St. Mark's Square
Matt went up the church tower whilst I waited for him, to be fair I was in a foul mood and had been since waking up and discovering he didn't have 'a plan' for the day ie to PROPOSE!!! Anyway when he came back down from the tower he suggested we sit and finish a bottle of wine we'd been carrying around. It was then that he said "You seem to be in a bit of a grump so I was thinking the only way to get you out of a grump would be if I bought you some diamonds" He then propped me up on one of those concrete posts that boats tie their ropes to and got down on one knee. To this day he still reminds me that rather than immediately say "Yes" my response was "Can we get married in Italy?" Matt "Yes" Me "Can we get married in South Africa?" Matt "Yes!! Will you just answer the question please!!!?"
After a few very excited calls back to family and friends we jumped on a boat back to the mainland and Matt let me choose my amazing emerald and diamond ring. Although he did have to sit down for a few minutes after they told him the cost!
That night we flew home and within 3 weeks I was in Cape Town with my bridesmaid Jules planning our South African wedding.
How far in advance did you choose to have your wedding after the proposal? And, why?
We got engaged on 28 April 2011 and married 15 February 2012. I felt February would be a great month weather wise in Cape Town and 9 months planning and preparation was ample time.
How did you go about the wedding planning process? Did you do it yourself? How long was the planning process? How did you find it?
Prior to visiting SA I researched venues online and came up with a shortlist of four in the winelands region. I also made contact with a minster, photographer, décor and flowers company. I then made arrangements for Jules and I to meet everyone during our three day recce. It was pretty full on and when the first two venues weren't right I was concerned that we'd be going back to the drawing board. However on day 2 in the pouring rain we visited Diemersfontein Wine Estate and I knew it would be perfect for our needs. The lawns were beautiful and the guests could all stay.
So with the help of the estate wedding co-ordinator and my incredible décor lady and of course my bridesmaid Jules I managed the whole process from the UK. And as the 40 guests were staying on the estate for four nights I also arranged dinner on the estate on night 1, a full days' tour of wine, cheese and brandy tasting at Boschendal, Fairview and KWV followed by dinner and more tastings and a quiz at the Stone Kitchen, Dunstone Wines on day 2. On day 3 Matt took the boys to play golf at Pearl Valley while I went to Langkloof Roses for a gorgeous Valentines lunch with the ladies. We then all met up for an estate wine tasting. Day 4 was the wedding.
I absolutely loved planning the wedding. I loved getting into the details, everything from the colour and size of the pom poms on the backs of the chairs to the favour messages on the cigars and feathered fans to Jules' dress and shoes to my flowers – it was just so much fun. Not to mention bringing the estate wine home in May for a family tasting in the garden.
Did you have a hen party / kitchen tea / stag night / bachelor / bachelorette party? If so, what did you do and what did you enjoy most about it?
I had a hen weekend back in the town where Matt and I had met. It was full on as I was the last of the group to get married and therefore the girls decided it was payback time for all the awful things I'd made them do on their hen nights! The theme was past, present and future, on night one I had to dress up in all the outfits I had made them wear, day two I had to wear 1970s sports kit as 2012 is the year of the London Olympics and that night I was put in a scouse wig and shiny tracksuit with a moustache and a whistle to represent marrying a scouser (Matt is from Liverpool, scouser is an affectionate term for people from that region). Fortunately, the girls also wore wigs and taches too – we looked a sight! This was the best part as we had fun and were laughed at as a group. We then danced the night away in the same club Matt and I met at, a great night out!
Matt went to Tenerife with his mates for a golf weekend, there was a lot of boozing and dressing him up in girls outfits. He was a broken man on the Monday! It wasn't until his speech I found out that if it wasn't for the tattoo parlour closing that day he has tried in his drunken wisdom to get a tattoo with "I love the boys" on his left arm. I would have laughed my socks of!!
We also both had second nights out, mine was at a South African restaurant in London and his was the night before the wedding in Wellington.
Wedding Details
I'm going to cheat here and use the blogs that the videographer Vicky Goslin and the photographer Joanne Markland wrote as they've summed up the day beautifully. But let me know if you want anything further.
And although the day was just magical in every way the best thing about it was the surprise wedding present video Matt had made me, which was hilarious and had taken four months of secret recording editing (see below)
Finally, as so many of our friends and family couldn't make it out to SA we're having a local church blessing in July when I will be 7 months pregnant!
Vicky Comments:
Matthew joked in his speech that he had only just gone down on one knee to propose when Rebekah told him she would like to get married in South Africa! Dreams do come true – well, they do for Rebekah and so their wedding was planned, the venue was booked and the guests were invited to fly over with them from the UK and join them in our wonderful country.
As soon as I walked into the room at Diemersfontein where Rebekah was dressing, I was greeted by this lovliest of brides and made to feel very welcome ~ and her SHOES! Two pairs – wedding and reception shoes with the highest of heels and all a glitter! I have to say that Rebekah's dress was one of the most stunning I have ever seen and she looked totally divine in it. Everything about this wedding was just different. Her bouquet was a strand of perfect orchids, nestling against a pure white curved ostrich feather. Lady guests were given small ostrich fans to help them keep cool on this perfect summer's day. This was only one of the treats that awaited the guests that day!
Whilst sipping pre-ceremony drinks on the terraced lawns in front of the Manor House, guests watched as a helicopter approached and hovered overhead. They had no idea that this was how groom Matt was going to make his entrance! Excitement mounted as the helicopter descended to land in the field opposite (with bride Rebekah peeping out to watch from the windows of the Manor). Moving to the ceremony location, Matt and the guests were enchanted as beautiful Rebekah, on the arm of her very proud father, walked towards the gazebo in the beautiful gardens of the estate. Reverend Peter Fox led them in their vows before everyone then moved over to the Manor House terrace to await the couple's exit after signing the register there. Lots of confetti (with ostrich plumes) was showered over the couple before Rebekah revealed the next surprise. Unbeknown to Matt, she had organised that Joseph, a cheetah from the Spier Cheetah outreach camp, be brought along to interact with him and their guests. So, we were all asked to move quietly to another area on the estate, where Joseph awaited everyone. It turns out that Matt had jokingly told Rebekah that if she wanted to get married in South Africa, then he expected to see cheetahs there on his wedding day! He had no idea that she had been busy arranging this for him. What a great experience. All the guests took turns to have photos taken with this gracious animal, before he was led away by his handlers.
I was once again working with a photographer that I had never met before, Joanne Markland, and it was just a pleasure to work with her.
Rebekah had told me, prior to the wedding, that hers would be a 'crazy' wedding and that I must watch out for guests dancing on tables at least! So, we had our cameras at the ready all the time! Just after the cheetah had left the grounds, a drumming troupe arrived, with enough drums for all the guests (who were now seated in a circle) to launch into a drumming lesson. Great fun for the guests and for those of us listtening! Great video material too!
Fairylights and lanterns lit up the tented marquee as guests moved inside for the evenings entertainment. The speeches were moving but more often than not just totally hilarious! I just loved Matt's video tribute to his new bride. I might ask him if he wants a job as a video editor! So brilliant! Even the cake cutting ceremony was different. There were individual cakes, each decorated in an animal print design. So eye catching and fabulous! After Beks and Matt had sliced into the cake that had been brought over to their table, the other cakes were taken to the other tables in the room and guests did their own 'cake cuting' at their own tables! I've never seen that before. Yummy Red Velvet cake was revealed by the first cut.
Rebekah disappeared for a few minutes and returned to the marquee in time for the first dance, but dressed in a short gown and with her other shoes on her feet. Another surprise for Matt! Very soon, the floor was full of their family and friends and when we left, the party was really rocking!
I just LOVED being at your wedding, Beks & Matt ~ both of you and your family & friends were great and we wish you a long and happy future together!
Joanne Markland Comments:
Wow what a wedding to remember, the day was filled with little surprises for the groom, guests and bride.
First of all Matt and Rebekah are from the UK and Rebekah has always loved South Africa so when Matt proposed she had already decided where she wanted it. They have done so much travelling together in the past few years so to have the wedding overseas just seemed like the perfect idea. All their guests also flew over to be with them on their special day.
The day started with Matt (Groom) & Paul (Bestman) arriving at Diemersfontein in a helicopter, dressed in their wedding attire and looking like they were from a Bond movie. Rebekah got dressed at the manor house, her gown was stunning and she looked amazing in it. The setting for the ceremony and reception was so beautiful and the weather played along nicely. After the ceremony Rebekah had a surprise for Matt, she had organised Joseph a cheetah from the Spier outreach project to be at the venue. All the guests had a chance to stroke the cheetah. While we went to take photos they had organised drumming for the guests and what a great idea to keep the guests entertained and for them to experience a little bit of that african spirit.
After the photos there was oysters and bubbly and then the guests had to play what they had been practising on the drums, it sounded awesome. Everyone then headed over to the reception area. Matt surprised Rebekah with a video which he had put together for her, he had been working on this since October last year (See below). 
Congratulations to the both of you, you are such a lovely couple and so easy to photograph!
Tips and / or advice for future bridal couples?
Have the wedding you want to have, especially if you're paying for it. You will never please all of the people all of the time so don't even try.
Set your wedding and honeymoon budget from the off and build in a 10-20% contingency for extra fun stuff.
Be organised and share the work, give jobs to friends and family that you know they'd like i.e. flowers and cakes to mums, favours to bridesmaids, etc
Get as much bang for your buck as you can; hiring a house for the weekend means a more relaxed time with loved ones rather than cramming everyone into an afternoon and evening.
What was the most memorable part of your wedding day?
Matt arriving like James Bond in a helicopter and the video he made for me. Seconded by the guests playing the drums for us and Joseph the cheetah's surprise appearance from me to Matt.
Did you go on honeymoon? If so, where? And, why there?
We stayed in Camps Bay with our guests for a further 3 days and then went to the Natal region for 4 days followed by a week of nothing in Mauritius. We'd originally decided to go to scuba diving in Mozambique but two weeks before the wedding I found out I was pregnant so diving was off the agenda not to mention my doctors wouldn't give me anti-malarial medication or the vaccinations shots I needed.
THE VIDEO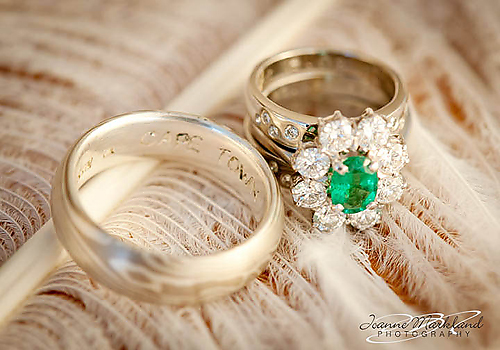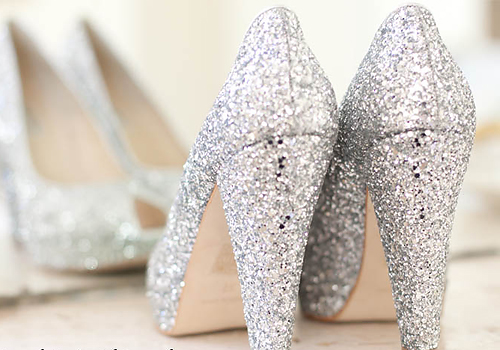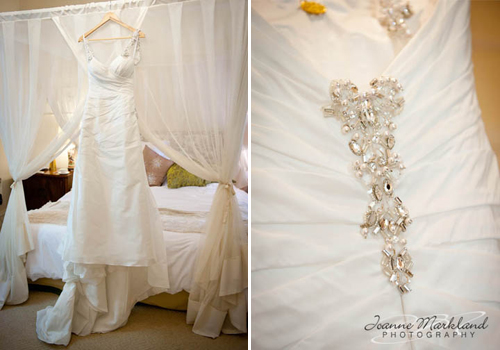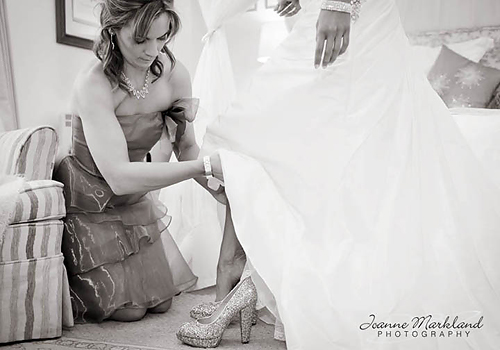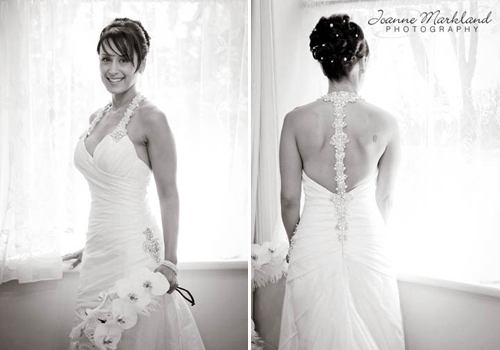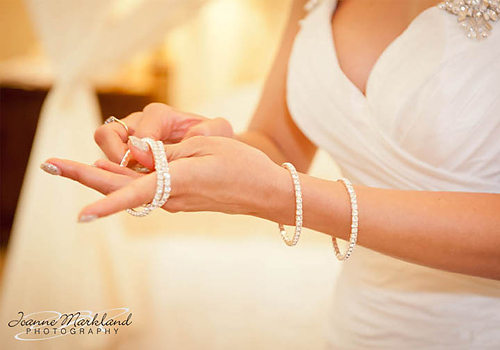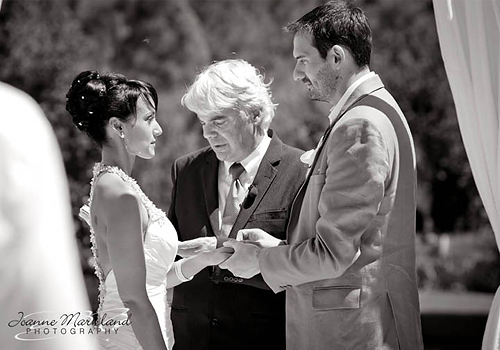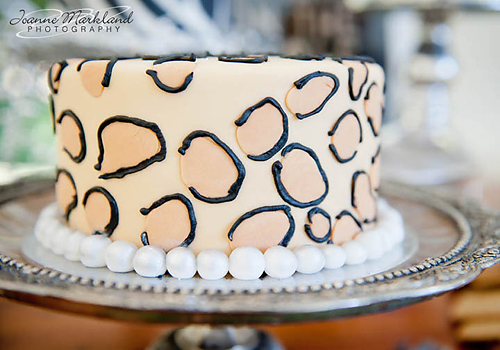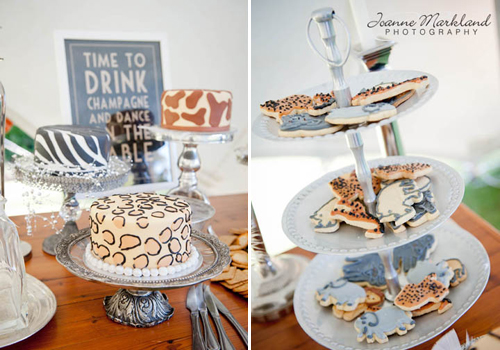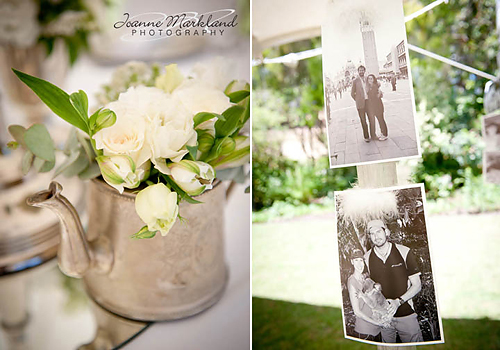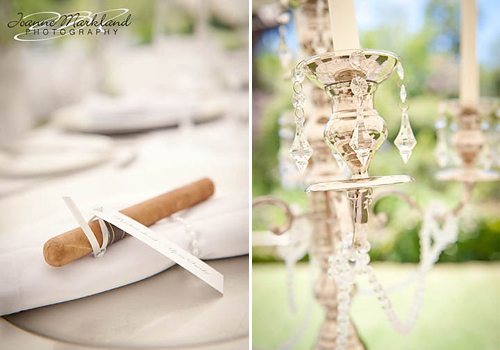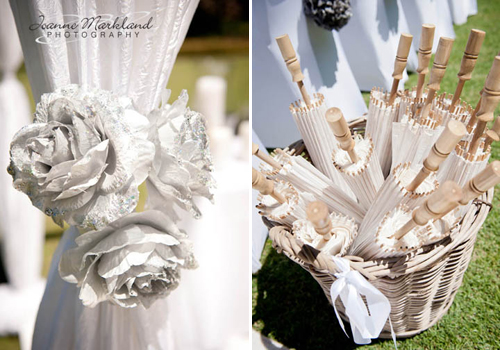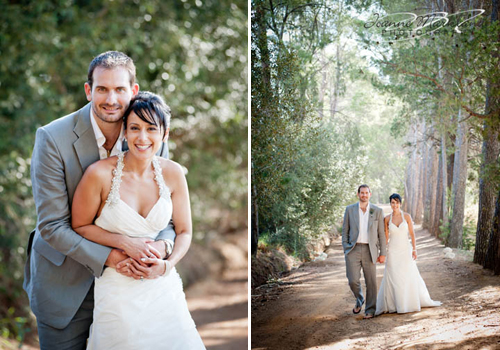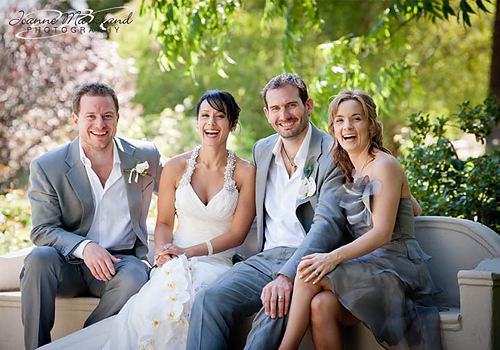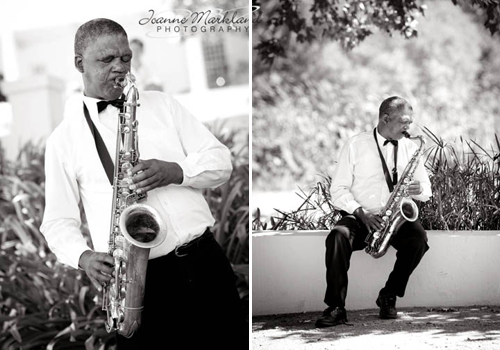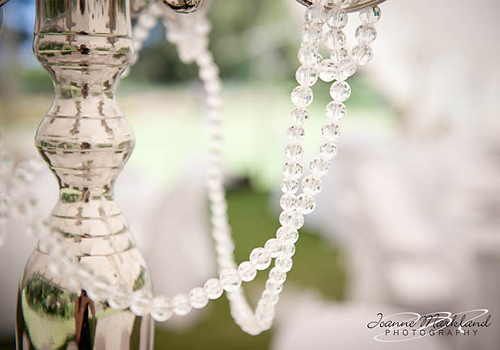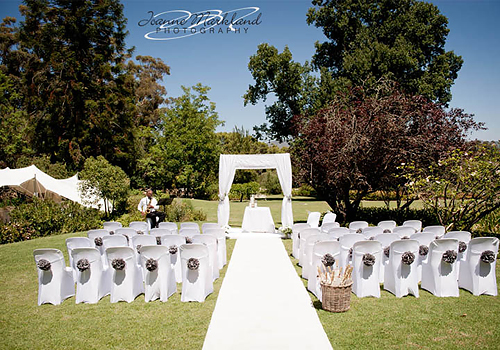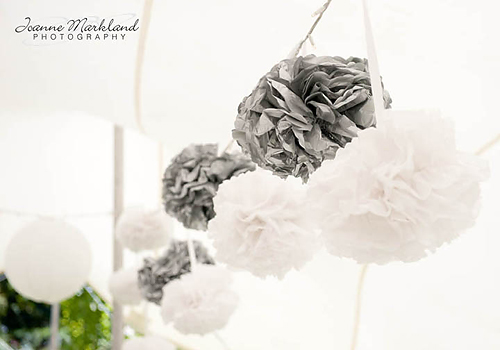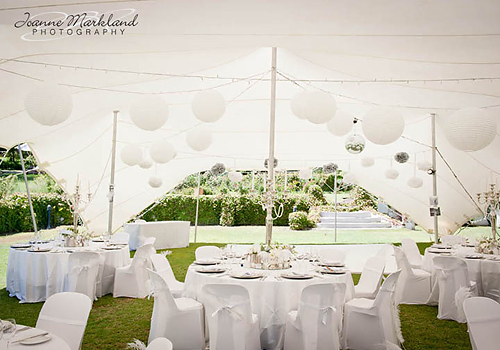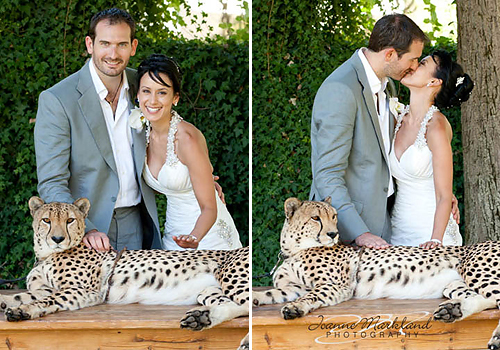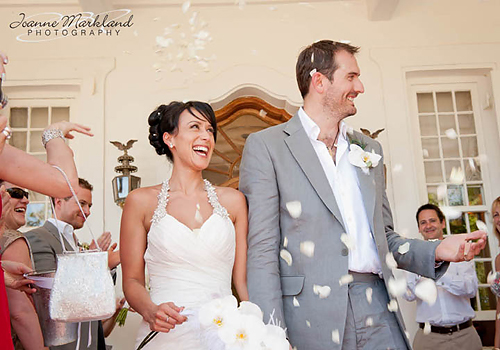 Wedding Details
Date and Time: 13.45 on 15 February 2012
Wedding Venue: Diemersfontein Wine Estate, Wellington
Photographer: Joanne Markland