Gorgeous decor details, a sunset on the beach and a sexy Tango… this wedding, beautifully captured by Lindy Leeming, is sure to take your breath away. Nadine and Brett tied the knot at the Oyster Box Hotel on the 12th of November 2011. Enjoy these gorgeous photographs!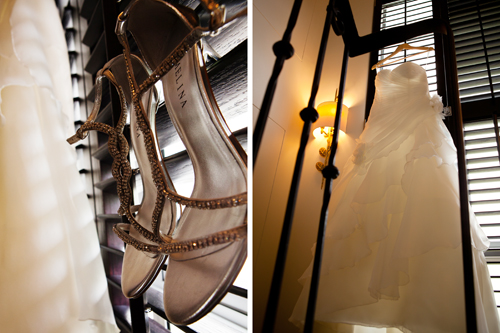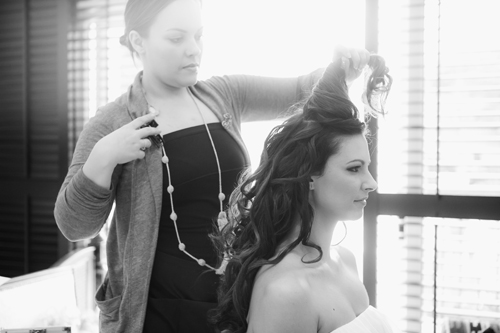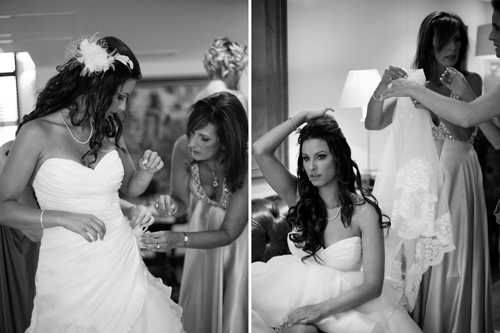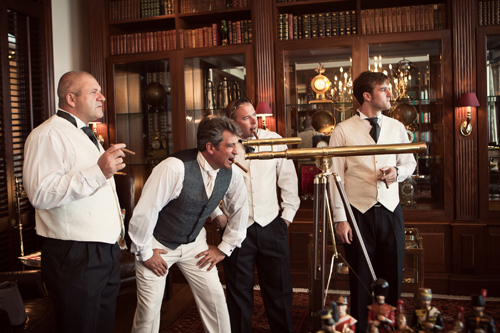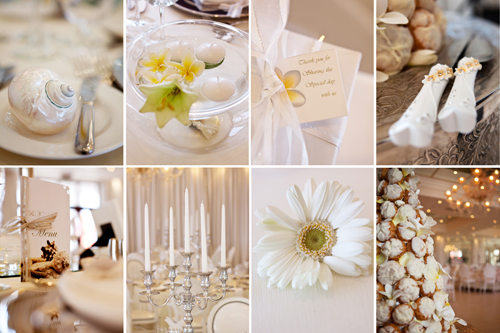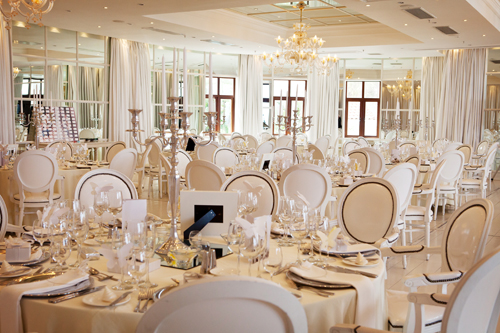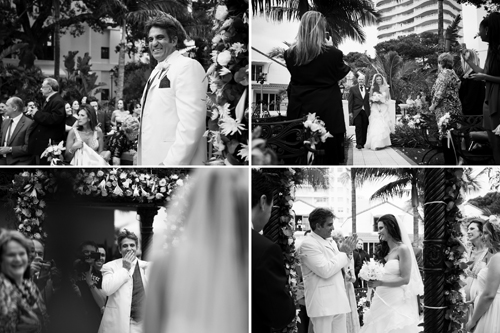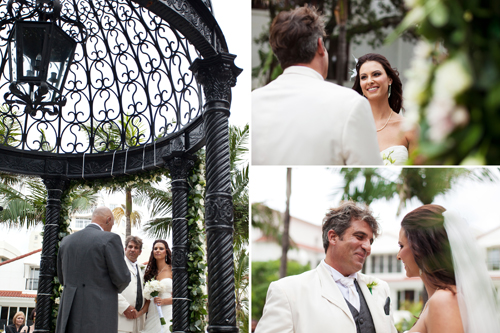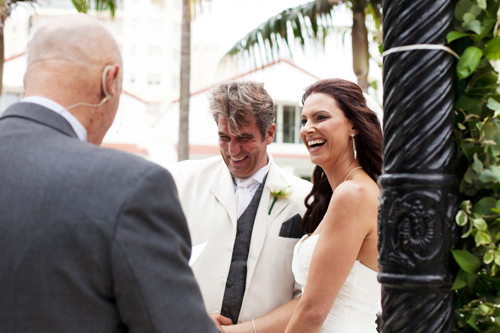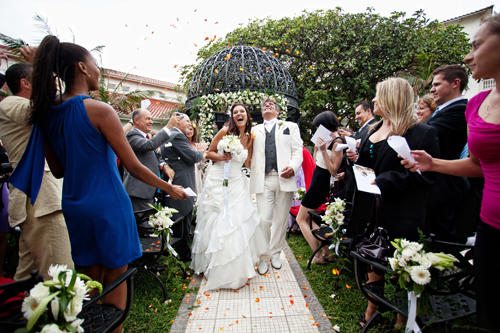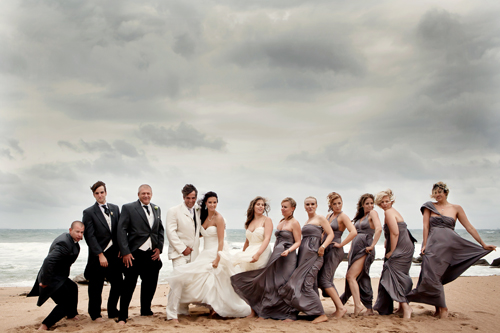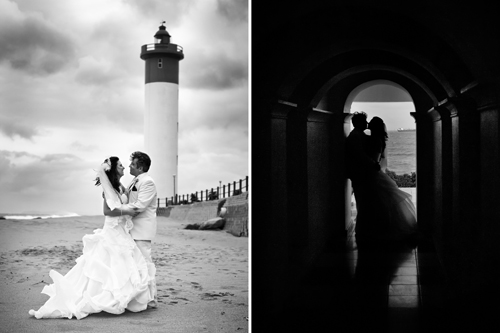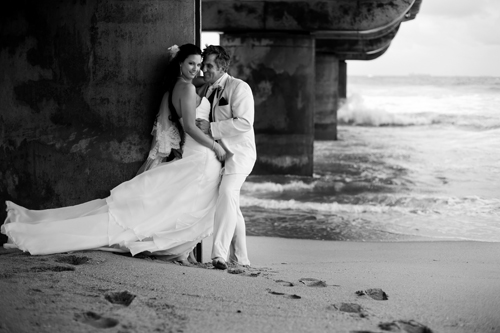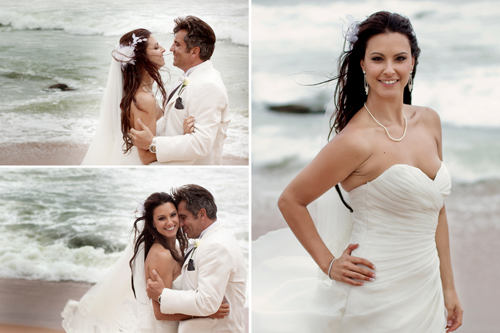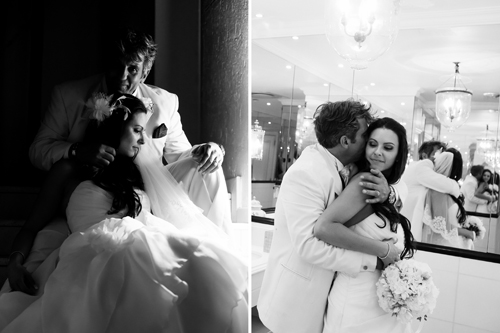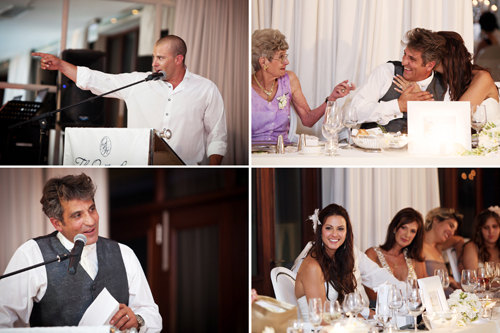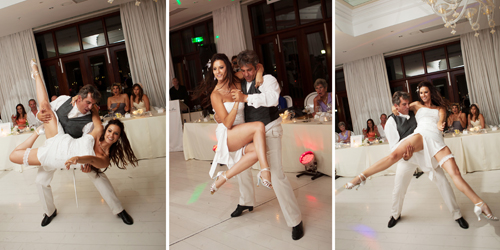 A little info about the bride
I am 31 from Northcliff, Both my Parents are French Mauritian, but been living in South Africa for many years, so I grew up in South Africa with a lot of French influence and many trips between here and Mauritius. I have a family business which comprises of manufacturing and supplying a large Health Food range including majority of the Dischem Lifestyle Ranges.
I had been praying for a husband for about 3 years before I met him, I made a list of the qualities I wanted in a man and closed the book and decided to enjoy my single life until he would make an appearance. He did when I least expected it.
A little info about the groom
I am 46 and live in Sandton, I have been property developer in the Sandton area for around 15 years. I live in the penthouse of a development I did in the Sandhurst area.
I had been divorced for around 5 years while truly dealing with my " mid life batchelor crises " got to the point where I was truly done with that lifestyle and I got on my knees and asked for the woman of my child hood dreams. I knew that she was out there and I was finally ready to make my life with her.
After I said this prayer I put it away and got ready for her to come to me.
On my way to Mozambique that holiday I got the message that she was there and that I was going to meet her and I drove my passengers mad with my constant reminder to all that " my special woman is there and im going to meet my wife " .
When I saw her the prayer was answered in my spirit and I knew that she was the one. Love at first sight does exist and is real and beautiful. I then proceeded to tell her that and do whatever was necessary to show her that love including a complete turn around in every sphere of my life.
How did you meet?
I had just finished a diving course and a few friends and I decided to go along to Ponta Mozambique for a few days to test out our newly acquired hobby.
After the exhilaration of a few dives we decided to go and have a drink at the local restaurant, where a girlfriend in our group ran across the restaurant and jumped into a man's arms (a friend (Brett) that she hadn't seen in a while) we were all quite amused by this and carried on our evening.
Later on he started requested that I sit next to him and talk to him. After a few refusals, I remembered that I had decided that I wanted to meet new people on this adventure and finally gave into his requests for a friendly chat.
As the evening passed our group moved onto another local spot and there he was again, unfortunately at this stage there was a heated argument ensuing between some of the men. I decided to get in the middle and speak some reason between them and they all calmed down shook hands and the evening went on. Not realising that in that moment Brett looked at me and realised that I was the wife that he had been searching for.
While enjoying my evening, circling and speaking to new friends made, and all along Brett just stood by next to me, making sure his presence was known as I rudely ignored him for the rest of the night.
The next day while I was relaxing on the beach, Brett had joined a few of our group to have lunch and realised that I was not with the group. He decided to walk from place to place while checking the beach and found me lying in the sun a few stops away.
He came and sat right in front of me and made himself comfortable while I was thinking "Wow, this man is persistent!"
As the time passed getting to know him, He slipped into the conversation, "by the way, I am going to marry you, you are my wife".
I brushed it off and had a laugh, and he stayed there in front of me for the rest of the afternoon.
That night he sat down with my brother and told him that within 6 months that he would be married to me, my brother ginned and said, "do you know how many guys have tried to marry my sister, you are not going to get this right"
Arriving back from Mozambique, his persistence did not wear any thinner and I finally agreed to meet him for a casual supper. Eventually after a few dates he slowly crept into my heart and I fell totally head over heels
How long were you together before the wedding proposal?
"We met in Mozambique in May and were engaged by July."
Tell us about the proposal
Brett: "We had spoken about getting engaged in an informal way and what became apparent was that the event was going to need to be extra ordinary , amazing how a little extra pressure bring out the romantic in you.
After much careful ring designing in the hush-hush I decided to take Nadine back to Mozambique diving but a little further North to Inhambaan.
We took a lazy road trip up there , ring carefully buried in the car , and while I had no exact plan I was comfortable with the fact that it would come to me.
Well we were diving, eating and lazing around daily doing Mozambique things while I waited for my chance to present the ring to her when the penny suddenly dropped. I would do it under water not because it prevented her from saying anything back to me but because that had been significant of our meeting. I briefed the whole dive school as to the plan, found a clam style shell, carefully buried the ring in cotton wool and wrapped the shell closed in a white ribbon.
The stage was set , the divers briefed and we set off for our dive in the wild beauty of the mozies sea. After we got down there was a flurry of sign language going on without her notice while we frantically looked around for the perfect spot to hide the shell and do the deed. The obvious perils of doing this incuded losing the shell , dropping the ring and never finding it again , getting eaten by something ferocious , water movement etc so you can just imagine the flurry going on while making sure she was there to dive !
The spot was found, the cameras made ready and I guided her over to come and see an interesting underwater thing. At first she just looked at the shell and slowly the ribbon starting not making sense. I grabbed the shell and started getting it ready for her. The shell was now wet and for the life of me I couldn't get it open. Frustrated I eventually gave it to her to open and got ready to catch it if it dropped. Well it didn't, she put it on , much bubbles where around and the deed was done. Divers clapping and screaming around us. The rest of the dive was a truly romantic affair with much hugging , hand holding and cuddling. Neither of us remember much of the marine life that morning but our best dive ever.
We arrived back to the dive centre her donning her custom made ring to the cheers of the staff and an ice cold bottle of bubbly. I'll never forget how much we smiled and loved that moment and looked forward to our life together.
It was incredible special and sentimental, I am so happy we have the video to show our children one day."
How far in advance did you choose to have your wedding after the proposal? And, why?
Nadine: "We decided that we didn't want to wait too long as we both new that it was right and Gods plan, so we were looking for end of the year or early next year. I had my heart set on getting married at the Oyster box after a visit there earlier that year and decided to give them a phone call to check availability. When I spoke to Ginny (Oyster Box wedding coordinator) she told me that she had just come out of a meeting with a couple who had delayed their wedding and that there was an opening for the 12 November.
My dad had kept telling me right from the beginning of 2011 that I would be married before the end of the year and his dream came true."
How did you go about the wedding planning process?
Nadine: "Well first of all it was pretty difficult to make plans for a wedding that is 600 km away, but we went for an initial meeting with the wedding coordinator in Durban and everything just started falling into place. We were advised about all the suppliers that work closely with the Oyster Box, but still I wanted to do the research myself and not go on hearsay.
When I looked for a band I can across a website that included a wonderful right up on the Franscois Hardy band and it turned out that he is my cousin and very close to my parents, which was really special.
Being in the modelling industry for a big part of my life, I was incredibly picky of which photographer I wanted to use, when I saw Lindy Leemings' photo's, it was the portrait of exactly what I had in mind, her photo journalistic style captured me, I loved the way she grabbed the emotions and the feeling of everyone on the day. There is nothing I dislike more than posing portraits and she just allowed us to be natural and captured the essence of our love.
It took me 3 months to put the wedding together and I loved every single moment of it, it was a really special, emotional time for me because I always pictured what I wanted but when the actual planning begun it all changed and became an expression of our personalities.
The only thing I kept all along was the Frangipanis, a wild tropical flower that smells of summer.
We had most of our families in Durban monitoring Frangipani trees to make sure they would come out just before the wedding.
The best part of the planning was spending quality time with my mother, she was incredible and we laughed like girls most of the time.
Did you have a bachelor / bachelorette party? If so, what did you do and what did you enjoy most about it?
Nadine: "Yes, it was supposed to be a surprise but I caught wind of it when I saw my family and groom to be whispering to each other the night before. So I thought of returning the surprise on the girls and not make an appearance and let Brett go in on his own to tell them that I was feeling sick, but I would sneak into the back door and surprise them myself. Unfortunately I did not have the keys to the back the door that day and my plan fell apart, however I did run into the room they were hiding in and jumped up and screamed surprise. It worked out well as we all did it in unison!
They dressed me up as a French maid and did some crazy things and eventually wrapped me up in toilet paper designed dress. They changed me again and were picked up by a small bus which took us on a road down memory lane, all the places we used to go out through the single years.
We stopped at each place to either eat, drink or dance and at one of the places the band asked me to join them on the stage and sing with them, well it was the best moment, I sang my heart out to a wild audience with my crown, angel wings and a wand. Spectacular sight I must have been."
Wedding Details
"A big reason I wanted to get married out of town was because I didn't want just one night and then it would be all over, so we planned that all the guests stay in the same accommodation so that we were close together to make it a weekend event.
All my family arrived on the Thursday and we had a little party together to catch up and spend quality time together.
Our Bridesmaids and the rest of the guests arrived on the Friday for a quick rehearsal and a Pre Wedding cocktail evening where we announced the engagement of one of my bridesmaids and celebrated the 96th birthday of Bretts grandmother.
That night I stayed at the Oyster Box with my mother, to be as far away from my groom as possible before the big day.
We woke up the next morning, overlooking the ocean and it just felt like my wedding day. The hotel was buzzing with preparations as I relaxed with the family and had some champagne on the balcony overlooking the magnificent red lighthouse.
Once the bridesmaids arrived all made up and looking beautiful we had a few toasts and started getting ready, that was the first time I started getting teary eyed. We had a beautiful suite overlooking the ceremony gazebo area and we could see the guests filtering in.
While watching my bridesmaids make their way down the isle, gripping my fathers arm, I thought I was going to become a basket case, he just looked and me and said "Don't cry my baby" and luckily I was able to pull it together.
Walking down the isle, I locked eyes with my husband to be who was in tears and I remember it like it happened in slow motion. The most incredible part of the ceremony was when the pastor announced that he would not be doing the ceremony and that my father would take over and marry us. That was the most precious moment of the wedding.
It was an incredibly windy day and right through, Brett had to hold my vale from flying around during the ceremony and our photo shoot on the beach. It became so bad that I ended up hiding behind him till last moment before each shot. I was thinking, this may be the worst weather possible to do a shoot, but it turned out to be a blessing in disguise as the photographers' assistant showed me one of the pictures they had just taken and it was breath-taking, full of drama.
The reception flew by, along with the speeches, we hardly ate, of course, but the food was 5 star quality and presented with absolute elegance.
After the speeches we organised a slide show of moments my father and I had together when I was a child, which brought a few tears, which then led into our father daughter dance, yet another beautiful moment.
When desert was served and the dance floor opened, the band started and the lights dimmed in the glittering white shadowed dance floor.
The dj announced our first dance and it started romantically with the candlelight version of heaven by Dj Sammy and Brett and I swayed slowly enjoying every moment, until the cd scratched and came to a deafening holt. The dance floor lights came on and the music changed into an intense tango and Brett spun me out and ripped the bottom of my wedding dress off.
A passionate tango ensued, including lifts, which sent our guests into shrieks of surprise, knowing Brett was not a dancer, and then ended in the climax of a death drop.
The rest of the evening was truly spectacular, everyone was in such high spirits, people laughing, singing and dancing, we even had to extend the reception by a few hours due to ongoing party."
Tips and / or advice for future bridal couples?
Stay focused on the fact that its not only a wedding but a marriage.
Enjoy every moment of the planning process and get as many friends and family members involved, the build up brings you all closer together.
Don't forget to celebrate the little things in between.
The final fitting of your dress with your mom and bridesmaids with a little champagne.
A few days before the wedding, get the whole entourage to come and help you with final touches… ribbons and programs and menu's. Make an evening out of it.
Don't stress about anything on the day, you have done all you can and just relax and enjoy each precious moment.
What was the most memorable part of your wedding day?
My dad marrying us, our vows and our sexy dance.
Did you go on honeymoon? If so, where? And, why there?
Mauritius. We decided we wanted the sun and the see but didn't want to travel for days to get there. We have both been there many times in our lives so we wanted to signify our unity by starting a new adventure in a place well known to us.
Service Partners:
Wedding Location: Oyster Box in Umhlanga
Number of guests: 100
Wedding coordinator: Ginny Elsick (designated wedding coordinator for the Oyster Box)
Photographer: The Fabulous Lindy Leeming
Bridal dress: Demetrios (Lady Marmelade)
Bridesmaids dresses:  Dream Day Couture
Suits: Euro Suit
Flowers: Kobus Niemann – Designer Flowers & Functions
Cake: Janet  Sawkins
Food: Oyster Box Hotel