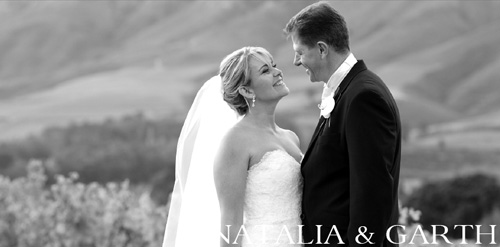 Real Wedding courtesy of The Aleit Group
When Natalia and Garth met at Camps Bay's favourite beach bar, Caprice, their eyes locked across the room and it was instant mutual attraction. As Natalia says, "Garth was supposed to return to Durban on the Sunday but decided to stay an extra two days and the rest is history." After a two year long distance romance, Garth moved to Cape Town in November 2008. The couple went to Sydney for Christmas and New Year, and it was here that Garth proposed on the Aussie Gold Coast. "After a sun filled day snorkelling on the Great Barrier Reef, Garth took me out to a romantic candlelit dinner. When he said the magic words 'will you marry me' I thought I had died and gone to heaven! YES! YES! YES! On our return to South Africa in January we only had five months to organise and plan for the wedding, and who better than Aleit and his team to create magic in such a short time?"
The special day was celebrated at Clouds Estate, a picture perfect venue for the theme of a Cape Autumn Romance. When guests arrived in the late afternoon they were greeted by spectacular views over the mountains and this wow! factor continued throughout the rest of the day and night into the early morning hours.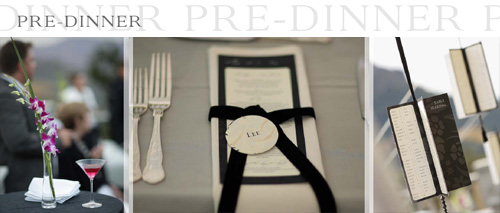 After a beautiful ceremony – in the words of Reverend Mark Wiemers, "when two become one" – guests enjoyed cocktails and elegant snacks to the sounds of a jazz trio on the villa's terrazzo, framed by the Cape mountains and surrounding vineyards. The newlyweds made their grand entrance with U2's Beautiful Day playing in the background. Once the cake had been cut, the party started to rock! The band Sound Image provided fabulous entertainment while everyone enjoyed a sublime dinner created by Dish, with flavour sensations such as a thinly sliced mouth watering pepper and mustard crusted sirloin with ripe rose tomatoes, griddled portebellini mushrooms, wild rocket and shavings of reggiano. Tiered silver fantasy platters filled with delectable sweets were served for dessert, offering treats like chocolate fudge brownies, cashew and cherry nougat, baby lemon meringues, sugared white roses and more!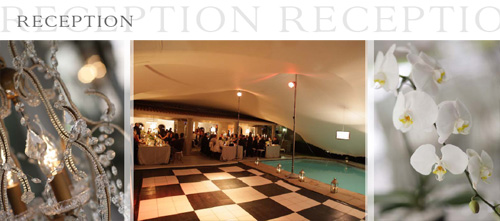 Natalia and Garth opened the dance floor to the sound of Michael Buble's Everything. Says Natalia, it was very appropriate as our wedding day was everything and more that we had hoped for, thanks to Aleit and his team who executed every detail flawlessly." An after party continued until the early hours of the morning, complete with exciting fire spinners and tasty midnight snacks.
A special touch that the couple appreciated was the preparation of the honeymoon suite, with candlelit room with flowers from the reception, slices of wedding cake, snacks and champagne. "We celebrated our first night, or rather morning, as Mr and Mrs Hollins! The personal written note left by Aleit is much treasured and a very unique touch."
The couple struggle to pick one favourite moment when every minute of the day was so special, but Natalia mentions a few unforgettable moments. "Walking down the aisle with my father with Garth waiting for me, the moment we said 'I do', signing the wedding register as Mr and Mrs Hollins, or that special moment alone, savouring the thought that this is the first day of the rest of our lives together – forever! And for me, the bride, a special moment was waking up on the morning of my wedding day, lying in bed and just knowing that this day is going to be my dream day because the master of them all – Aleit and his team – is in charge and they will ensure that every smallest detail is perfect and our very special day awesome. Aleit's reputation and all the media coverage he receives is well justified and every penny spent on his services is an investment that no bride or groom (or father of the bride!) will ever repent. When we think back to our wedding day we laugh out loud with sheer happiness at the joy and magic of it all. The end result of the hard work that Aleit and his team put into our special day far surpassed our wildest dreams and expectations."
An amazing wedding was followed by an idyllic honeymoon in Thailand – think moonlight nights, pristine, white beaches, turquoise waters and perfect sunny days and endless cocktails. As Natalia says, "we were savouring and celebrating being Mr and Mrs Hollins – blissfully happy and already planning our first wedding anniversary with many, many more to come."
Advice to other bridal couples tying the knot
"If you want a picture perfect day and a fairy tale wedding that little girls dream of, use Aleit and his team. The day will be unique, every moment yours to treasure because every detail will be planned to perfection. Aleit is truly in a class of his own with a passion that rubs off on the rest of his team. Working with him and his team was special, filled with laughter and fond memories."
Service Partners:
VENUE: Clouds Estate
MINISTER: Mark Wiemers
CHEF: Dish Food and Social
CAKE: Kanya Hunt
BAR: Urban Tonic
MUSIC: Aleit Music and Entertainment
JAZZ BAND: Sound Imagination
SOUND ENGINEERS: Presentation Staging
STATIONERY: Elsje Designs
TABLE GIFTS: Aleit Shop
FLORIST: Flower Floral Design
LIGHTING: Something Different Concepts and Shows
PHOTOGRAPHER: Joe
VIDEOGRAPHER: Vicky Goslin Videography
HAIR AND MAKE-UP: Luciano dos Santos
FLOORING: Something Different Concepts and Shows
BEDOUIN TENT: Nomadik Stretch Tents & Canopies
HIRING: Exclusive Hire
Download the full moodboard for this wedding here. (2.5 MB)