Robyn and Greg celebrated their wedding at the beautiful Oyster Box Hotel in Umhlanga Rocks on the 6th of August 2011. Neil Cuninghame was their to capture all the special moments. The theme was black and white with splashes of bright green.
Wow, can we just say that Robyn's dress is absolutely breathtaking?!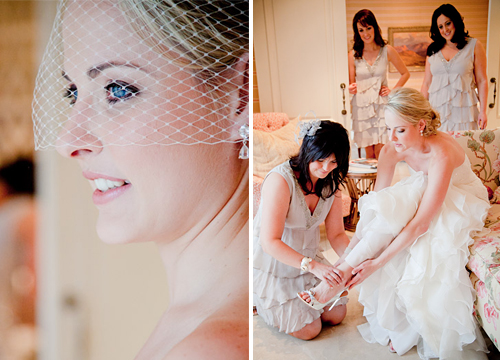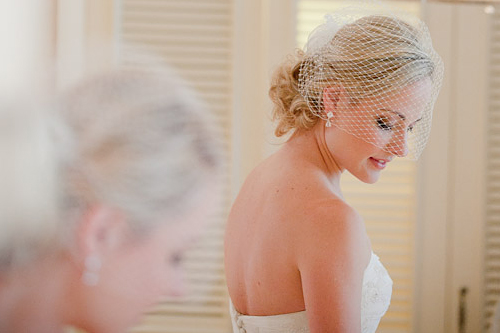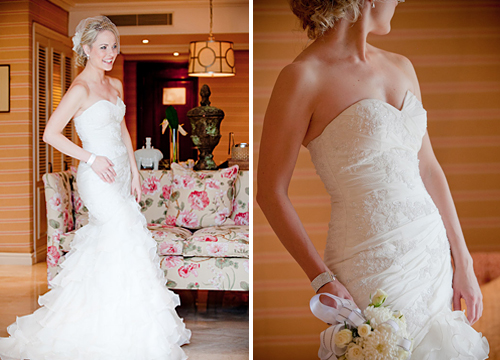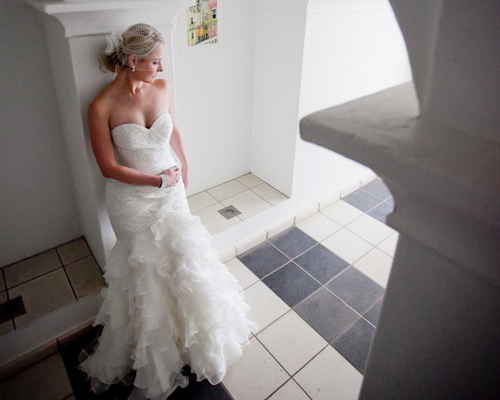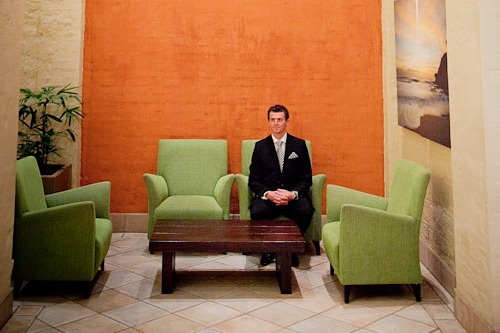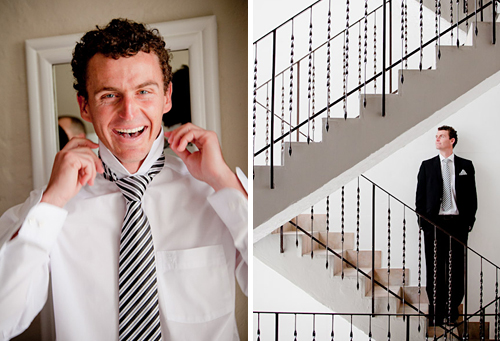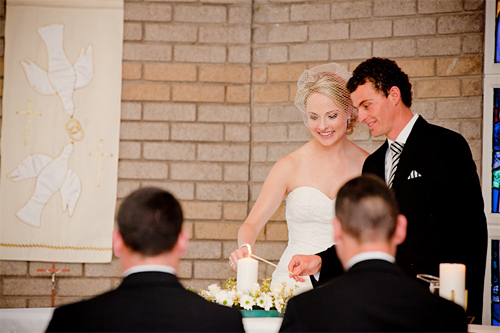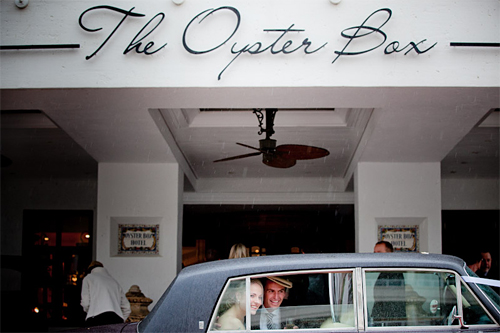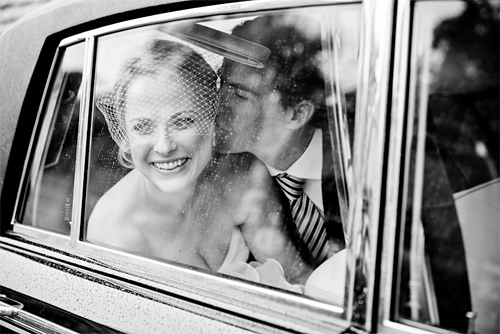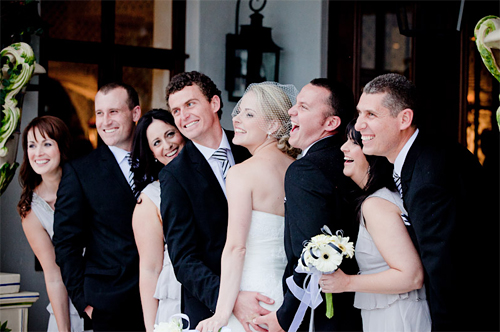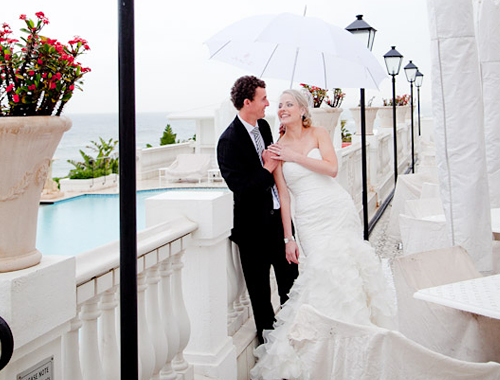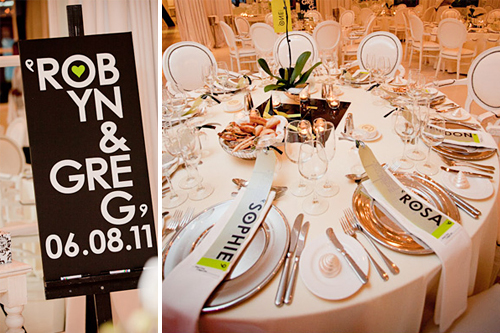 About the bride
Robyn is 29, lived in Craighall Park in Johannesburg and is qualified as a Chartered Accountant, working in Corporate Finance. "When Greg and I started dating, it just felt so right. We could chat about anything in the world and I knew it was him that I would marry! I can't imagine not having him in my life!"
About the groom
Greg is 31 and is a Contracts Manager for Construction Company. Greg lives in Benoni on the East Rand of Johannesburg. "I wanted to get married to Robyn, because I think she is the most gorgeous women in the world!"
How did you meet?
"We knew each other from high school, but we never got together then (Greg was too much of a hooligan back in the day)… we met up again in 2007 at a party. We were both single at the time, and from there we just couldn't stop calling each other, chatting, and just always wanted to be together."
How long were you together before the wedding proposal?
"Almost 3 years"
Tell us about the proposal.
"It happened on a sand dune in Guinjata Bay in Mozambique, 10 June 2010. We were on holiday with Robyn's family". On the last day, Greg dragged Robyn up a super steep sand due to "look at the amazing view." When Greg eventually dropped to one knee in the sand and held out a little box with a sparkly ring (which he had been guarding with his life through the border posts), saying he wants to spend the rest of his life with Robyn, she thought he was just joking at first, but once she realised what was happening she said YES!
How far in advance did you choose to have your wedding after the proposal? And, why?
"We eventually decided on the Oyster Box in September 2010, and chose 6 August 2011, as this would be a long weekend."
How did you go about the wedding planning process? Did you do it yourself? How long was the planning process? How did you find it?
"We decided to do the planning ourselves, as we thought it would be more cost effective, especially considering that the Oyster Box is very organised and not much additional décor is required. Robyn spent loads of time browsing the internet to get different ideas – it was lots of fun, but there are so many choices which can be overwhelming. We are lucky enough to have an amazing friend who is a graphic designer – she is so creative and did so much for us! And family friends who own a printing business helped us out with all the invitations, menus etc."
Did you have a hen party / bachelor party? If so, what did you do and what did you enjoy most about it?
The bachelor party and hen's party was on the same day / evening – 3 weeks before the wedding. Robyn's bridesmaids organised a couple of games at one of their houses in the evening as well as bare-butt butlers to serve drinks to all the girls, before going out on a bus to Movida.
Greg's friends organised a bus for the evening to do some pub crawling… "Neither of us knew what had been planned for us!"
Wedding Details
"Choosing a venue that we loved was the hardest part. It started as a joke, asking Robyn's parents if we could have the wedding somewhere down at the coast, as they have a holiday house there – when they actually took it seriously and said it would be a great idea, we looked at various different places and decided that the Oyster Box would be the most suitable venue in terms of size and location, and a venue that we both thought was beautiful. We chatted to a lot of our friends to find out if they would be happy to travel – they all thought it was a great idea and thought it would be a good excuse for a long weekend away! Robyn really wanted a black and white wedding (the Pearl Room at the Oyster Box lends itself to this colour scheme), but brightened it up with bright splashes of fresh green."
"It was so convenient that the church (Star of the Sea) was just down the road. As Greg is Catholic, we decided it would be the best place for the ceremony. We planned a trip down to Durban in May to meet the priest, Father Joseph Money and to meet in person with the wedding co-ordinator at the Oyster Box, as well as the DJ, make-up artist, hair dresser etc.
The ceremony felt very relaxed and personal! Straight after that we had our photos together which was lots of fun with our crazy groomsmen and bridesmaids.  The dinner at the reception was really fantastic and we partied the night away with our friends and family!
We both had such an amazing day, it just went way too quickly!"
Tips and / or advice for future bridal couples?
"It really is easy to get upset or overwhelmed by small things and all the details, but at the end of the day you need to remember that this is all about marrying the person you have dreamed of! And that is all that matters!"
What was the most memorable part of your wedding day?
"The happiness of everyone around us and support from our amazing parents, family and closest friends.  We both had an overwhelming feeling of complete happiness and bliss and we spent the early hours of the morning chatting about the whole day and remembering everything together."
"Feeling like a princess; My dad being so emotional, even though he was trying not to show it! (we were talking about any random thing in the car on the way to the church just so we didn't start crying)."
Did you go on honeymoon? If so, where? And, why there?
"Yes, we went on a Mediterranean Cruise, starting in Rome (Civitavecchia port) and stopping at different Mediterranean cities (Genoa, Cannes, Adjaccio – Corsica, Barcelona and Palma de Mallorca).
Greg wanted to do something different – he was trying to keep it a surprise, but once he'd thought of the cruise idea, as there are so many different cruises to choose from, he wanted to share it with me so we could choose together. We both love Europe and haven't been there together so it was a great way to travel, and its much warmer there in August than Joburg. It was a totally new experience for us to share together."
Service Partners:
Photographer: Neil Cuninghame
Ceremony Venue: Church of the Star of the Sea (Umhlanga Rocks)
Reception Venue: The Oyster Box (Umhlanga Rocks)