Rosie and Myles: Cute and Charming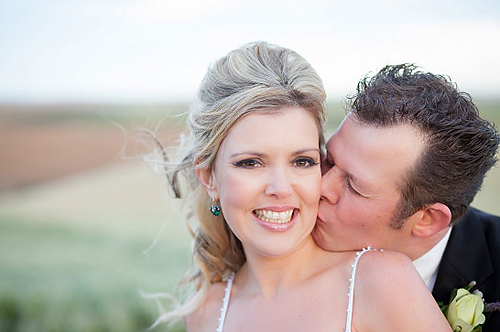 About the Bride
28 years old, live in Gillitts, KZN. I just started a reception job at Seal Chemistry after not working for quite a while.
Since December 2011, I was a housewife and for the past 5 months I've been looking after our daughter, Trudy-Ann. Although we talked about getting engaged and married, I fell pregnant before we got to those steps. Getting married was a statement of our love and commitment to each other, and it also created a special bond between the 3 of us, which nothing can or will ever break.
About the Groom
Myles is 33 years old and lines in the Sunny province of KZN. We live in the leafy suburb of Gillits 30kms out of Durban, I work for an IT company in Durban called Network Configurations as an Account Manager. I wanted to marry Rosie from the day I first saw her. I knew there was something special about her and that she would make a tremendous life partner. She has a very bubbly nature and is the most beautiful woman I know inside and out.
How did you meet?
We met in 2010 on-board the cruise liner we both worked on, Seabourn Spirit. For Myles it was love at first sight, that wasn't the case for me...
The ship was docked in Barbados one night (March), all the crew went to the boatyard for a party. Myles kept hanging around me, buying drinks, being charming etc...The rest as they say is history...
How long were you together before the wedding proposal?
Year and a half.
About the Proposal
It happened on the 17th of December 2011, in the Botanical Gardens in DBN. It was lovely day. Myles said lets go for a stroll in the gardens, so we left. We were walking around and got to the lilly pond, the most amazing big lilly flowers were everywhere.
I was looking at their finer details, when Myles called me and said come look here. I approached, and he opened one of the flowers, inside was my ring. He proposed and obviously I said yes!
Afterwards, his friends (dressed in khaki clothes) jumped out the bushes, they were taking photos and keeping an eye on the ring!! Very sweet indeed.
How far in advance did you choose to have your wedding after the proposal? And, why?
We decided on a date in January. Dad wanted us to get married ASAP, because I was pregnant. I said no... I love September - it's the most beautiful month of the year in the Overberg. When the Canola flowers, and the crops start changing colours...
How did you go about the wedding planning process? Did you do it yourself? How long was the planning process? How did you find it?
I planned it myself. And, we also used Antoinette Events, who did the food and flowers. You could call them wedding planners. They helped a lot with the planning.
Did you have a hen party / kitchen tea / stag night / bachelor / bachelorette party? If so, what did you do and what did you enjoy most about it?
The bachelorette party was organized by my sister, Mom and 3 very close friends whom I met on the cruiseliner. I knew something was up, but wasn't sure what. I thought it was just a girly night, for the 3 of us, I left the house, and Trudy with my Mom. The girls said we had to go out for nachos at Buena Vista. When I got there, my Mom, sister and a few other people were there. My first words to my
The bachelors party – the guys all went to Ballito for a braai and stayed over. Myles was dressed in stockings and a white halterneck dress. They went to go watch the rugby at a pub. Let me say: Myles did not look good the next morning, so it also was a good night.
Wedding Details
It was such a lovely day. I spent the morning with my 3 friends from the cruise liner and my 2 bridesmaids at the guest house by the venue. We had breakfast, relaxed in our gowns by the pool, laughed, joked around. I had a nice long bubble bath  hair was done, make-up etc. I was late for my wedding, we struggled to get Trudy into her christening gown, then when we got to the chapel we had forgotten our flowers, dad went to go fetch it, only to come back with just mine, so they had to run back and get the rest. I walked into the chapel with the prayer by Celine Dion and Andrea Bochelli playing in the background. It was a beautiful ceremony. Our daughter was christened just after the wedding ceremony … very special moment. We signed the registry, and was welcomed by the new guests !! lots of kisses and hugs were exchanged. We then went for the photos!! We had so much fun.
Coming back, we entered the hall (ACDC's Thunderstruck was playing), we cut the cake and sat down. Speeches were made. We did our first dance on Under Heavens skies (collective soul), also a very special moment. Main course was served.
After that, the party started and went on until 00h45 when everyone had to leave the venue.
Tips and / or advice for future bridal couples?
Ask the in-laws what their drink preferences are and make sure you get it!! I am talking from experience!!
What was the most memorable part of your wedding day?
My Granddad bringing my beautiful daughter into the chapel to be christened.
Did you go on honeymoon? If so, where? And, why there?
We went on honeymoon last year September to Zanzibar. We decided to go on a holiday while we were still working on the cruise liner. It was difficult to go after the wedding, as Myles didn't have any leave left. He had just started working at a company in Durban in March.
Wedding Details
 Category: Cape Town Weddings