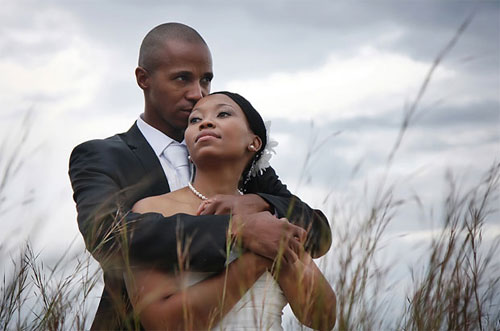 We found this beautiful real wedding on Stella Sassen's website.
Says Stella: "The Saturday was the white wedding  – we started at Kabelo's childhood home where she got dressed while the elders negotiated over coffee, her bridesmaids sewed last minute alterations to their dresses and her two beautiful girls tried to contain their excitement.  The ceremony that followed was personal and filled with joy (and even a vuvuzela or two)… and as they walked out the chapel, they were greeted by traditional dancers. Now I ask you, is that not the best way to be greeted as husband and wife??
During the reception it started raining, but as it cleared for about half an hour we stole them away, rushed off to the (rather wet) veld around the corner for some creatives as the sun was setting… I heard a "do I have to go in there?" but they still braved the long wet grass and rocked it!
Day 2
Corinna and I drove 2 and a bit hours to a little village called Tshikanoshi…not quite sure which province, basically all we had to go on was GPS coordinates 🙂 But I can tell you that it is small (I don't think there is even a bottle store!!) and that it gets really, really HOT there.  We did check the temperature at one stage and it was 38 degrees…
The day started off with the women welcoming the bride…after the speeches, the wedding party changed into their traditional outfits."
[flgallery id=59 /]