Venita and Werner: Seaside Love
Venita and Werner had a relaxed, intimate wedding in Struisbaai. Kobus Tollig from Dreampix Weddings took these beautiful photographs. Love the shoes!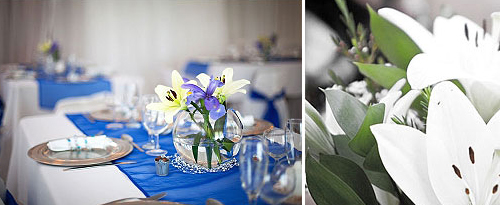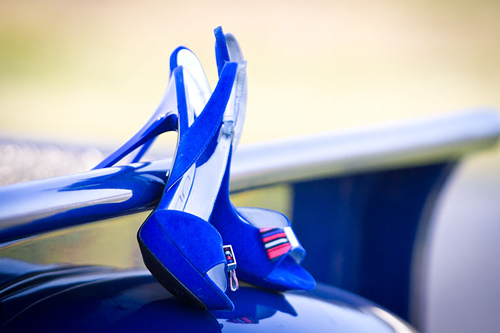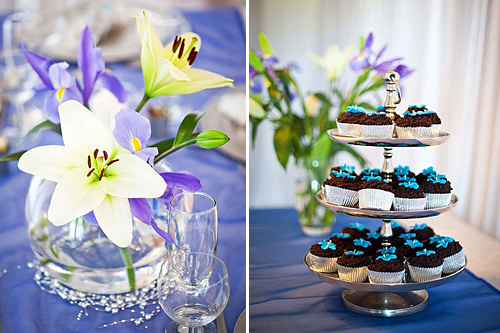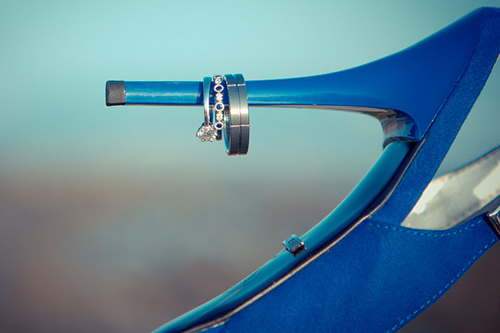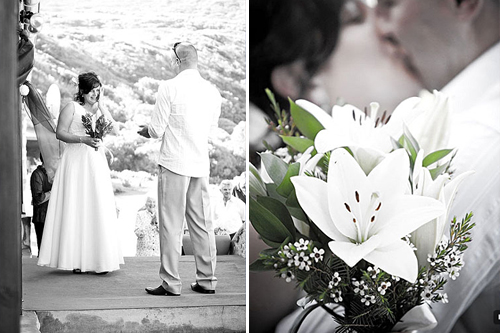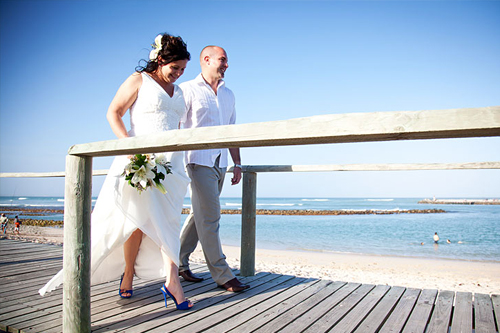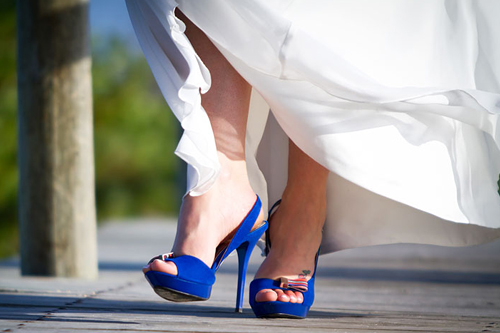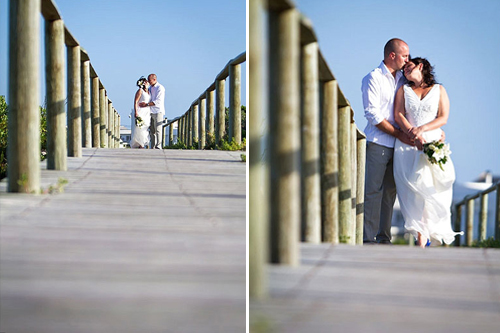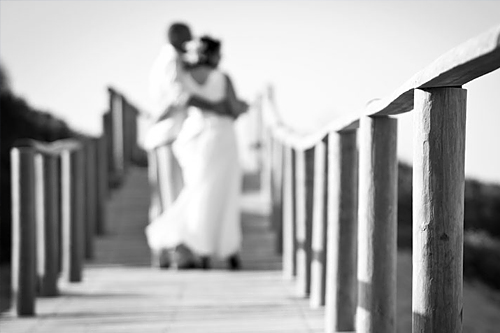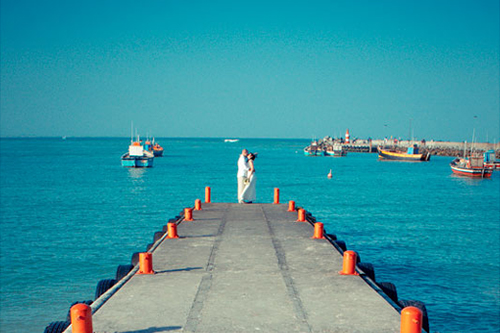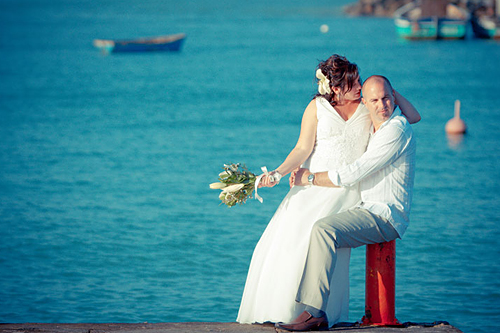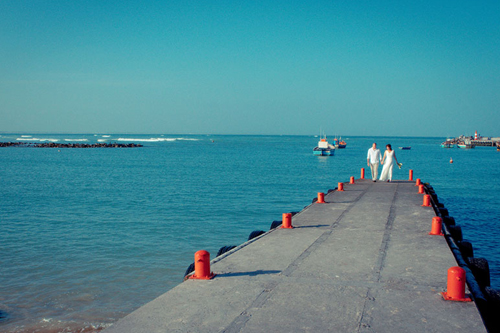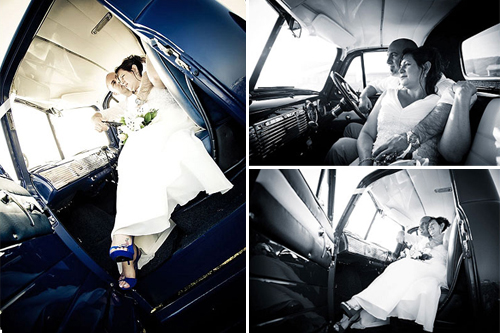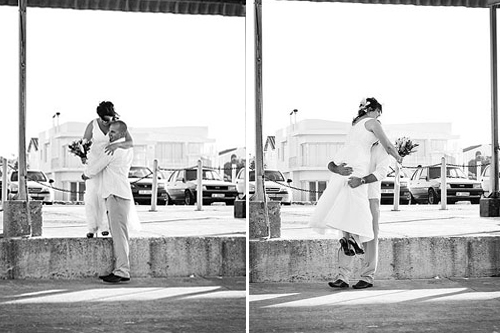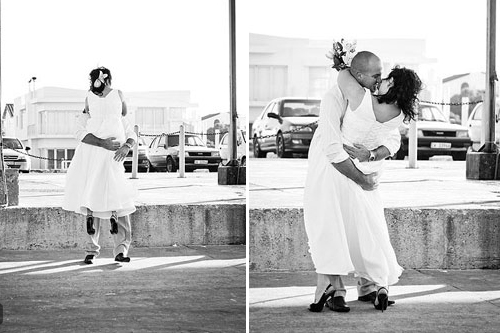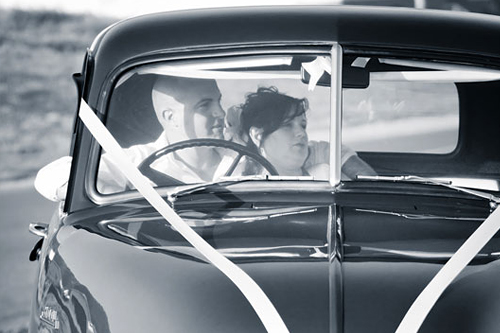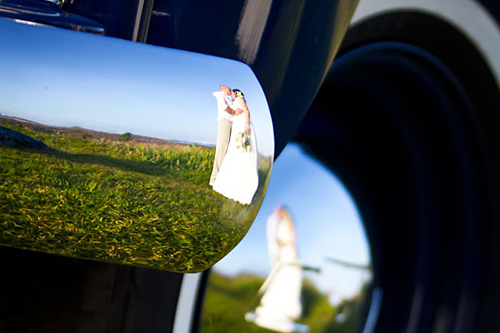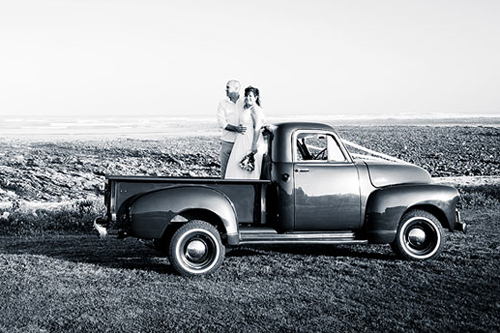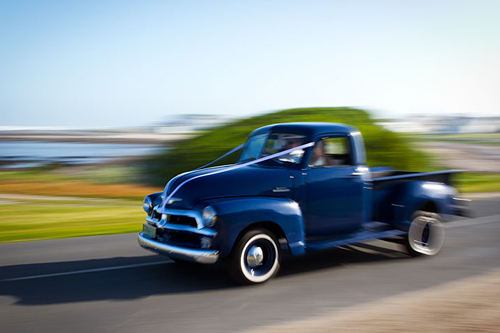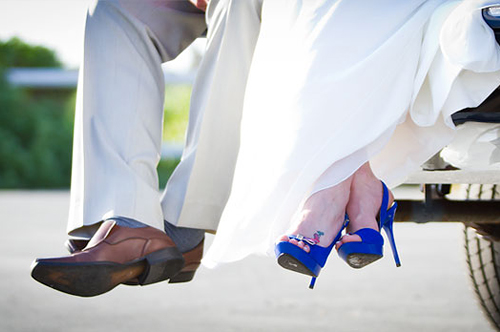 About the bride
"I am 36 years old and live in Durbanville, Cape Town.  I work for an IT Company and met the love of my life about 5 years ago.  Once you have met the love of your life and soul mate, you want the world to know this and getting married is like shouting it out at the world from the highest mountain."
About the groom
"I am 31 years old and live in Durbanville, Cape Town.  I am the IT manager for a chemical company.  My wife and I met a couple of years ago, when I joined the company she worked for. I wanted to get married to show my commitment and love to Venita to the world."
How did you meet?
"We met at work (clichéd I know)."
How long were you together before the wedding proposal?
"We had been together for about 4 .5 years."
Tell us about the proposal.
"We spend a weekend at Vin Doux Guest farm; they have these beautiful tree houses that you stay in for the weekend overlooking the mountains in Tulbach.  Everybody that knows me knows I love my bath, with lots of bubbles and every now and again a glass of bubbly just to round off the relaxation.  Well that weekend we spend lots of time in the bath as it was a very nice big spa bath and we could relax and talk for hours with a glass of bubbly in hand.  On Sunday morning (our last morning there) we had our last relaxing bath together and there in the bath from underneath the bubbles, he pulled out the ring and asked me to put up with him for the rest of my life.  There were lots of bubbles and lots of tears and then finally a 'yes'."
How far in advance did you choose to have your wedding after the proposal? And, why?
"It all happened rather quickly for us; we did not want a long engagement and wanted a Spring wedding as the weather seems best then.  So we got engaged in May and chose October as our wedding month.  Most of winter is over by then and the heat of summer has not hit yet."
How did you go about the wedding planning process
"Werner's parents live in Struisbaai and we both love the town very much, so we knew from the start that we wanted to have the wedding there.  Our initial plan was to have the wedding at the beach and the reception in a marquee tent at their house.  Planning an outdoor wedding can be difficult as you never know what the weather will do and the logistics behind arranging a marquee from Cape Town to Struisbaai with the other entire event elements (tables, plates etc.) just proved to be too much stress on all of us.
Werner's mom then suggested the Bowls Club in Struisbaai as she had attended a wedding there before.  We had a look and it seemed like a good idea.  All the arrangements and planning was done by myself and my mother-in-law. Our entire planning process was quick. We arranged all of it in 3 months.  I have to say I did not find the planning process to be too stressful as we had decided from the beginning to keep the wedding small (50 guests) and very relaxed and intimate.  We wanted each and every guest to enjoy themselves and have a relaxing, fairly informal day."
Did you have a bachelor / bachelorette party? If so, what did you do and what did you enjoy most about it?
"We certainly did.  Werner loves going on 4x4 trips and wanted a boy's day/night out spending time outdoors.  The boys all went to Atlantis dunes for the day, doing 4x4 things and then spend the night camping under the stars, having a braai and drinks with the guys.
I had two, one hosted by my office and one by my friends.  The office one was held at Beefcakes in Green Point. We had a great time with good food and a drag cabaret show to end the evening (the next day was a long and difficult day to focus on work).
The second one with friends was a wine tour in the Stellenbosch region with a chauffeured driver for the day.  We stopped at various wine farms and tasted wine paired with cheese, biltong and chocolate.  We ended the day back at our house, where we had more champagne and 80's music was sang and danced to 'till late (good thing this was not in public, very embarrassing)."
Tell us about the wedding...
"The entire wedding was arranged by me, my mother-in-law and some friends.  We did a lot ourselves: the flowers, napkin rings, table numbers...  The venue was the Struisbaai Bowls Club.  We then had all the walls covered in white fabric, so that it had a marquee look and feel to it (and to hide the trophies on the walls).  All the tables and chairs we also covered in white with royal blue runners and chair tie backs. I wanted the flowers to be simple yet elegant so we decided to use white lilies and bring the blue in with blue irises.  Since the wedding was in a seaside town, we incorporated a beach theme by adding candles in glass bowls resting on sea sand with some small shells around them.  The table numbers were also painted on shells and hung on the side of the flower arrangements.
We wanted a spit braai as my father-in-law has a spit and we just love the flavour of the meat done this way.  So he did the meat and the other food was done by a local caterer, and was really great.  I love baking and have done lots of wedding cakes, so decided to do my own and I wanted it to be different so we had a chocolate, peanut butter flavoured cake.  We did cupcakes to tie into the relaxed atmosphere of the wedding.  All in all it turned out great. I kept thinking something must go wrong or I have forgotten something, but nothing went wrong and nothing was forgotten.  It turned out to be a perfect day to tell all our closest family and friends how much we love each other."
Tips and / or advice for future bridal couples?
"Do not get obsessed about the little details, as they will not even be noticed by everybody.  Enjoy the process and stay calm and relaxed. If anything does not go according to plan remember the only person that knows it is not as per plan is you. The rest has no idea so why worry about it?  And don't always mention the word wedding when getting quotes, this seems to make things more expensive. Just call it a function or party."
What was the most memorable part of your wedding day?
"I really don't know if I can just pick one moment! We enjoyed ourselves so much that we were the last people to leave at around 3am.  We are really so blessed to have our family and friends. Most of our guests had to travel to get there and did so without thinking twice."
Did you go on honeymoon? If so, where? And, why there?
"We unfortunately could not get away from work right after the wedding, so we are planning a honeymoon for early next year."