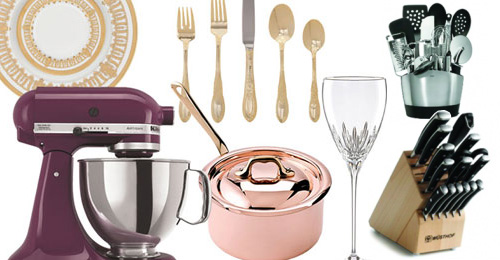 Essential Advice from the Owner of Silver Ribbon Online Bridal Gift Registry
Stop Before You Shop…
Although you probably can't wait to get started, stop and make a few calm and clear-headed decisions before the fun begins. Talk to each other about what you both want and which styles to go for. Do you want gifts that match your existing decor or do you want to start your new life as a married couple with a whole new look? Jot it all down before starting your list online
Where Do I Start?
It's a good idea to set up your wedding list at least 3 months before your wedding and definitely before your invitations go out. Setting it up online allows you to think the process through carefully. If you create your registry early, you won't have to rush the process when you have so many other things to do closer to the big day All too often brides arrive at a department store, scanner in hand and start scanning items with no thought to what they need or really want. You are left with a long list of codes and no idea what you have selected. Guests are left with a cryptic description and a code of an item that has probably been sold out and discontinued. To top it all off – items are never marked off as purchased and you end up with 48 white wine glasses that need to be exchanged. Grooms generally hate department stores and what could be better than sitting together with a glass of wine and planning your gift list. With a facility like Silver Ribbon you are able to view an image and a full description of all the items you have se-lected and to make as many changes to your gift list as you like, as often as you like.
Think Big
You might not want to admit this to your fiance, but size matters. If a list is too small, your guests-especially last-minute shoppers will be disappointed with "what's left" and go elsewhere. As a rough guide you need about two-thirds as many gifts as you have guests. Since many guests will buy as couples or fami-lies you might not receive everything, but the later arrivals will appreciate having a choice.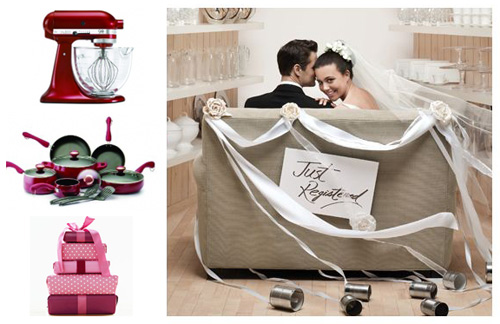 Consider Dinner
Your wedding list is a fabulous opportunity to get a grown up dinner service and some decent kitchenware. If this is what you plan to do, be sure to consider all of the components that make up a nice table setting, including napkin rings and candlesticks. For the kitchen, try to think of everything you'll need to make your favourite meals. Decide whether you want (or have space for)separate crockery for everyday and special occasions, and ask yourself if "dishwasher safe" is important to you. Think about breakfast sets, tea sets or even sushi sets, and remember – when it comes to serving pieces like platters, bowls dishes and utensils – you can never have enough. Your registry service must be flexible, if you like a gift from a listed brand that isn't on the website, you must have a registry service who is happy to add it for you.
Don't Be Shy
Guests generally tend to spend between R200 – R400, but some people, especially relatives or groups of friends, will spend much more. So go on and put some expensive gifts on your list. You may think it's a bit cheeky but couples are always very pleasantly surprised by peoples' generosity. Guests hate travelling with gifts and now you have made it convenient for them too. You will end up getting gifts from people who can't even attend your wedding.
Silver Ribbon provides you with discreet, elegant invitation inserts to send out with your wedding invitations informing them of your gift selections. I have been dealing with guests for a long time, and they hate the money option. They feel like they are getting more value for their money buying an item, so if you choose the money option you will ultimately just end up getting items you don't want and can't return. Rather select items you want than receive a life-size porcelain dog!
Make Them Feel Special
Guest naturally want to buy you something special – and some guests are determined to buy you something "unique" that will always make you think of them. These guests aren't interested in dinner plates and may go off-list to get you that "unique" gift which you'll only take out when they come over…be scared, very scared…
To prevent yourself from being lumbered with eight hideous vases that you can't take back, make sure your list includes as many special stand-alone gifts as possible. Silver Ribbon provides all our bridal couples with a list of who bought what to assist you with your thank you cards. All gifts are wrapped and delivered along with a personal message from the guest.
Visit Silver Ribbon Online Bridal Gift Registry for more info.