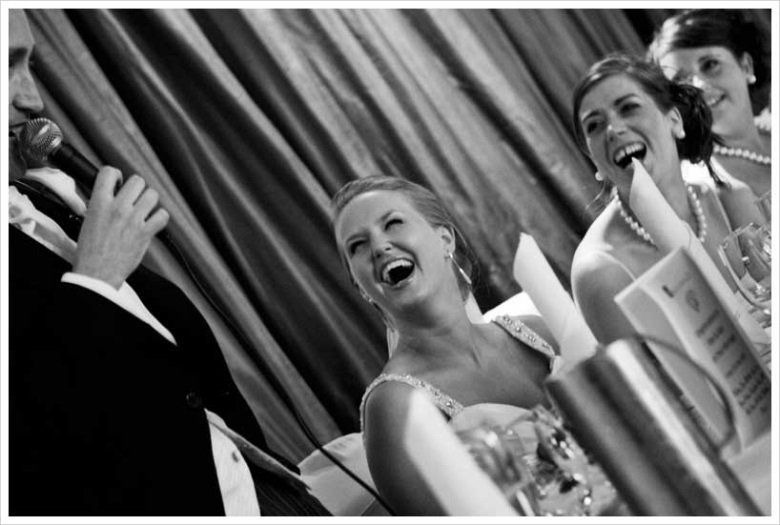 There are few things as memorable as a good wedding speech and few things as embarrassing as a bad one. Here are a few "dos" and "don'ts" to prevent yours from being one of the more cringe-worthy:
Do:
Get personal – Avoid finding a template on the internet, or getting a more "wordy" friend to write the speech for you. The wedding guests presumably know the couple fairly well, and enjoy some heartfelt sentiments about the bride and groom with which they can identify. It also makes the entire event far more meaningful for the bridal couple as they may remember your words of encouragement and love or friendship. If you are the bride or groom, this is particularly important for your speech. Your new partner eagerly awaits these words, expressed in front of family and friends, so make them count.
Are you trying to be funny? – Humour is a great way to set a relaxed and celebratory mood. However, there is a very fine line between what is generally considered to be funny and what is considered to be inappropriate. It is not a good idea to raise past incidents that may offend the bridal couple or their families (e.g. "I'll always remember the night Grant and I got picked up for shoplifting tequila…"). Even if your remarks are funny in preparation, they often lose their 'punch' when you are nervous and facing a room of expectant faces.
Part of the family – If the bride or groom is delivering the speech, the family into which they are marrying has accepted them as one of their own. It is polite and respectful to acknowledge their welcome and express your gratitude for allowing you to marry their child / brother / sister.
Get to the point – Say what you want to say and sign off. It is not necessary to rehash the past 20 years that led up to this special day.
Mind your manners – Remember to thank all those people that contributed towards the success and organisation of the day by name.
Keep it straight – Do not embarrass yourself by trying to deliver your speech after a few drinks. Rather, have one glass of champagne to relax and leave the rest of the celebrating until after your speech.
DON'T:
Remember when… – Do not bring up incriminating stories or embarrassing tales of times past that may leave either one of the bridal couple or the guests feeling awkward. This is not likely to get many laughs and will only result in an uncomfortable silence.
Steal the limelight – keep your speech and actions in line with the fact that everybody has gathered (perhaps travelling some distance) to celebrate the union of the bridal couple and not to see you (if you are not the bride or groom). Focus the comments on them, not on you or your relationship(s).
Target market – Tailor your speech so that the specific group of guests at the wedding can enjoy it and understand it (for example; if mainly older ones are to be present, the speech would not refer to extremely modern technology or music groups with which they would not be familiar).
Show favouritism – The Best Man, father etc… giving the speech needs to allot equal time to the bride and groom, irrespective of which one they know better. This may involve sitting down with them well in advance and getting to know them a little better, or asking for guidance from their new husband- or wife-to-be.

Photo Credit: blog.weddingpaperdivas.com