DIY Marshmallow Wedding Cake Pops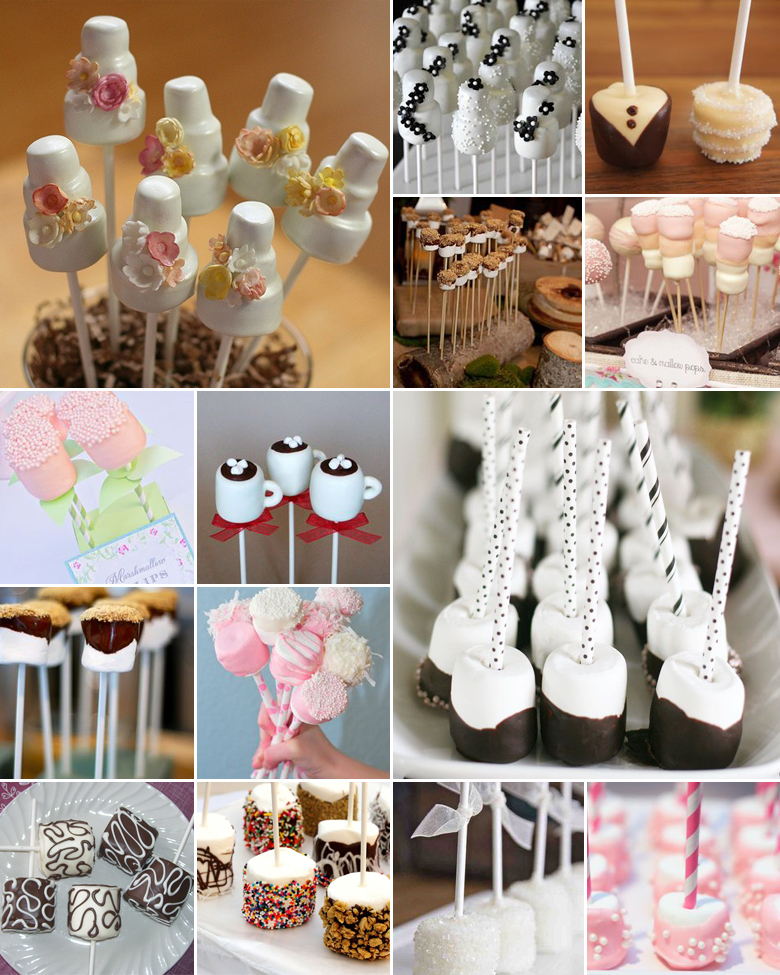 These mini mock "wedding cakes" are just too cute for words and, with a bit of patience and precision, not that difficult to make yourself.
You will need:
Normal sized marshmallows
Extra-large sized marshmallows (also known as "braai marshmallows" available from Woolworths and other retail outlets)
Chocolate – milk, dark or white (measure out approximately 3 small blocks of chocolate per mini "wedding cake" pop)
Cake decorations
A small cherry / cake star / topper of choice
Skewer sticks
A large piece of Styrofoam to keep the skewers upright while drying
To make the wedding cake pops:
Thread your biggest marshmallow onto the skewer stick.
Next, poke the end of the skewer into the smaller marshmallow, taking care not to push it all the way through.
Melt a small bit of chocolate in the microwave and use this as "glue" between the two marshmallows to stick them together.
Repeat steps 1 to 3 until all your "wedding cake" pops are ready.
Melt a small batch of chocolate in a double boiler.
Grab a marshmallow skewer and cover it in a layer of chocolate. Here you might need to experiment – in some cases, dipping it straight in might cause the marshmallows to slip off the skewer, in which case you can revert to using a spoon to pour the chocolate over the marshmallows.
Stick the bottom end of the skewer in the Styrofoam base, and decorate with cake embellishments while the chocolate is still soft.
Repeat steps 5 to 7 until all your cake pops are done!
Leave for a couple of hours to cool. Wrap in cellophane or store in an airtight container.
Original images and their credits available on Pinterest