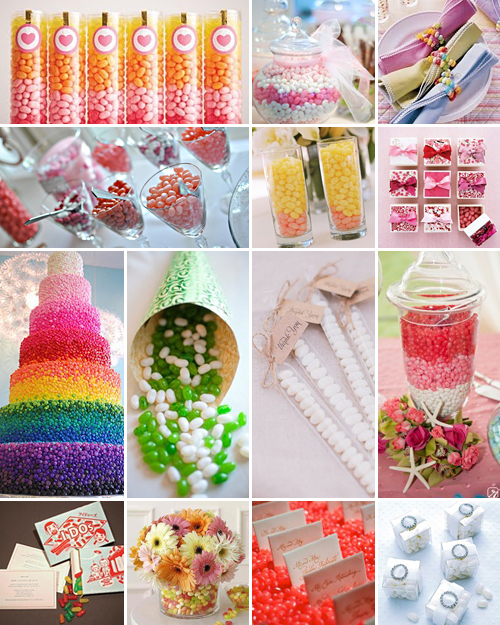 They're colourful, delicious, fun, quirky and everything you could possible wish for in a wedding day treat. Loved by young and old, there's really no better way to guarantee smiles all around than with tall vases of jelly beans dotting the wedding venue. While a rainbow of magic candy beans certainly tempts the taste buds, the wide variety of available colours allows you to choose the treats according to your theme or colour scheme – e.g. pink and white for a feminine vintage theme. Here are a couple of ideas to plant the creative seed, or rather bean, in your brain:
Decorate your wedding cake with jelly bean patterns or go all out and cover the entire wedding cake with the colourful sweet stuff.
Packaged in a prescription tablet container, jelly beans are the perfect "cure" for mid-dancing fatigue, so create your own personalised prescription label and "treat" your guests.
Spoil guests with mini boxes, jars or bags filled with jelly beans, or create a jelly bean buffet! Simply fill an assortment of large eye-catching vases with the colourful treats, giving guests the option of filling their own gift bags.
Scatter jelly beans on the guest tables or, if not for the eating, fill the base of your flower vases with multicoloured marbles to brighten up the tables.
If you're not scared of getting pelted by candy, use a mixture of mini marshmallows and jelly beans as alternative confetti!
Alternatively, use jelly beans to "write" each table name or guest name on the table surface, or "write" hubby a little message in the room where he'll be getting ready.
Decorate the venue with giant jelly beans – that's to say, helium balloons in colours that match that of the beans in the vases.
Original images and credits available on Pinterest