Sweet Cakes and Milkshakes...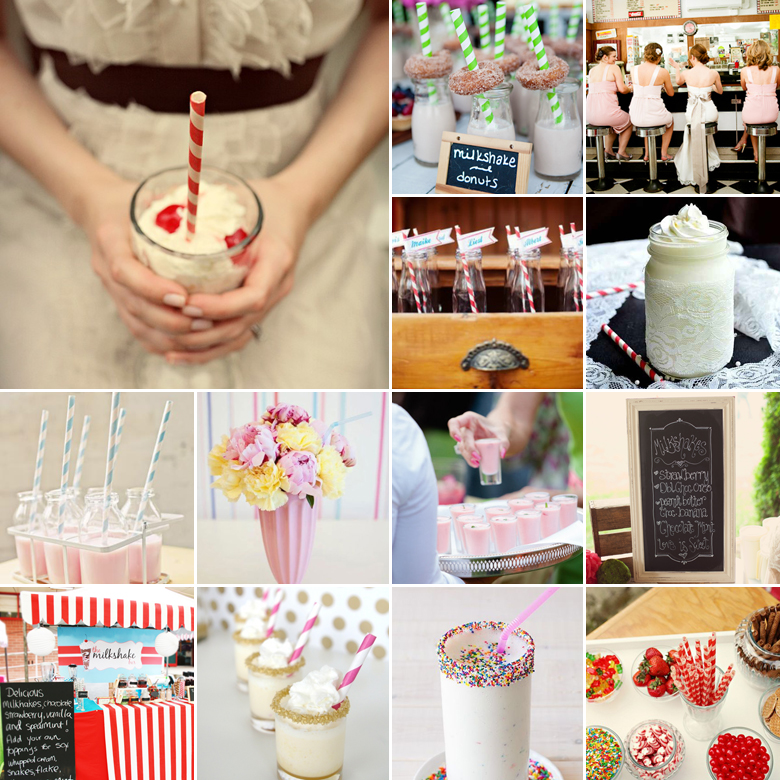 "Daydream delusion, limousine eyelash,
Oh, baby with your pretty face, drop a tear in my wineglass,
Look at those big eyes, see what you mean to me,
Sweet cakes and milkshakes"
A milkshake bar is such a fun and cute idea for a summer wedding reception – especially here in South Africa where the heat is in full swing! And who does not love milkshakes or ice-cream? Not only is this a very affordable dessert idea, but it will keep your guests entertained as well.
Go wild with different toppings, such as sprinkles, cherries, Smarties, Astros or pieces of Oreo-biscuits.
Here are some tips for having a milkshake bar at your wedding reception:
Make sure you have enough milk for all of your guests. You need to have about 4 liters for every 8 guests at your wedding.
Provide enough ice-cream scoops and blenders
You can have several ice-cream flavours, or stick with 2 basic flavours and spice them up with different toppings and syrups.
Go for a full-on bar with bar stools and such or simply decorate a table. Add enough cute straws and napkins for your guests to use.
Make sure your venue has enough freezer-space to store the ice-cream.
It might be a good idea to type up basic instructions on how to make a milkshake. Hang it above your milkshake bar where your guests can see it clearly.
This is also a very nice idea for a summer bridal shower. Have fun with your milkshake bar! And have a look at our gallery below for more inspiration.
Original images and their credits available on Pinterest