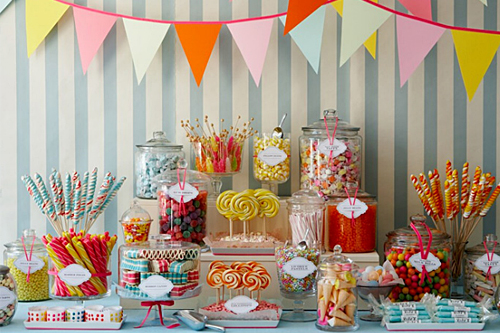 Candy buffets are cute, fun and encourage your guests to get up and mingle as they choose their sugary treats. Sweets come in a variety of colours, textures and sizes, so your candy buffet really can suit any colour combination or wedding theme, making it flexible.
To make the most out of your candy buffet, use glass jars of different sizes, so that the colours and sugary coatings are clearly visible. This is also reminiscent of the old sweet shops, where huge containers of irresistible proportions lined the counter next to the cash register. Arrange them with no particular order, so that guests can explore the visual feast before making their selection. Mix up colours, textures and sizes to add to the excitement. Presenting the sweets in this way (as opposed to on a flat platter or in a bowl) makes them more visually accessible and attractive.
Use the same colour theme as your wedding attire and décor. The selection of candies and sweets available is so extensive that there are bound to be combinations available to match your day. If not, do not be afraid to alter the sweets yourself to match the theme. For example, dye the icing sugar, or add colourful edible glitter, where possible.
Place metal scoops next to each sweet container so that guests don't have to dive in with their bare hands. Also, have little bags, boxes or tins available for the guests to put their treats into, which can double as your guest favour.
Label each jar with a tag tied around the neck of the container, especially if certain sweets contain nuts or eggs (such as nougat), which are possible allergens.
You might have a candy buffet as an added feature, or actually replace your wedding cake and / or dessert with it. The most important part of this charming feature is to have fun with it.
Have a look at our gallery below for more sweet inspiration!
[flgallery id=92 /]
Image Courtesy of 5 Star Wedding Inspiration