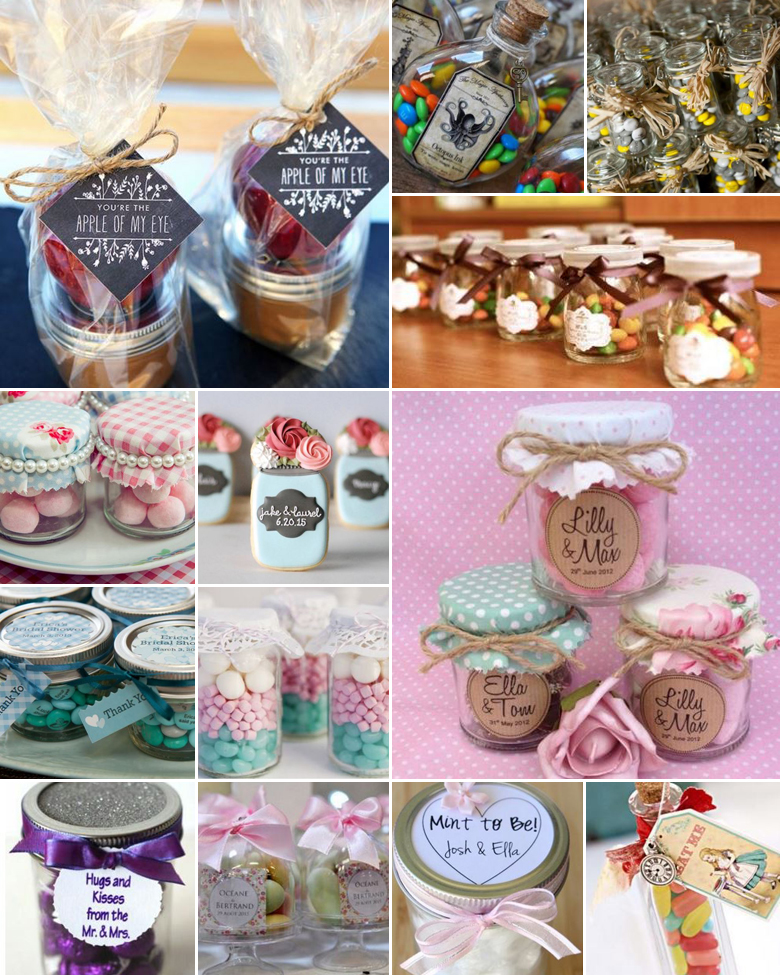 The sweetest way to say thank you is with sweets! What's more, sweet treats are a budget-friendly way to thank your guests – and with the right packaging, you can make even the cheapest sweeties look stylish and elegant.
Buy a whole lot of cute mini glass jars, and fill it with sweets. Decorate the lid with a piece of fabric and a bow, or paint the jar with glass glaze.
Package the candy in a little gift box, with a little bit of tissue paper inside.
Mason jars are always in fashion, and make for stunning packaging for larger treats like fudge and toffees!
Buy a whole lot of chocolate bars, and make your own personalised sleeves in which to wrap the chocolate.
Make a fabric parcel! Cut squares of fabric, and place the sweets in the middle. Gather the edges and tie it together with a ribbon.
Place the candy in a little paper bag, and decorate it with a personalized stamp.
If it fits the theme of your wedding, use test tubes as packaging for your candy.
Spoil your guests by packing the sweets in a coffee mug, and let them keep the mug.
For containers displayed above and a variety of others, find some examples below of what is available OR visit our online store for more ideas and products!
The requested RSS feed cannot be loaded at this time. This XML document is invalid, likely due to invalid characters. XML error: Undeclared entity error at line 22, column 147
Original images and their credits available on Pinterest