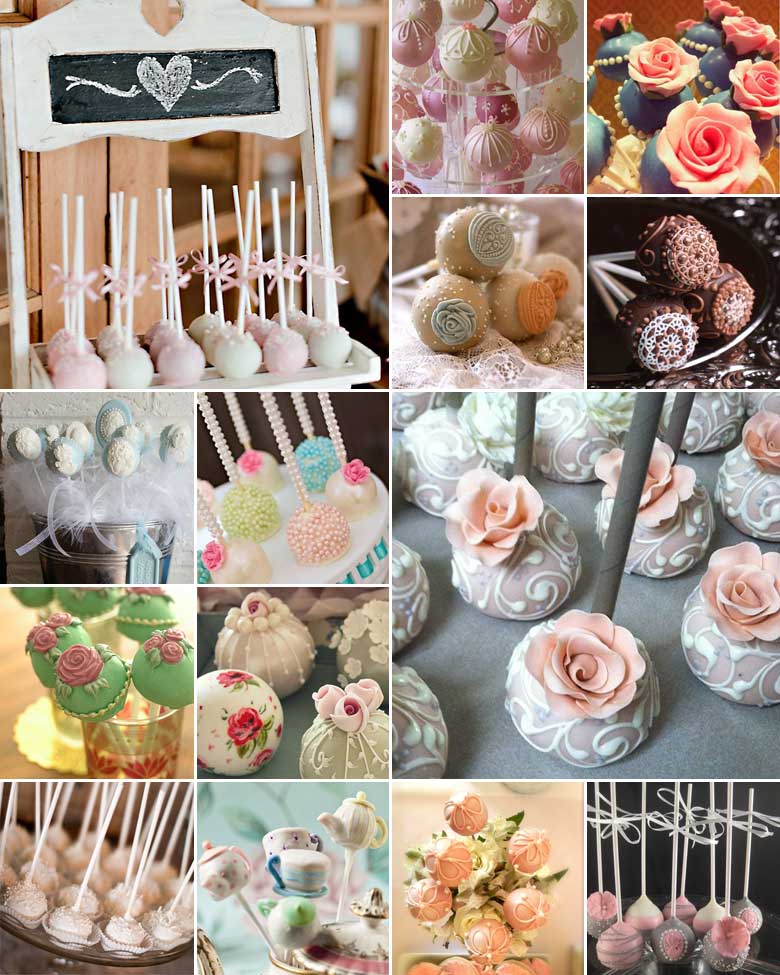 You might say this post is all about vintage style that's good enough to eat! Vintage cake pops are simply the cherry on top of a vintage themed wedding – whether it's classic Gatsby or daring burlesque. Let's look at a couple of ways to give your cake pops that vintage appeal:
Put a lot of thought into your colour palette – opt for powdery shades that have a vintage character about them (soft blues, pinks, etc.), as well as various shades of cream and ivory.
Decorate the cake pops with edible sugar pearls to give it that elegant and timeless finish.
Make use of lace and ruffle frosting techniques when decorating the pops, or wrap the skewer sticks in dainty lace fabric.
Draw inspiration from floral fabrics and textured wallpaper – these designs are a beautiful representation of all things inherently vintage!
Play around with polka dots or tiny little laser cut decorations like fondant bird cages, moustaches and top hats.
Incorporate oh so classic designs like the coveted cameo into the design of the cake pop.
Add a little vintage bling by dusting the cake pops with a light gold or bronze cake glitter.
Brand the pops with your own monogram or top it off with a hint of regal gold tinged frosting.
Keep it traditional and choose classic fruit cake to make the pops.
Think carefully about what you're going to mount the cake on. Use a vintage cake stand or poke holes in the side of an old suitcase for the pops to stand in.
For a more daring cake pop design that is reminiscent of the 40s and Burlesque era, create a colour contrast with black and another colour like pink, yellow, white or red.
Original images and their credits available from Pinterest