Wedding Cookies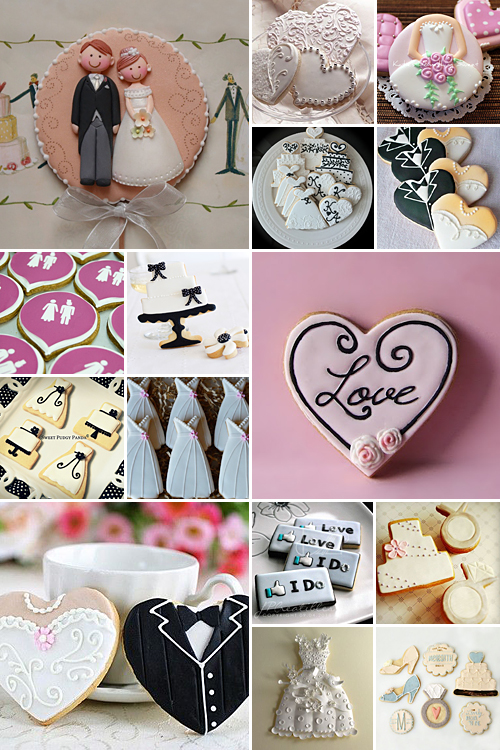 Cookies have the quintessential qualities of reminiscence, nostalgia and wholesomeness. They can be cute and playful, deliciously healthy and even a little silly. Cookies offer an enormous range of flexibility as there are simply so many options from which to choose in terms of flavour, sizes, decorating and packaging.
Cookies can be made to work at almost any style or theme of wedding, due to their variety. Because they are easy to make (usually), you may even decide to save money and make them yourself. Have fun decorating them, or ask a skilled decorator just to do this part of the process for you.
Here are some ways in which you can use cookies at your wedding:
Make extra large cookies and ice the invitation onto them. This will be a great surprise to your guests when they open their package.
Make cookies of different sizes and pile them onto one another, from largest to smallest, to form a tiered mini wedding cake. This is a great guest favour or dessert.
Ice your cookies to resemble your wedding dress and tux as a cute reminder of your gorgeous outfits. Alternatively, cut and ice them to look like a wedding cake instead of having a formal (costly) cake.
Give your guests glass jars with the dry ingredients and a recipe for making your favourite cookies as unique, fun guest favours.
Consider opting for fortune cookies with personalised 'thank you' notes from the bridal couple inside.
Fashion cookies in the shape of flowers and carry a basket of these down the aisle instead of a floral bouquet.
Visit our wedding cakes category to order you wedding cookies today!
Original images and their credits available on Pinterest