Whoop Whoop Whoopie Pies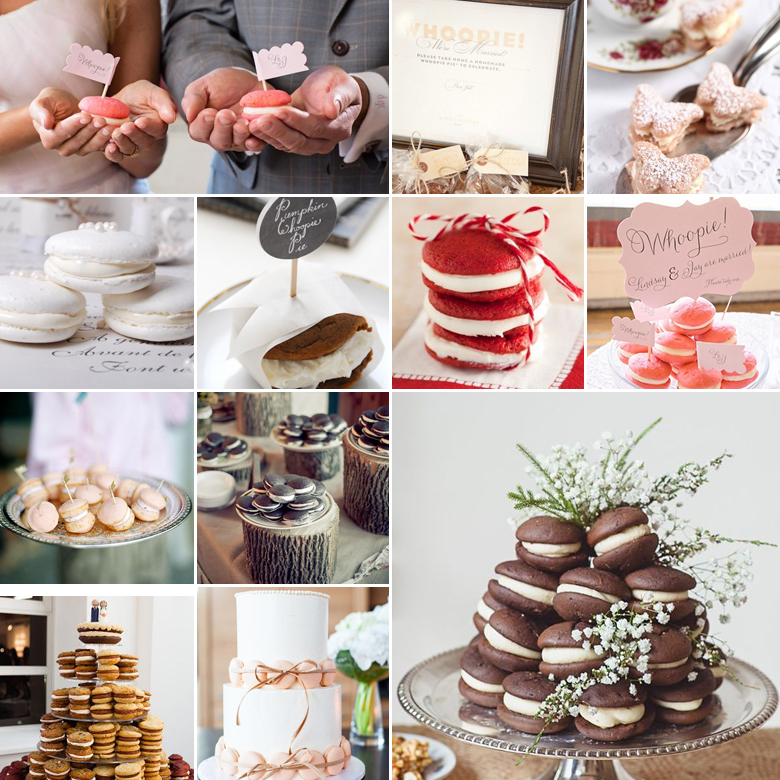 The whoopie pie goes by many names – devil dogs and twins, to name but two – and no one can seem to decide whether it's a pie, cake or cookie. But the fact of the matter is – whoopie pies are a classic and one of those lip-smacking treats that young and old are guaranteed to enjoy.
Made up of two soft mini cakes, the whoopie is sandwiched together with either cream filling or frosting – almost like a mini sweet hamburger. Traditionally the whoopie pie is made of chocolate cake, and on occasion ginger or pumpkin cake, but there's no reason why you can't play around with other decadent options. Think red velvet, black forest, French vanilla and even carrot cake whoopie pies.
Now, whoopie pies can be made in practically any shape – circle, heart, square, triangle – and literally any size. That means you can either decide to spoil your guests with bite-sized or biscuit-sized whoopies, or go all out with an oversized whoopie-inspired wedding cake. Furthermore, consider dipping your whoopies in melted chocolate and sprinkles for a dash of colour.
Another fabulous idea is to set up a whoopie pie station where guests can assemble their own treats. Here you can have a selection of cakes and biscuits, along with a delicious array of filling options – from chocolate ganache and vanilla cream, to cream cheese filling and strawberry jam.
Lastly, put a whole new spin on this American favourite by serving savoury whoopie pies, with fillings like salmon mousse and guacamole.
Original images and their credits available on Pinterest