Something Blue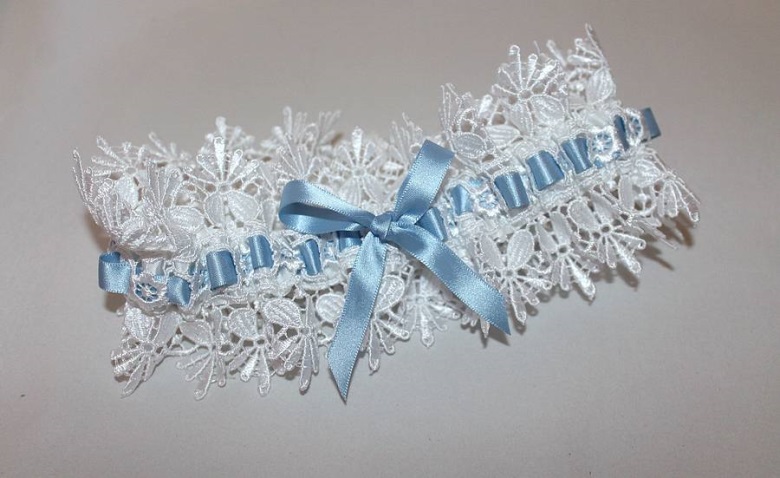 Despite some rather modern twists on weddings and wedding attire, the vast majority of brides enjoy keeping the "Something old, something new, something borrowed, something blue" tradition. However, incorporating blue into your bridal outfit may be somewhat of a challenge. In addition, there are only a few brides that have really thought more laterally on how to include this romantic hue, usually sticking to a blue garter, underwear or a blue-stoned ring. Here are some fantastically novel ideas for introducing your "something blue":
If you are having a vintage-style wedding, an ornate, old-fashioned beaded headband with blue detail is a perfect way of introducing the colour to your outfit.
Sashes have an old-world charm, which may be just the added extra to finish off your vintage outfit. Make your sash any shade of blue - from bright to navy, turquoise to cornflower - that will work with your other wedding colours.
A back necklace makes for a really "wow!" impression. If your dress has no back, or a very low backline, wear an ornate back necklace with different shades of blue beading that drape elegantly between your shoulder blades. This is feminine and modern, but classically timeless.
Some brides have included blue flowers in their bouquet. For a different twist on this, carry a handmade or custom-made blue purse or clutch that will suit the style of your dress and draw the eye.
Fascinators are such stunning accessories for weddings at the moment. Add blue feathers or beading, or just make the entire headpiece blue for a gorgeous accessory.
Blue jewellery can be stunning, adding just the right accents to your attire. Depending on the style and genre of your wedding, your jewellery can be made of silver, gold, brass or even leather.
Instead of carrying a bouquet down the aisle, wear a large, blue floral headpiece. This can do wonders for your hairstyle and outfit, and will enable you to break away from tradition slightly.
Wear blue shoes, or shoes with a blue feature (like a blue stone, feather or embellishment).
If you are wearing a plainer or more modern dress, you may be able to pair it with a high-waisted belt, which is either completely blue or just has some blue detail.
For a less formal event, a blue bolero can look fantastically feminine over a plain white or ivory dress.
If you prefer to keep your "something blue" a little more discreet, invest in a small hairpin with gorgeous blue detail.
Remember that many guests ask to see your "Something old, something new, something borrowed, something blue", so you need to feel confident about showing them, which may not be the case if you decide to make your "something blue" your garter or a piece of underwear. Your wedding day is one of life's few opportunities to express yourself and have exactly what you want for the day to be special and memorable for you and your new spouse. So, be adventurous and imaginative, never negotiating on personal style and your sense of identity.
Photo Credit: www.notonthehighstreet.com