Walking Down The Aisle – Stressful Strut or Mellow Meandering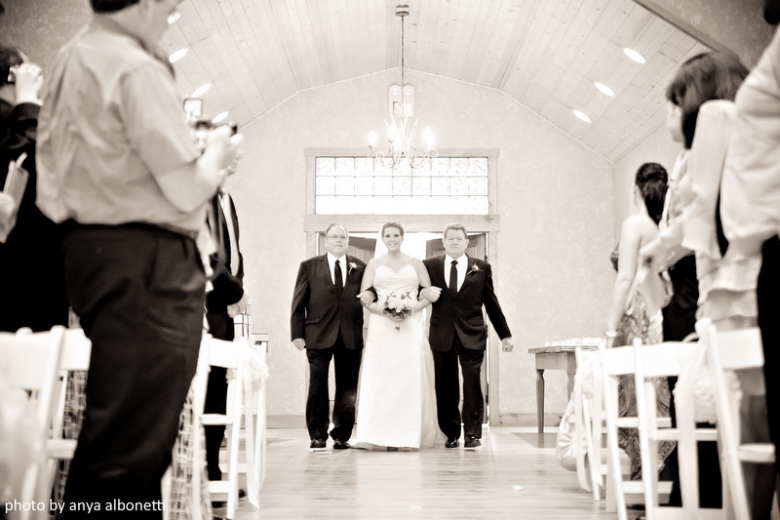 There are so many facets of your wedding day that need to be remembered and planned. Often, it is the traditional parts of the day (such as the cutting of the cake, the first dance and the garter / bouquet throwing) that get relegated to being just that, traditional. However, by putting some thought into new and innovative ideas, or because of necessity, many bridal couples have come up with unique, fun approaches to these common wedding features.
Walking down the aisle is one of the activities that most brides anticipate with equal measures of anxiety and excitement. Your first appearance in front of a sea of friends and relatives is punctuated by the face of your groom at the end of this pathway, awaiting his bride in anxious adoration. This is a very special moment, and can be made all the more memorable by ensuring that it is exactly the way you want it, and perhaps even by adding a unique twist.
Deciding who should walk you down the aisle may be an obvious choice, as the father of the bride is the traditional option. However, not all family structures allow for this. In these cases, the bride may choose her stepfather (if he was more present in her life than her real father), or she may choose to let their mother have this privilege; either because of an absence of the father, or because she feels that her mom played a more integral part in her upbringing. A sibling or best friend is also appropriate, particularly in the case where the children grew up without parents, or if they are particularly close (e.g. twins or childhood friends). Some brides feel more comfortable walking down the aisle alone, and others have even chosen to have their future spouse walk alongside them. This allows the guests their first look at the couple together, and certainly works toward creating a lasting impression of the dazzling husband and wife.
Most brides include flowergirls and / or bridesmaids in their wedding entourage. It is important to decide well ahead of time, and then inform them and practice the order in which they will walk down the aisle. Also vital is to decide whether you, as the bride, will walk directly behind them, or if you will allow them to take their position at the front before you enter. Keep in mind that the photographer and videographer may not be able to get a clear shot of you if you have them walking directly ahead of you.
Another aspect to consider is the music being played during your walk down the aisle. Either because of a genuine preference, or because of a lack of time or preparation, many brides walk down the aisle to the traditional sound of the wedding march. For something more personalised, consider having the music of your shared song played (without the words perhaps). If you have a friend or relative that can genuinely sing well, you may decide to ask them to sing as you enter. This will create a unique and personal touch to this moment. Alternatively, someone could read a meaningful poem or play an instrument. The option you choose depends very much on the type of wedding you are having (sometimes, a strict church wedding does not allow for a Van Halen intro segment) and personal preferences.
Finally, if you are having a garden or outdoor wedding, the aisle may not have to be as defined as a church wedding. For example, a garden with flowerbeds or trees may allow for the bride to walk amongst the blooms and boughs, creating a dramatic entrance. A wooden bridge or the stepping-stones across a pond are also great alternatives. Involving the guests works well in some settings and getting children or guests to form an aisle by holding hands or making an arch with their arms is fun and different. If you prefer the idea of walking down a more formal aisle, candles, petals and flowers along its edges always do well in creating a romantic ambience.
Your wedding day grants you one opportunity to include those people that are most special to you and to do things in a way that makes you and your future spouse happiest. Do not miss the ample opportunities to create an event out of every moment.
Photo Credit: www.twotwentyone.net