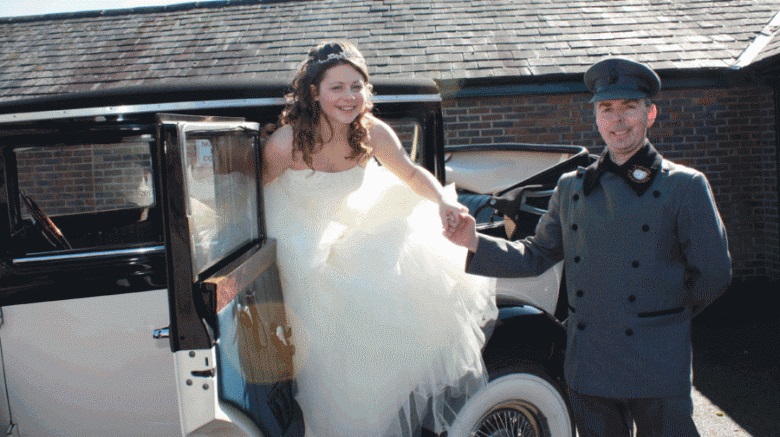 Many modern wedding planners have embraced the notion of this day being about celebrating your love in a way that is unique to your personalities and tastes as a couple. While the traditional methods of doing just about anything are still used and valued for their merits, brides- and grooms-to-be are generally more open to exploring new, exciting ideas, which will create a meaningful and memorable occasion for them and their guests. The transport that you use can be a feature. It can introduce humour, romance or a vintage look and feel, even if you have chosen to downplay the other elements of your special day. For this reason, we urge couples to consider their options carefully, be creative and be daring. Your guests are sure to remember your novel approach and your wedding photographs will certainly have a different twist to them.
The following ideas are only some of the less traditional wedding transportation options:
Helicopter – if your budget allows (or if you have the necessary contacts) consider making your grand appearance beneath the whirring blades of a helicopter. This also gives you, as the couple, an opportunity to see the surrounds and enjoy some time together before descending (quite literally) upon your guests.
Train – we love this idea. Hire a tourist train to collect your guests from one station (preferably close to where your ceremony was held). Then, the train can either drop you and your wedding guests off at a location near to the reception venue, or you can enjoy your entire reception on the train itself. These trains are usually equipped with dining rooms, kitchen facilities and some even have space to dance. In addition, the changing scenery will ensure that your backdrops are never lacking! This is one that your guests will remember for a lifetime.
Walk – if your ceremony and reception venues are close to one another, considering walking with some or all of your wedding guests. This is particularly fun if there are active children or pets involved, and will made the day of passersby. It also offers prime opportunities for innovative photographs.
Boat – arrive at your wedding on a speedboat or gondola if there is water nearby. This is a distinctly "007" entrance and will thrill your guests.
Cycle – use a tandem bicycle or two separate bikes (do not forget your front basket and bell) to arrive in a fun, laid back style. Brides need to be very careful that they do not get chain oil on their dresses or ride so far that they are sweating on their arrival. This is ideal for country-style weddings.
Tractor – if your reception is to be held on a farm or game lodge, use the local equipment to evoke a chuckle in your wedding guests. A rusty old tractor draped in exquisite wedding blooms is the ultimate in vintage transport.
Wheelbarrows – let the groomsmen race to the reception venue with you, as the bridal couple, in two separate wheelbarrows. Whoever gets there first wins a prize!
Rickshaw – Durban brides and grooms may employ a local rickshaw man to decorate his rickshaw appropriately and take you along the coast of Durban. Be prepared to be the subject of many strangers' photographs.
Bus – if you have a particularly large wedding party, consider a tongue-in-cheek approach by hiring a luxury bus or an old school bus to arrive in style. This will be convenient, but will also set the scene for a fun event.
There are so many options available to modern brides. It is important to choose those that truly represent you, rather than sticking to traditional options for fear of being different.
Photo Credit: timeless-weddings.co.uk