East London Weddings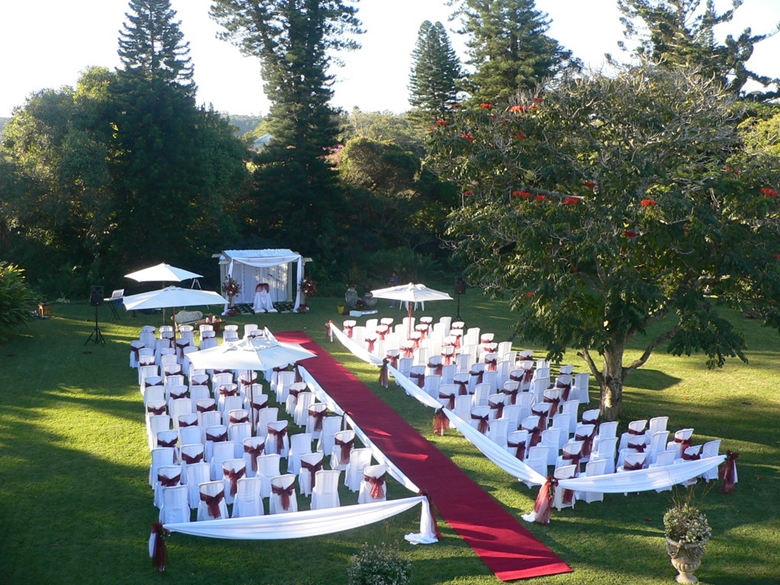 East London is a charming coastal town in the Eastern Cape Province of South Africa. Despite its growing size and popularity as a honeymoon and holiday destination, East London maintains a relaxed, inviting atmosphere; perfect for couples and guests that are seeking an authentically South African retreat, away from the noises, smog and rush of city living.
East London, also known as Buffalo City, is the gateway to the Wild Coast (meandering through rural Transkei) and the Sunshine Coast, which leads through Port Elizabeth (Nelson Mandela Bay) and ends in St Francis. It also boasts direct access to the magnificent Amatole Mountains. Therefore, it is optimally accessible, particularly convenient for couples with friends and relatives scattered throughout the Eastern Cape. It is approximately 3 hours from Port Elizabeth by car.
One of East London's prime attractions (for weddings, holidays and honeymoons) is its vast expansive of pristine beaches. These make for stunning wedding photo backgrounds, as well as for perfect escapes for those wanting to work off the stresses of life by lazing in the warm sun or swimming in the pleasant Indian Ocean waters. In addition, these beaches are the second homes of water sports enthusiasts, and honeymooning couples or vacationing wedding guests in East London are sure to spend hours trying their hand at SCUBA diving, sailing, surfing, swimming, snorkelling or even fishing. The dunes of Bonza Bay are huge, proving to be a lot of fun for sand-boarders as well as energetic beach goers that merely want to climb them just to see the gorgeous views from their elevated positions. Again, the photo opportunities atop these natural mounds are breathtaking.
East London has a significant cultural and historical heritage. The elegance of yesteryear is still felt in its architecture and wide roads. For the ultimately elegant wedding, East London assures bridal couples of the ideal venue. There are strong links to the German and British influences of centuries ago, which will only enhance the deep sense of culture for your big day.
Guests that have travelled to East London for your wedding are invited to stay on and turn their trip into a holiday.
Because East London boasts mountains, rivers, hotels, beaches and opulent resorts, it is able to accommodate all styles, sizes and themes of wedding. Whether you are dreaming of a glittering ball or a casual garden brunch, there will be the perfect venue nestled within East London for you.
Wild Coast Weddings and Events is one of the East London-based companies that undertake all of the arrangements for your wedding day to ensure that you get the best resources at the highest quality. From the venue to the entertainment, these experienced wedding planners can handle it all. They are well connected with local wedding suppliers, giving them a distinctive edge amongst their peers.
Some popular wedding venues in East London include:
The Country Bumpkin Restaurant (great for country-themed affairs)
The Blue Lagoon Hotel and Conference Centre
The Tidewaters River Lodge (on the banks of the serene Gonubie River)
2Swans Wedding and Function Centre
Inkwenkwezi Private Game Reserve
During your stay in East London, whether you are a honeymooning couple or a wedding guest that is extending your trip to include a holiday, there are a number of things to see and do. These include:
The East London Aquarium and Ocean Viewing Deck
The many beaches
The East London Coast Nature Reserve
Various golf clubs
The Steve Biko Garden of Remembrance
The East London Town Hall
Photo Credit: www.weddingmapper.com