Free State Weddings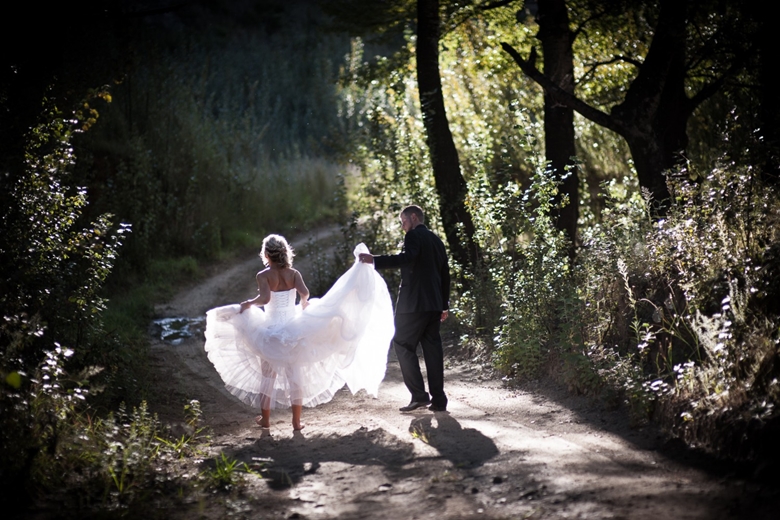 Flanked by the Vaal River and the Orange River, the golden fields and undulating hills of the Free State craft an idyllic venue for your wedding and honeymoon. Every photograph will reflect the undeniable magnificence of cobalt skies and sandstone mountains; an authentic African setting that is haunting and humbling in its natural beauty. The weather is almost always pleasant and the locals have a warm hospitality that radiates from them. In such an ambience, your wedding and honeymoon are sure to exude a magically memorable romance.
Bloemfontein is the capital city of the Free State and is equipped with a number of venues, wedding services and industry suppliers. Therefore, this province is not only gorgeous, but is also convenient for the wedding planner as all the necessary resources are close at hand. Because the scenery is so exquisite and the city so amply equipped, there are a host of different venue options for bridal couples, ranging from quaint farmhouses and lush gardens to luxurious hotels.
The Caledon Gardens Country Lodge in the pristine Clarens Valley is nestled within the highlands. The crisp air of the elevated mountains and the stunning views of the ample birdlife make for a coveted venue. The luxurious accommodation will assure the newlyweds of a first night full of pampering, or a honeymoon of life's little pleasures.
The Oranje Guest Farm is a working farm situated high up in the Fouriesburg mountains. The landscape is characterised by the red and gold of the sandstone cliff faces, and the lush valley's emerald splash is a tonic after the hustle and bustle of city living. The wedding venue is a renovated sandstone barn, which can seat up to 180 guests. This guest farm is situated almost halfway between Johannesburg and Durban.
De Stijl Gariep Hotel overlooks the magnificent Gariep Dam, while the surrounding vistas showcase the stark Karoo. This 4-star hotel has recently been renovated to ensure that bridal couples and their wedding guests are more indulged than ever before. There are a total of four wedding venues, which seat from 100 to 300 guests respectively. Stunning views, world-class cuisine and efficient, discreet service will guarantee the wedding celebration of your dreams. In addition, the Honeymoon Suite is the perfect retreat after your guests have retired.
The Free State is brimming with an array of things to do and see; particularly for honeymooning couples that are launching a new chapter of their lives in style. These range from natural attractions to adventure sports and testimonies of the rich cultural heritage of the province. Some of the sights and activities that simply must be sampled include:
The Free State National Botanical Garden (in Bloemfontein)
River rafting on Ash river
The Vredefort Dome (acclaimed as the oldest and largest meteorite impact site in the world)
Zoutspruit Game Camp – perfect for hiking
The Basotho Cultural Village
The Golden Gate National Park
The Sterkfontein Dam Reserve
The Gariep Dam Nature Reserve
Skydiving
Horse riding (Pumula Farm)
The National Museum Bloemfontein (known for its fossils and archaeological displays)
The Blou Donki Art Gallery in Clarens
Photo Credit: weddings.africanimage.co.za