Gariep Dam Weddings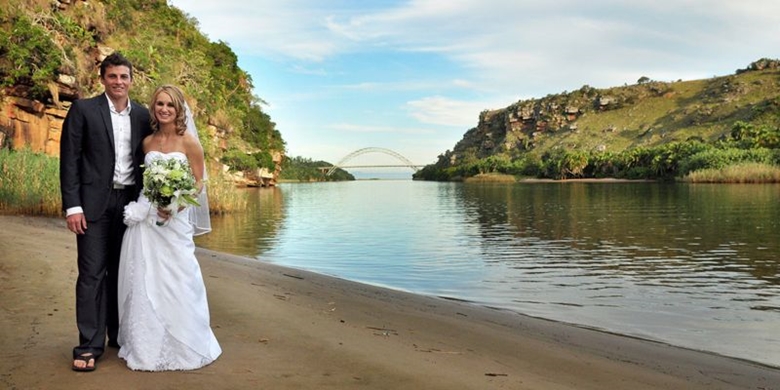 The massive and impressive Gariep Dam is situated between the Northern Cape and the Free State, both provinces of South Africa. Measuring 100 kilometres in length and 24 kilometres in width, it is the largest water storage reservoir in the entire country and has been likened to a landlocked sea for its seemingly endless borders. Perched on the mighty Orange River, the Gariep Dam guarantees spectacular views in the heart of the South African landscape. This reservoir is secluded within a deep gorge at the Ruigte Valley entrance. Such natural splendour sets the perfect scene for an unforgettable wedding day.
On the north shore of the Gariep Dam is the Gariep Nature Reserve, which boasts an impressive number of bird-, plant- and wildlife species. The various tours and facilities available in this reserve ensure that it not only creates an idyllic setting for your wedding day, but is also a fantastic honeymoon destination. In addition to the fauna and flora, water sports enthusiasts will be kept well entertained as they explore the Gariep Dam on boats or skis.
The Gariep Dam is less than an hour from Colesburg and about a 2-hour drive from Bloemfontein. So, it is conveniently situated and accessible to guests and service providers travelling from other parts of the country or even world.
Couples that are planning to get married do well to consider the Gariep Dam as a venue for your indoor or outdoor affair. Not only are the typical African sights and sounds awe-inspiring, but the honeymooning couple and their wedding guests will have plenty to see and do during their time here. These include:
The Karoo Gariep Conservancy
The Oviston Nature Reserve
Water skiing
Swimming
Boating
Canoeing
Bird watching
The Tankwa-Karoo National Park
The De Stijl Gariep Hotel (for outstanding meals)
Photo Credit: www.sleeping-out.co.za