Jeffrey's Bay Weddings
J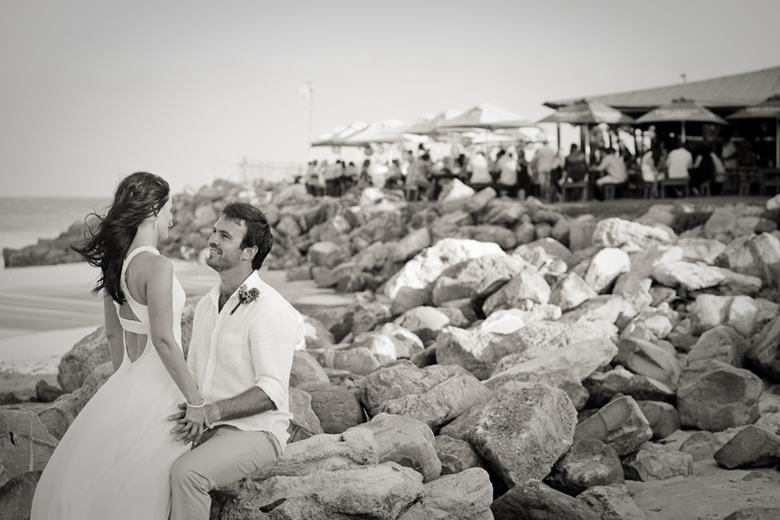 effrey's Bay is one of the world's most renowned surfing destinations. It is home to one of the legs of the international Billabong Surfing Competition, luring water sports enthusiasts and sportsmen and –women from all over the globe to witness some of the mammoth waves that crash along the pristine coastline. Despite the annual influx of visitors, Jeffrey's Bay (affectionately known as J-Bay) maintains its charming seaside village appeal. Indeed, this sleepy surf spot has combined natural coastal beauty with modern amenities (designed to accommodate the sudden surge in tourists during certain times of the year) to guarantee an idyllic wedding venue.
Of course, by its very nature, J-Bay is perfect for beach weddings and those celebrations that have a beach theme (whether or not they are actually enjoyed on the white sands of the Eastern Cape). The weather in this part of South Africa is particularly temperate, with warm to hot summers and pleasant winters.
By nature, Jeffrey's Bay exudes a laid-back African vibe, which permeates every aspect of it as a destination or a wedding venue. Therefore, it is ideal for relaxed garden weddings, country-style affairs, and so on. However, there are ample facilities for larger, grand affairs. Mentorskraal is one such facility. This guest farm has stunning sea views and is home to many birds and other animals. It has four wedding venues available, seating from 70 to 1000 guests! In addition, it has its own private chapel, making for a particularly convenient venue.
Many guests will likely travel to your wedding from other places in South Africa or, perhaps, the world. These ones will enjoy the abundance of things to do and see in and around J-Bay. In addition, couples enjoying their honeymoon here are met with a range of fun activities and interesting attractions to start their new lives as man and wife off with magical memories. In particular, there are several nature reserves and game parks in the immediate vicinity of J-Bay. The Noorsekloof Nature Reserve is part of a valley and focuses on the safeguarding of Valley Bushveld (e.g. trees such as the Euphorbia and the Milkwood). The Kabeljous Nature Reserve has a unique blend of Valley Bushveld with sand dune vegetation. Such variety has led to an equally diverse group of animals that make this their habitat. Seekoei Nature Reserve is just outside Jeffrey's Bay, where the Seekoei (or, in English, hippopotamus) River and the Swart (or black) River become an estuary. The lush conditions and the appearance of fynbos ensure that couples and wedding guests are in for a truly African experience.
In terms of game farms, the Lombardini Game Farm is just minutes from the town centre of Jeffrey's Bay, in the stunning Seekoei River Valley. Here, couples can enjoy early morning game drives, inviting accommodation and the opportunity to see some of South Africa's most beautiful fauna and flora. Because it is so close to the heart of J-Bay, this is convenient for both wedding guests and the newlyweds.
Port Elizabeth (Nelson Mandela Bay) is only 90 kilometres from J-Bay and is a popular tourist destination in its own right. In addition to shopping malls, entertainment complexes, casinos and beautiful beaches, Port Elizabeth also has a rich cultural and historical heritage, making for a fascinating destination. It is home to the Kragga Kamma Game Park and Seaview Lion Park, where visitors can spot lions, cheetahs, rhinos and more. The Addo Elephant Park is just outside Port Elizabeth and a 1.5 hour drive from J-Bay. Addo dates back decades and is home to almost 500 African Elephants, as well as many other wild species. There are chalets and camping grounds at Addo, should couples wish to extend their stay in the breath-taking surrounds.
Couples that appreciate the wonder of the African environment and want to incorporate such natural splendour into their celebration of love are sure to find the perfect venue in Jeffrey's Bay.

Photo Credit: www.monicadart.co.za