Kruger National Park Weddings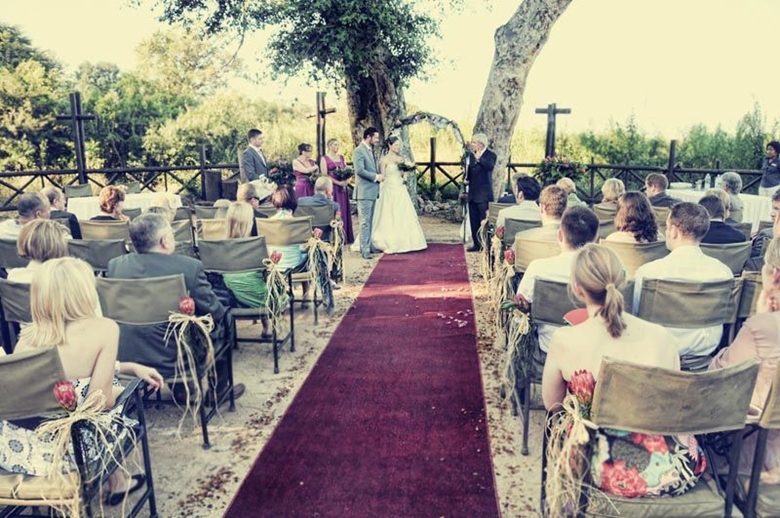 The Kruger National Park is one of the world's most popular tourist attractions. Having been established in 1898, it represents, to a large extend, the safari and game park experience of South Africa, promising one of the most exhilarating and all-encompassing safari trips available today. The park covers almost two million hectares (or five million acres) and comprises seemingly-endless expanses of unspoilt natural beauty, home to an astounding array of plant- and animal species. In addition, this area is also rich in archaeological remnants and historical sites (such as bushmen paintings), giving it an added sense of nostalgia and import.
The Kruger National Park is home to 507 bird species, 147 mammalian species, 114 reptilian species and 336 tree species, in addition to fish, insects and amphibians. Such diversity has spelt certain success for Kruger as a tourist hotspot as well as a wedding and honeymoon venue.
Couples choosing Kruger as their wedding venue are presented with an array of options in terms of venues and guest accommodation. The Kruger National Park offers a diverse choice, from camp sites and self-catering huts to 5-star lodges and private retreats (and everything in-between). This means that guests travelling here to celebrate your wedding day with you will be able to extend their trip into a memorable holiday. In addition, couples that wish to stay on as part of their honeymoon will be well-rewarded with luxury getaways and plenty of attractions and activities. Some of the favourite wedding venues in Kruger include:
Lion Sands Private Game Reserve (a magnificent reception venue complete with world-class honeymoon facilities)
Pestana Kruger Lodge (accommodates up to 120 guests in luxurious style)
Jock Safari Lodge (best for romantic, intimate weddings)
Protea Hotel Kruger Gate (offering stunning bomas for up to 200 guests)
Buhala Game Lodge (sheer opulence for up to 20 wedding guests)
Chapungu Tented Camp (nestled within the Thornybush Game Reserve)
Each venue offers a distinct appeal of its own. Because these are such popular choices amongst brides- and grooms-to-be, the many venues are well equipped and experienced enough to handle such functions. The unique desires of each couple are taken into account to create a bespoke event that will be meaningful to you and memorable for your wedding guests.
For guests that choose to stay on and for honeymooning couples that choose Kruger National Park as their newlywed retreat, there truly is an unrivalled abundance of sights, sounds and experiences. These include:
Wilderness trails and guided bush walks – experience the majesty and mystery of the southern African bushveld as one of the experienced guides reveals its secrets on foot. These tours last several hours and give visitors the opportunity to track elephants, rhinos and their wildest peers.
Game drives – take early morning, midday, late afternoon and night drives through the expanses of the park to see the many different species that have made this their home. Experienced, qualified guides will accompany visitors and provide interesting info along the way.
4 x 4 adventure trails – test your skills and your vehicle on the many different kinds of terrain in the Kruger National Park.
Indulge in a romantic picnic.
Be refreshed in the sparkling blue waters of the many hotels' swimming pools.
Play a round at the Skukuza Golf Course.
Be adventurous on the mountain bike trails.
Appreciate the natural world from a new perspective as you enjoy one of the many astronomy (stargazing) presentations.
Sample the diverse range of flavours and cuisines, which can be enjoyed in a number of lodges and restaurants in the park, or even outside under the African skies.
Photo Credit: www.fitzgeraldphotographic.co.uk