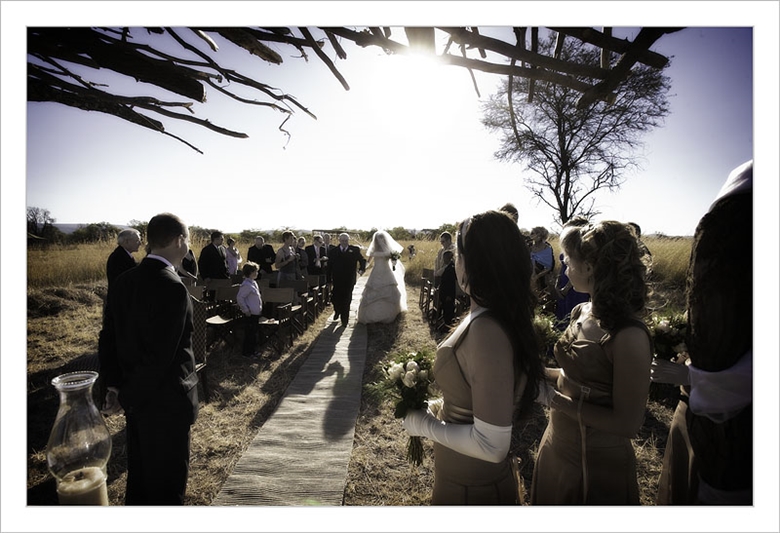 Limpopo is a province in the north of South Africa, sharing borders with Mozambique, Zimbabwe and Botswana. The mighty Limpopo River winds its way through the province while mountains loom over the vast Waterberg savannahs. Such natural treasures make for spectacular backdrops to any photograph, but add something really special to those taken at one's wedding and on honeymoon. Indeed, the mystical allure of the land creates a magical quality to any event, moment or photograph of Limpopo.
One of the distinguishing features of Limpopo is its sheer abundance of options. Lakes, forests and mountain make for a number of ideal settings in which to enjoy your wedding day. In addition, this area is home to the Big 5 (lions, leopards, rhinos, elephants and buffaloes), ensuring a destinations of truly epic African proportions. Because it has proven to be such a popular tourist destination, Limpopo is equipped with an abundance of resources. This means that wedding planners and brides-to-be will have plenty of service providers within close proximity, never having to negotiate efficiency and professionalism for gorgeous views.
The Tzaneen Country Lodge and Earth Spa is situated within the very heart of the hauntingly beautiful Lowveld. This private lodge oozes luxury and elegance, enjoying prime situation within indigenous forests. It is also accessible, being fewer than 100 kilometres from the Phalaborwa Gate of the world-renowned Kruger National Park. In addition to world-class facilities, ample opulent accommodation and excellent food, the Tzaneen Country Lodge is also equipped with a private chapel for onsite wedding ceremonies. The spa is an added treat for stressed brides-to-be or for the newlyweds in need of some TLC.
Chateau Larize, nestled within Bela Bela, is a country house that is acclaimed for its sense of utter peace and tranquillity. For an elegant country-themed affair, Chateau Larize combines rustic charm with world-class amenities. The scene is set with the equestrian centre, Jacuzzi, lush gardens and picturesque church. In addition, there is an onsite spa, perfect for working off the wedding-planning nerves.
The Bergsig Eco Estate is another very special venue, exuding romance in every aspect of its African chic offering. Bergsig includes high mountainous areas as well as low-lying bushveld, making for the perfect background to your wedding and honeymoon photographs. Group accommodation facilities are available for couples wanting to extend their wedding celebrations over a weekend with friends and family members.
Because these and many other wedding venues are situated within the heart of the awesome beauty that is Limpopo, wedding guests that have travelled here to celebrate your day have the opportunity to turn this excursion into a vacation of their own. There is an abundance of attractions and activities throughout the province, ensuring that both you, as the honeymooning couple, and your guests are never left wanting for things to do and see. Some of these include:
The Modjadji Cycad Forest
The Sapekoe Tea Plantations
The Sacred Debegeni Waterfalls
The Ebenhaezer Dam (perfect for leisurely cruises)
The Tzaneen Country Club 18-hole Golf Course
Quad biking
Abseiling
Tubing
Paintballing
Elephant back safaris
The Kruger National Park (Phalaborwa Gate)
The Hoedspruit Endangered Species Centre
The Kapama Cheetah Centre
Polokwane Meropa Casino
Blyde River Canyon
The famous Panorama Route
Fishing (catch and release)
Volley ball
Swimming
Mountain bike trails
Nature hikes
Canoeing
4 x 4 routes
Game drives
Bird watching
Photo Credit: www.benviljoenphotography.co.za