Port Alfred Weddings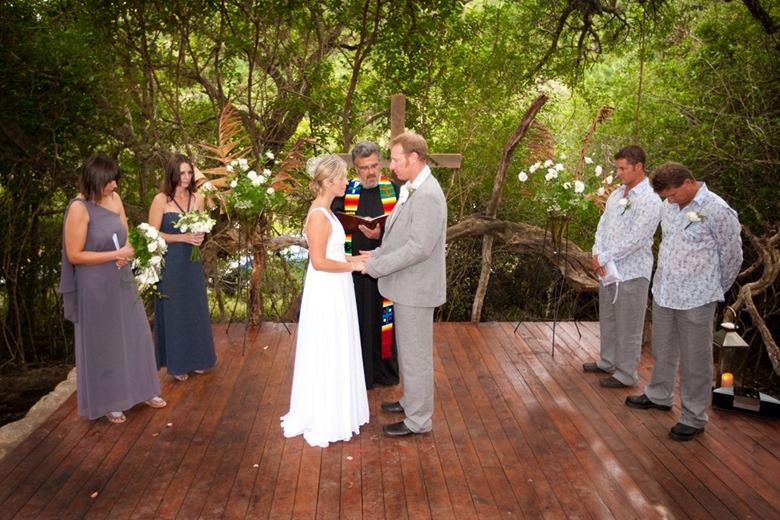 Port Alfred is a small coastal town in the South African province of the Eastern Cape. It has a small residential population, and is particularly popular amongst holiday-makers from all over South Africa, many of whom own holiday homes here. It is famous for its great surfing beaches and the beautiful marina, which is lined with luxurious waterfront homes overlooking the cobalt of the canal. It is located almost exactly halfway between Port Elizabeth in Nelson Mandela Bay and East London, also known as Buffalo City. The beaches, several of which have won awards for their safety and environmental responsibility initiatives as well as for their stunning swimming conditions, have proved to be gorgeous backdrops for wedding photographs. Some bridal couples have even used the white sandy dunes as their own ceremony and reception venues for a truly memorable outdoor occasion.
For those couples that have envisioned saying their vows in the heart of the South African bushveld, there are several game reserves and parks in the immediate vicinity, providing ample choice of venues. The Eastern Cape is free of the threat of malaria, making it safe for your wedding guests to attend. Most of the dozens of game parks are home to the famous Big 5 (lions, leopards, rhinos, buffaloes and elephants), making them perfect for honeymooning couples and vacationing wedding guests too. Some of these reserves include Sibuya Game Reserve, Mansfield Reserve, Kariega Game Reserve (with luxury accommodation and award-winning lodges), Nduna Game Reserve, the opulent Shamwari Game Reserve and Pumba Private Game Reserve.
There are various popular ceremony- and reception venues within the town of Port Alfred itself. These include the MyPond Hotel (a 4-star facility for intimate weddings or more lavish affairs), the Fort D' Acre Reserve (this 4-star venue has stunning views, as well as a lapa on the beach for a true beach wedding) and Halyards Hotel (situated right on the marina, this 3-star hotel is equipped to host any style of wedding).
Nearby towns include Kenton-on-Sea, Bushman's River, Grahamstown and Bathurst.
For couples that decide to enjoy their honeymoon in Port Alfred or for wedding guests that extend their celebrations to include a holiday in the area, the following attractions and activities are a must:
The pineapple farms of Bathurst
Engaging in water sports (swimming, tubing, surfing, SCUBA diving, snorkelling, deep sea fishing, sailing and boating)
Canoeing along the canal and Kowie River
Horse riding
Hiking and walking trails
The Cycad Nature Reserve
The Fish River Estuary
The Great Fish River Complex and Casino
The Waters Meet Forest Reserve
Game drives and safaris
Golf at the Royal Port Alfred Golf Course
Appreciate authentic South African art at one of the local arts and crafts markets
Pack a picnic and enjoy it on the serene river bank
The Historical Settlers Church
Go on a birding tour with Anne Williams
Have a day of pure pampering at one of the local spas
The Kowie Museum
Photo Credit: rm-photography.co.za