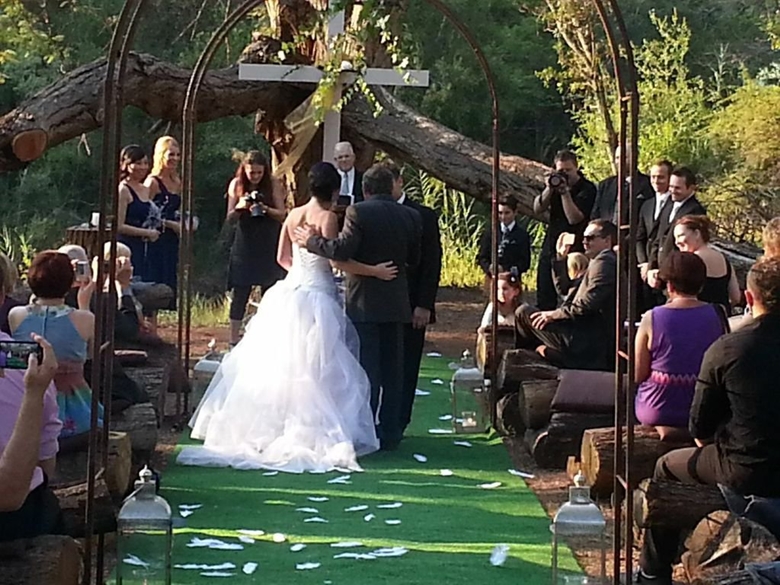 Pretoria is a beautiful historical city in the culturally and economically wealthy province of Gauteng, South Africa. It is just outside the commercial hub of Johannesburg, making it all the more accessible to local and international wedding guests. In addition, Pretoria is aesthetically gorgeous. Its rich foliage lines the streets and its greenery is scattered uniformly across its landscapes to create a lush, green retreat. Because it is such a booming destination, it is well equipped with an array of ceremony and reception venues as well as accommodation (for wedding guests and the honeymooning couple) and tourist attractions.
Pretoria is amply equipped to handle any style, genre and size wedding. In addition, venues are varied enough to cater to the needs of couples wanting an opulent affair and those needing to adhere to a strict budget. Another advantage is that Pretoria and Johannesburg have an enormous selection of wedding service providers (such as decorators, photographers, dress designers, caterers, videographers, and so on), so these are all conveniently close to the venue. This means that no unnecessary transport costs are added and that these service providers are able to be at your venues on time.
Venues vary from large conference venues to intimate lodges and include:
The ABSA Conference Centre
The Convention Centre
The Owl's Nest Wedding & Conference Centre
The Diep in die Berg Conference and Function Centre
The Pure Joy Guest Lodge (specialising in spectacular garden weddings)
Lombardy Estate Boutique Hotel (a 5-star establishment for intimate weddings)
Isiphiwo Guest Lodge (with a Gothic style venue seating up to 300 guests and a smaller, more traditional venue for up to 60 people)
Cricklewood Manor (offering couples hired classic cars and weekend accommodation packages)
Equestria Palms
Casa Toscana Lodge
Pretoria is renowned for the plethora of things to do and see within its ample borders. Of course, being so close to Johannesburg means that wedding guests and the couple have even more exciting activities and attractions around them, ideal for young and old alike. This means that guests can turn their trip to your wedding into a family holiday and that you, as a newlywed couple, may enjoy a fun-filled and romantic honeymoon in this area too.
Some local must-sees include:
The African Window (for cultural shows and displays)
The Air Force Museum
Burgers Park (the oldest park in Pretoria)
The Correctional Service Museum
The Fort West Village(boasting over 250 historic buildings and founded in 1880)
The Geoscience Museum
The Kruger House Museum
The Magnolia Dell (one of the city's most stunning and popular parks)
The National Botanical Gardens and the National Zoological Gardens
The National Film Video And Sound Archives
The Sammy Marks Museum
The Science and Technology Museum
Photo Credit: www.zenzele-game-lodge-near-pretoria.com