Stellenbosch Weddings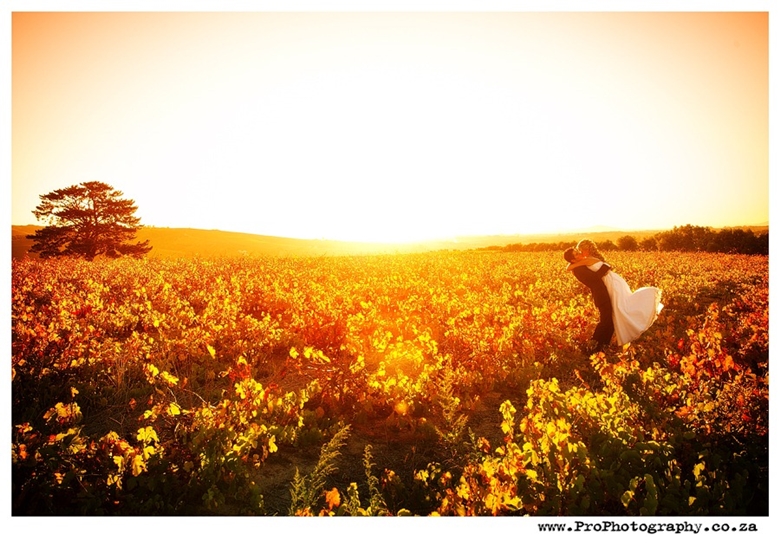 Stellenbosch is a beautiful town in the Western Cape Province of South Africa. It is concealed in the heart of the world-renowned Cape Winelands and is less than an hour's drive from the bustling metropolis and popular destination of Cape Town. In fact, Stellenbosch is acclaimed for three main elements – 1) its world-class wines and stunning vineyards, 2) its complex and fascinating cultural and historical heritage and 3) its population of students that are being taught at the well-respected Stellenbosch University. This town has successfully combined a village feel with a central and popular destination with lots to offer.
Because of its close proximity to Cape Town's International Airport (less than 30 kilometres away) and its abundance of visitor accommodation, Stellenbosch is the perfect place to have a romantic and elegant wedding ceremony and reception. It is accessible and guarantees stunning photo opportunities. Having been established in 1679, the historical wealth of the town is demonstrated in its architecture, giant trees, museums, galleries and wine farms (some of which boast the original farm houses).
Because of the abundance of venues and vineyards, bridal couples have far more options when it comes to choosing a venue that will suit the theme, look and feel of their special day. Whether you want a country-feel garden affair or a glamorous event that boasts that glitzy celebrity feel, you are guaranteed to find the perfect venue in Stellenbosch.
Some gorgeous estates and venues include:
Le Jardin – ideal for intimate weddings of up to 50 guests, this venue boasts tall oak trees, a Manor House and stunning vineyards that seem to roll on forever
Webersburg – this venue is flexible enough for any style of wedding and is characterised by its historical elegance
Lumley's Place – brides- and grooms-to-be that have always dreamt of a garden or outdoor wedding will enjoy this retreat. It can accommodate up to 150 guests outside and 80 guests inside
Hawksmoor House is situated idyllically on a 220 hectare wine farm and comprises a stunning restored Cape Dutch home, adding just that extra touch of class and glamour to your wedding day
De Kraal is a rustic country lodge that fulfils even the most discerning bride's desires. It has won the coveted Landscape Award and has an outdoor Jacuzzi, cascading waterfalls, stunning mountain views, scenic ponds and more
Stellenbosch is also perfect for sightseeing and has many attractions in and around it. These can be enjoyed by wedding guests that stay on after the wedding or by the couple if they decide to have their romantic honeymoon in this historical town. Some popular attractions include:
The Dorp Museum
The Historical Museum
Dorp Street
La Gratitude Art Gallery
Libertas Parva
Fallow Field
The Slave Houses
The University Botanical Gardens
Assegaaibosch Nature Reserve
Boschendal Mansion
Franschhoek
Franschhoek Pass
The Huguenot Monument & Museum in Franschhoek
Hottentots Holland Nature Reserve
Neethlingshof Wine Estate
Photo Credit: www.sybrand.co.za