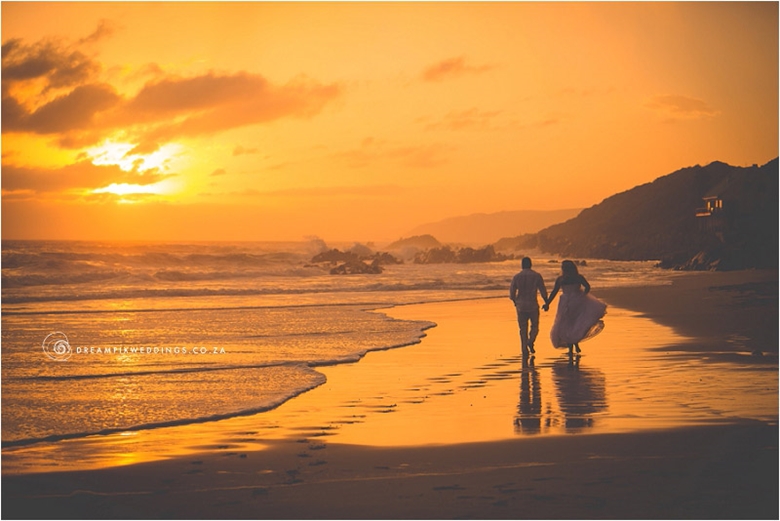 Tsitsikamma, a lush valley area nestled within the Eastern Cape puts the "garden" into Garden Route. This famous route stretches officially from Storm's River to Mossel Bay and unofficially from Port Elizabeth in the Eastern Cape to Cape Town in the Western Cape. Flanked by the Tsitsikamma Mountains and the turquoise of the Indian Ocean, this area is undeniably exquisite, one of South Africa's most valuable gems. In addition, its situation along the world-famous Garden Route means that it is optimally accessible and has convenient access to a host of South Africa's most popular tourist attractions and activities. This makes Tsitsikamma ideal as a wedding venue as well as a honeymoon destination. In addition, wedding guests that have travelled to the area to join you in celebrating your big day will no doubt find plenty of reasons to extend their stay into an unforgettable family vacation.
The Tsitsikamma Forest is characterised by its lush greenery, towering trees and mystical romance, which seems to flutter through the canopy and settle on every fern, tree trunk and butterfly's wings. The entire forest, covering a vast expanse, is a protected area, and every ancient square metre of its expanse is brimming with stunning plant- and animal species. Tsitsikamma, known for its abundance of water, is also characterised by countless age-old streams and rivers that meander through the mountains and into the gorges, feeding and sustaining the life around it. These forests and valleys make for the perfect outdoor wedding venue for couples that want to incorporate some of the authentic beauty that has made this country so special into their wedding celebrations.
The waterfalls, forests, fynbos and nearby coastline create a smorgasbord of ceremony and reception venues. In addition, these backdrops promise stunning wedding photographs and lifelong memories. Nestled within the lush vegetation are many lodges, resorts and log cabins, which are ideal for honeymooning couples or guests that are staying on after the event.
Lily Pond Country Lodge is in Plettenberg Bay and is a luxurious retreat that has hosted many weddings. The chic African style and vast gardens are surrounded by indigenous forests. In addition, several beaches are situated within close proximity to the lodge. The bamboo chapel is nestled within the forest for a truly unique ceremony, and both the couple and their wedding guests are sure to find it difficult to rival this magnificent setting.
Couples that choose Tsitsikamma as their honeymoon destination, or for those family members and friends that want to stay on for a holiday, will find that there is a number of things to do and see in and around Tsitsikamma. These include:
The ever-growing seaside village of Knysna
The magnificent Storm's River mouth
The Otter Trail
Hiking
Mountain biking
Monkey Land
Buffalo Hills Game Reserve
Robberg Nature Reserve
Knysna Elephant Park
Keurbooms River
Keurbooms Beach
Whale watching
Dolphin watching
Polo
Horse riding
Golf
Bungee jumping or fox flying from the world's highest jump, Bloukrans Bridge
Tubing
Boating
The Tsitsikamma National Park
Fishing
Embarking on forest trails
Sampling South African arts and crafts at the Tsitsikamma Forest Village
Canopy tours through the Tsitsikamma Forest
Camping
The Birds of Eden Bird Sanctuary

Photo Credit: www.weddingphotographerscapetown.co.za