Tying The Knot With A Bun In The Oven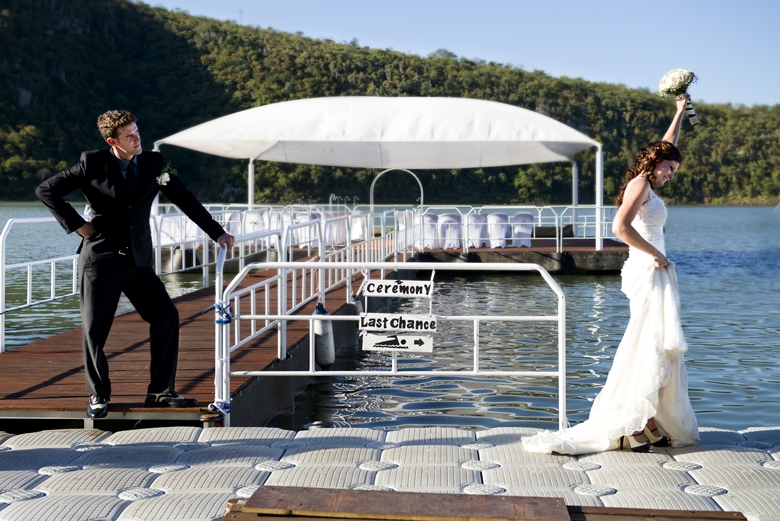 In this modern day and age, a "shotgun wedding" (getting married when you are pregnant) is generally no longer frowned upon. In fact, pregnant women often emit a healthy glow that makes them look all the more radiant and feminine on their special day. A pregnant bride-to-be can enjoy all of the elegance, fun and romance of her wedding day that other brides enjoy. There are, of course, some aspects that will need to be changed (even if only slightly) to ensure that she is happy and comfortable and that her day is successful.
The most important aspect of most brides' wedding day is usually the dress. An expecting bride needs to decide on whether she is happy to let her belly bump show, or if she wishes to conceal it somewhat. If she decides to minimise it, this may mean having to move the wedding date forward to within the first four months of her pregnancy, which limits the time available to plan the big day. Then, the design of the dress is very important. There are beautiful styles that show off the belly and increased bust line, without being clingy or uncomfortable. However, should you want to conceal the bump, do a lot of research and find the right wedding dress designer and seamstress for the job. Speak to other women who faced the same challenge and take their advice to heart.
Your main priority should be comfort, especially if you will be quite far along in your pregnancy. This involves the design and size of your dress, underwear, shoes and even jewellery, all of which can become almost unbearable when hands and feet are swollen and the mum-to-be is getting hot. Low heels are a must, and the bride should consider taking an extra pair of shoes that are more comfortable to the reception, where she may be dancing, or at which time her feet may have swelled a little more. The ring may be too tight to wear at the time of the wedding. The bride can use a larger alternative just for this period, or can have her ring made smaller after the birth.
Traditionally, the white dress was thought to represent a virgin bride. However, the origin of the colour actually originates from the Roman times, when white was a colour of celebration. Regardless of old ideas, brides today can wear whatever colour they desire. It is perfectly acceptable for a pregnant, or non-virgin, bride to wear a white dress.
Do not put too much pressure on yourself to walk around, dance and make sure that all of your guests are happy. Take time to sit down, drink a glass of water and relax. Guests can approach you and are sure to understand.
Opt for sparkling grape juice, water or a virgin fruit cocktail rather than champagne. This may be especially difficult on this day, when you feel nervous or stressed. However, it is no good to jeopardise the baby's well-being. In a similar light, do not allow guests to smoke in the reception area, but politely request that they go outside or to a specific smoking room. During pregnancy, there are certain foods that should be avoided. Plan the menu carefully with your caterer or reception venue to ensure that you are able to indulge in all of its delights. In addition, do not pick on foods that have been left out of the fridge or oven for too long.
Some women tend to feel somewhat self-conscious during their pregnancy as their cheeks begin to fill out and their ankles take on brand new proportions. Still, you do not want to avoid wedding photographs altogether and you certainly do not want to be looking miserable in them. So, embrace your physical changes and smile so that your captured memories are as happy and pleasant as the day itself.
Photo Credit: www.threecitiesweddings.co.za