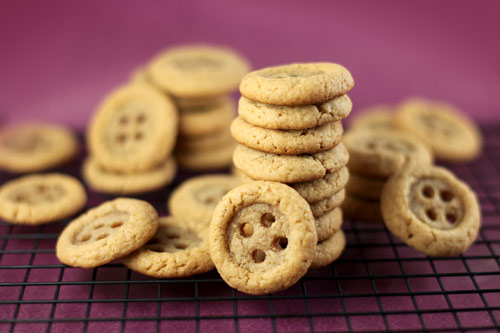 Edible guest favours always go down well with guests – male and female, young and old alike. These button biscuits are a brilliantly clever spin on ordinary sugar biscuits and will be guaranteed to create quite a stir at the wedding. Here's how to make your own:
Ingredients
3 cups cake flour
1/2 teaspoon salt
1 cup butter, softened
1 cup castor sugar
1 large egg
2 teaspoons vanilla
Optional: 2 tablespoons cocoa or drops of food colouring
Method
Whip the butter and sugar together in a mixing bowl until light and fluffy.
Add the egg and vanilla and mix well until blended.
Add the flour and salt to the mixture, bit by bit, and mix well until combined. For chocolate flavoured biscuits, replace 2 tablespoons of the flour with cocoa instead or add a couple of drops of food colouring if you wish.
Place the dough on a floured surface and break up into two equal balls. Flatten the dough slightly and wrap in cling wrap. Place in the refrigerator for about 30 minutes.
Preheat oven to 350 degrees Fahrenheit.
Take the dough out of and roll each portion to a thickness of about half a centimetre.
Cut the dough into circles using a cookie cutter.
Using a slightly smaller cookie cutter or cup, create the button's "rim" by simply pressing the cutter lightly into the cookie.
Take a straw or kebab skewer and make the button holes – 2 or 4, depending on personal preference.
Place on a greased baking tray and bake for 10 to 12 minutes or until light golden brown.
This recipe makes approximately 30 buttons which can either be packaged in a button tin or box. Alternatively, build a stack and thread ribbon through the holes.