Kiddie Guest Favours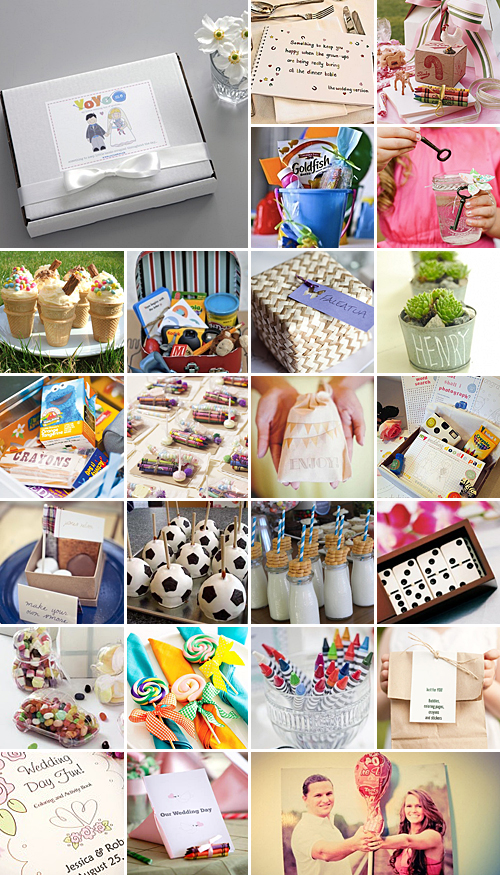 While the first thought of having kids at your wedding might be "oh goodness, pure chaos", in actual fact, including kiddies in the guest list can definitely add a lovely dash of energy and fun to the occasion. The trick to keeping the peace ultimately lies in keeping tiny hands out of trouble – here are a few kiddie favour ideas to keep them occupied:
Bubbles are always a big hit with kids, not to mention adults, and will only add to the splendour of your wedding day.
Outdoor toys like a bat and ball set, sandbox goodies,
Dress up toys! These will make for wonderful wedding pictures while keeping the kids entertained for hours.
Colouring book, crayons and a variety of stickers are ideal for creative little minds.
A cupcake decorating set, complete with fresh cupcakes, icing, sprinkles and brightly coloured sweeties – what's not to love?
DIY toys, such as a necklace or sun-catcher kit for the girls and clay or Lego set for the boys. Not only are these fun to construct, but the kids can play with it afterwards.
A themed party/DIY box, for instance a princess kit for the girls and a pirate kit for the boys.
Brainteasers – wooden and metal brain teasers are available at most toy shops and are an excellent way to keep active minds busy for hours on end.
A puzzle book is perfect for entertaining and developing bright minds in one go.
Puzzles and vintage board games – perhaps not one for each child, but rather a table where they can build and play together.
Aside from guest favours, there's also the option of arranging entertainment for the little ones to keep them occupied on the day. This can include a jumping castle, "cinema", kiddie photo booth and treasure hunt. Also consider appointing a nanny for the day to keep the kiddies out of harm's way and out of your hair.
For more Kids Guest Favour ideas, the original photos and their credits above, please make sure to check out our Kids Wedding Favours Pinterest Board!