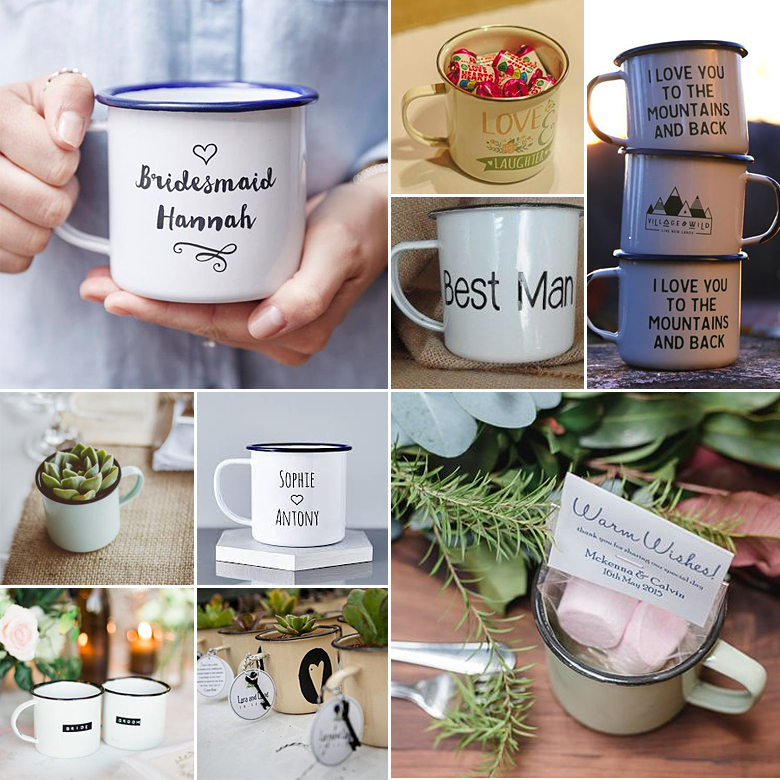 In most South African households, these mugs are synonymous with early mornings around the campfire or "moerkoffie oppie stoep" with your gran and grandpa. It's this sense of homeliness and nostalgia that tin mugs bring to the table on your wedding day
Use enamel mugs as cute little alternative to vases on the guest tables.
Hang the mugs along the sides of the aisle and fill them with freshly cut garden blossoms.
Hand-paint the mugs with personalised messages and patterns as gifts for your guests.
Alternatively, decorate the mugs with vinyl stickers carrying each guest's name – the perfect place card!
Spoil your nearest and dearest with mugs adorned with their titles, like "mother of the bride" and "maid of honour".
Serve midnight hot chocolate or coffee in enamel mugs to keep your guests energised.
Fill the mugs with an assortment of candy and place it on the guest tables.
Hang mugs from a tree outside the venue add a sense of whimsy.
Have Mr and Mrs mugs made, which you can drink out of during your photo shoot.
Use enamel mugs for the big toast, with bubbly or sherry.
Rustic Mugs Available on Celebration.co.za
The requested RSS feed cannot be loaded at this time. This XML document is invalid, likely due to invalid characters. XML error: Undeclared entity error at line 22, column 68
Original images and their credits available on Pinterest