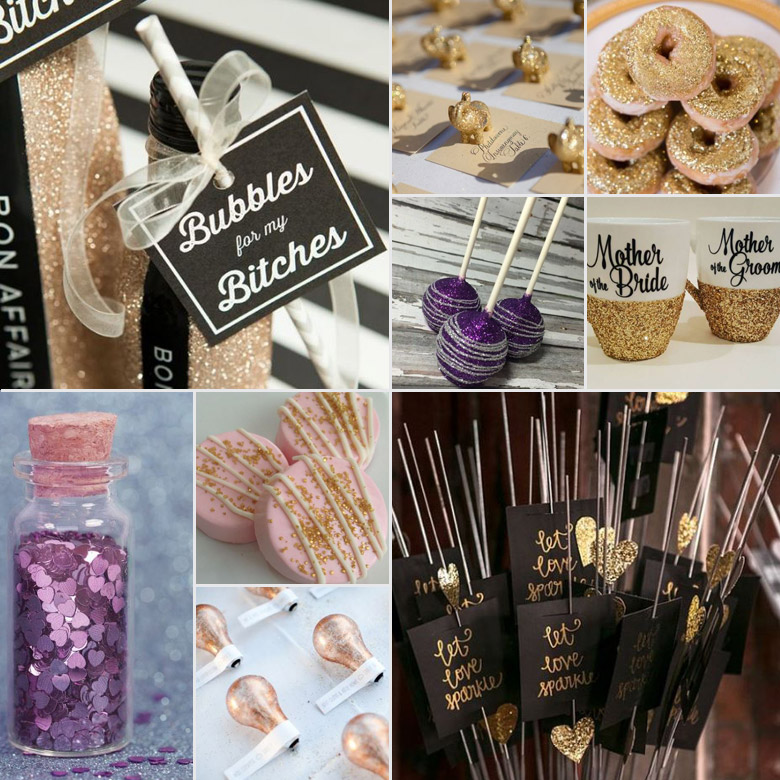 There's always room for more sparkle at a wedding – from the sparkle in the groom's eye to the sparkly guest favours on the tables. Today's post is all about the latter! Glitter favours add the right amount of sparkle to your guest tables, and they're bound to delight even the grumpiest of guests.
When it comes to glitter, there really are no rules and limitations. Here are a few quick ideas for glitter favours:
Whatever your guest favour is, wrap it in glittery wrapping paper.
Spoil your guests with delightful sweet treats like donuts and petit fours, covered in edible glitter.
Turn a simple candle into a DIY glitter-must-have! Simple coat the bottom half section of the candle in glue and dip it in the shiny stuff.
Glittery cake pops are every bit as cute as they sound, and can be personalised with a name tag around the stem.
Make your own glitter-dipped feathers, to complete your guests' place cards.
Use tiny recycled jars to make glittery snow globes to entertain your guests.
Treat your female guests to tiny bottles of luxurious glittery bubble bath.
Alternatively see if you can find glitter lip balm, just for laughs!
Original images and their credits available on Pinterest