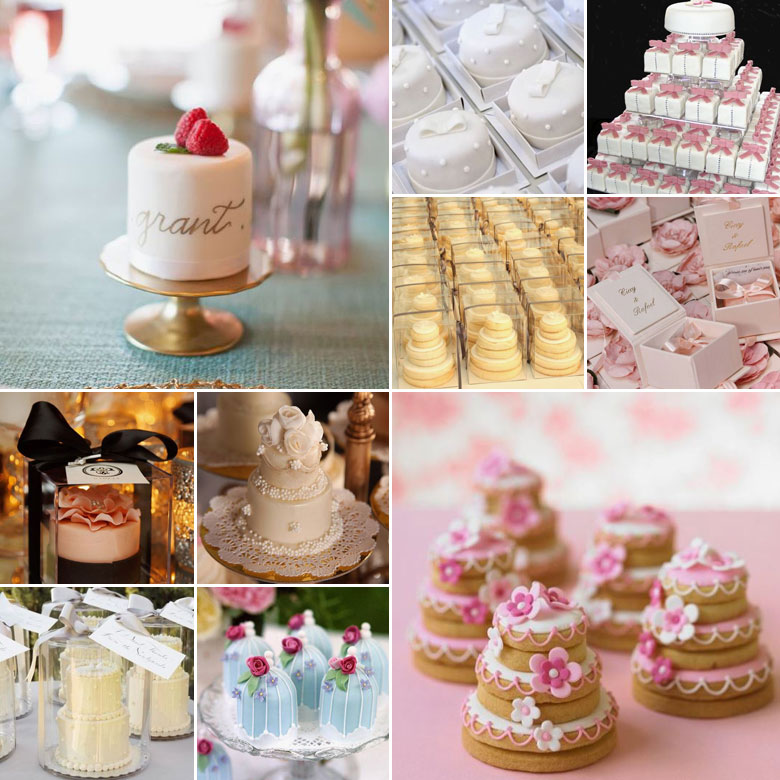 One of the reasons that many couples decide against the wedding cake is the fact that the cake often goes uneaten. Perhaps your guests just aren't cake people, or maybe your venue already includes dessert in the menu. But what if you didn't have to cut and serve your wedding cake at the wedding at all?
Wedding cake favours are a lovely and novel alternative to a towering wedding cake. What's more, after eating a full three-course meal, your guests will certainly love the fact that they can take a little something home with them to enjoy the following day.
Now let's talk shapes. For starters you can choose to go with cubed shaped cakes, mini slices or even heart-shaped cakes. But what we're really obsessed with is miniature tiered cakes where each guest gets their own personal little wedding cake!
If you still like the idea of displaying the cake for the world to see, why not arrange your mini cakes on a cake stand, instead of placing individually wrapped cakes at each guest's place setting? That way you can set out little boxes for guests to pack their cakes in at the end of the night, and still get to do a formal 'cutting of the cake'.
Original images and their credits available on Pinterest