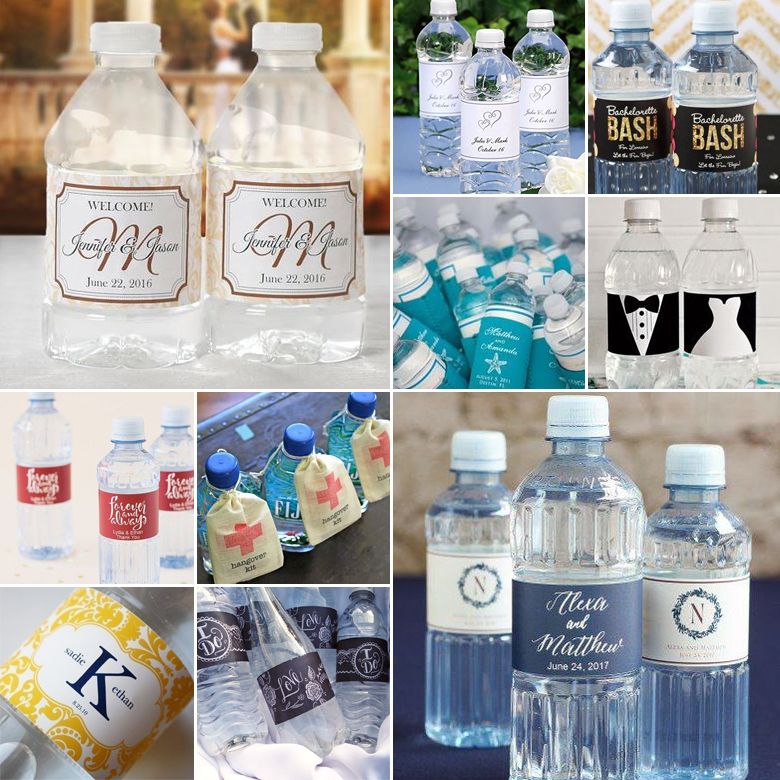 There's nothing worse than arriving at a wedding in the dead of summer, feeling parched after a long trip. It's therefore essential that you see to your guests' needs as they arrive at the wedding venue, by setting out a large quantity of bottled water to quench their thirst.
Bottled water is something that most venues offer, but this is an excellent place to add your own personal touch! Nowadays custom printed labels are the way to go – and why stop at wine bottles? If you have a wedding monogram, consider branding your water bottles accordingly.
If you're handing out water on arrival, you can customise the bottles with a cute little welcome note. Then again, there's also the option of giving guests bottled water as a guest favour – that's to say, at the reception. Here the labels can be personalised with your guests' names, which also serve as place cards, or you can add a thank you note to make your guests feel appreciated.
Last but not least, we just love the idea of giving bottled water as a parting gift for the road. You can make it even more quirky by attaching a small sachet of headache tablets to help your guests fend off post-wedding hangovers.
Original images and their credits available on Pinterest