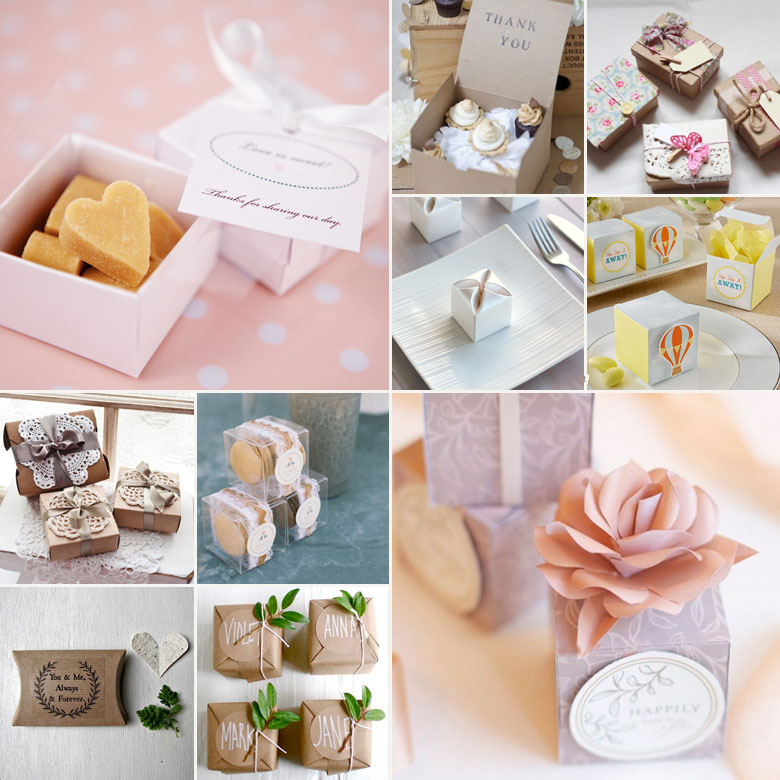 In the mood for boxing? Look no further! We have so many ideas for you… Using gorgeous little boxes at your wedding can add instant style and with so many options available, there's a box for every bride!
Present your wedding favours in little boxes filled with tissue paper. This is a very versatile option because anything from little chocolates and sweets to biscuits will work. Many brides opt for snack boxes these days. Use a pretty ribbon to tie cute utensils to each snack box. Your guests will love you for it!
For an unusual centrepiece, add flowers to a larger sized patterned box. Afterwards these boxes can be used for storage in your home or as gift boxes.
Boxes are available in SO many different shapes, colours and patterns. You are bound to find something that will suit your theme. If not, this is the perfect opportunity for you to get creative! Decorate your boxes with ribbons, string, beads, tassels, flowers, buttons, lace or netting.
If you are having a more eco-friendly or outdoor wedding, why not attach a gorgeous flower or leaf to a little box box wrapped in brown paper.
Here are a few suggestions on what you can tuck into your guests boxes:
Fudge – always a favourite!
A variety of biscuits such as macaroons, shortbread, etc.
Beautiful soaps are easy to access these days. Consider placing a beautiful soap into each box that matches something in your wedding e.g. your wedding colours or the flowers used in your wedding.
Seeds to plant a tree after your wedding day.
Customised truffles and / or chocolate e.g. truffles with the guest's initials.
A personal message from you and your partner thanking your guest for attending their wedding and sharing something special about having them there or something special about your relationship.
Boxes are fun to create and it makes for a great group activity with the bridal entourage!
Original images and their credits available on Pinterest