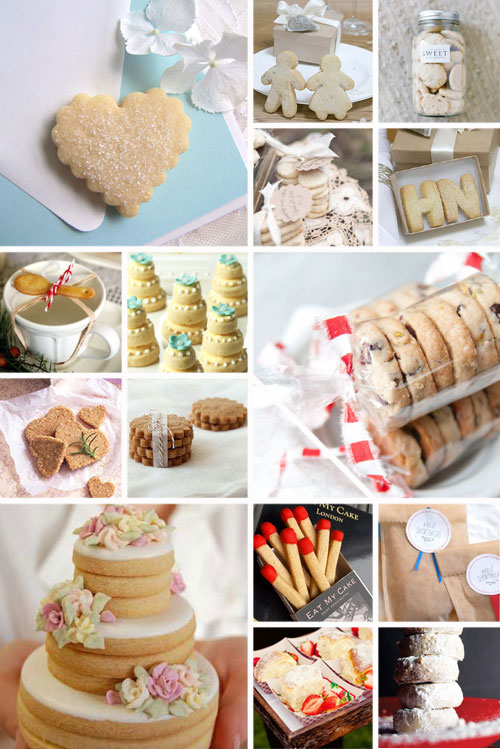 Shortbread certainly takes you back to sunshine mornings baking in Grandma's kitchen, and its melt-in-your-mouth texture is something that most tend to appreciate. Aside from its popularity, shortbread can be made up to a month in advance and stored in an airtight container, making it the ideal DIY guest favour. But enough chatter – let's get to the sweet stuff:
What you'll need:
1 1/3  cups unsalted butter at room temperature
2/3 cup sugar
3/4 teaspoon salt
3/4 teaspoon pure vanilla essence
3 1/3 cups cake flour
How to make 'em:
Preheat the oven to 275 degrees Fahrenheit.
Grease a large flat baking pan, and be sure to line the base with baking paper.
In a mixing bowl, cream the butter and sugar together until light and fluffy – approximately 2 minutes, using an electric beater.
Add the salt and vanilla essence, and beat/mix again until combined.
Gradually add the flour, a cup at a time, to the mixture while still mixing/beating at a low speed until blended.
Turn the dough out onto the prepared baking tray, and press it down lightly until the mixture is smoothed out to the desired thickness.
Cut the dough into squares or fingers, using a sharp knife. Prick the surface with a fork or make decorative patterns.
Bake for approximately 70 to 80 minutes, or until a pale golden colour. Do not over-bake.
Once baked, allow the biscuits to cool slightly in the pan, before turning it out onto a wire rack. Carefully break the shortbread along the cut lines, or slice with a sharp knife if necessary.
Once you've mastered the basics, these mouth-watering shortbread biscuits can be dipped in chocolate, decorated with sprinkles, cut into shapes and flavoured with essence in just about any way – so start practicing and experimenting today!
Original images and their credits available on Pinterest