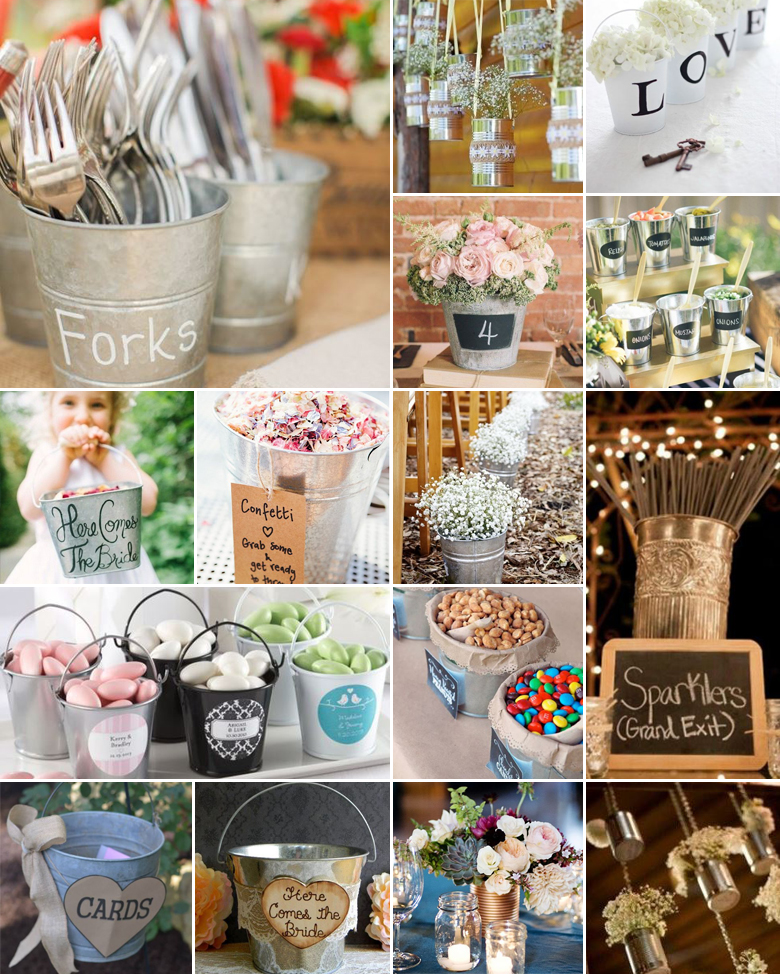 Containers are key when it comes to the wedding day, and can be seen and utilised all over the show – from vases on the tables to sweetie holders on the dessert table.
Lately we've fallen in love with metallic tins and buckets all over again. Whether it's the rustic charm or the shiny exterior, there's just something so incredibly magical and whimsical about them.
Use large buckets and metallic containers as flower vases and champagne buckets.
Fill small buckets with candies and place them on the guest tables.
Thanks to the handy handles, buckets can be hung from shepherd's hooks and even trees.
Use a metal pail as your wedding "guest book" and allow guests to scratch their names on the side.
Instead of a traditional ring cushion, place your rings in a tiny metal pail.
Collect recycled tins and melt candlewax into them for quick DIY candles.
Fill the bucket or tin with water and float candles and flower petals on top.
Use mini pails to hold cutlery and other essentials on the buffet table.
Hang metal tins from varying heights and fill them with small bunches of flowers for a striking focal piece.
Buckets and Tins Available on Celebration.co.za
The requested RSS feed cannot be loaded at this time. This XML document is invalid, likely due to invalid characters. XML error: Undeclared entity error at line 22, column 147
Original images and their credits available on Pinterest