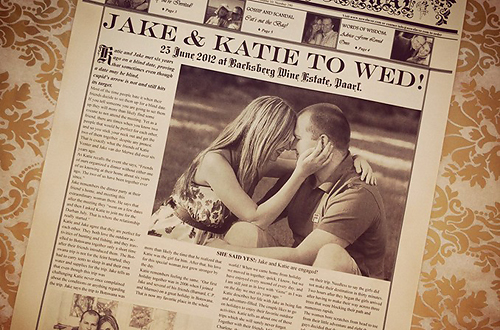 Vintage inspired weddings are one of the biggest wedding trends carried over from 2011 that are still going strong in 2012. There's something to be said about the old-world glamour and vintage elegance that just works with weddings. Maybe it's the timeless Victorian ivory and lace finishes which make a bride-to-be feel like a true lady in waiting. Maybe it's the vibrant colours of a carnival-inspired vintage theme that simply brings a wedding reception to life. There is simply something about vintage weddings that make us swoon.
Today's discovery, these gorgeous vintage wedding newspapers from personalized newspaper specialists NewsFavor.com, is just what the doctor ordered for the antique-inspired bride.
Printed in black and white on 100% real newsprint, these invites are literally vintage to the touch – an old-world bride's dream!
In addition to unique vintage wedding favours, they make perfect wedding invitations. A vintage newspaper announces your wedding in true days-of-old-style (in the way that only vintage newspaper can) while at the same time capturing your love story in print, forever.
Each vintage wedding newspaper is custom-written by NewsFavor.com's team of expert writers who will research and write several newspaper-style articles filled with your unique love story. Nothing beats sharing your journey as a couple with your guests in a timeless wedding newspaper keepsake that has been custom-created for your special day. A truly unique vintage-inspired gift.
Speak to the specialists at NewsFavor.com to enquire about a gorgeous custom-written vintage newspaper of your own today and enjoy they eye candy!
For more information, please contact Storm from NewsFavour.com