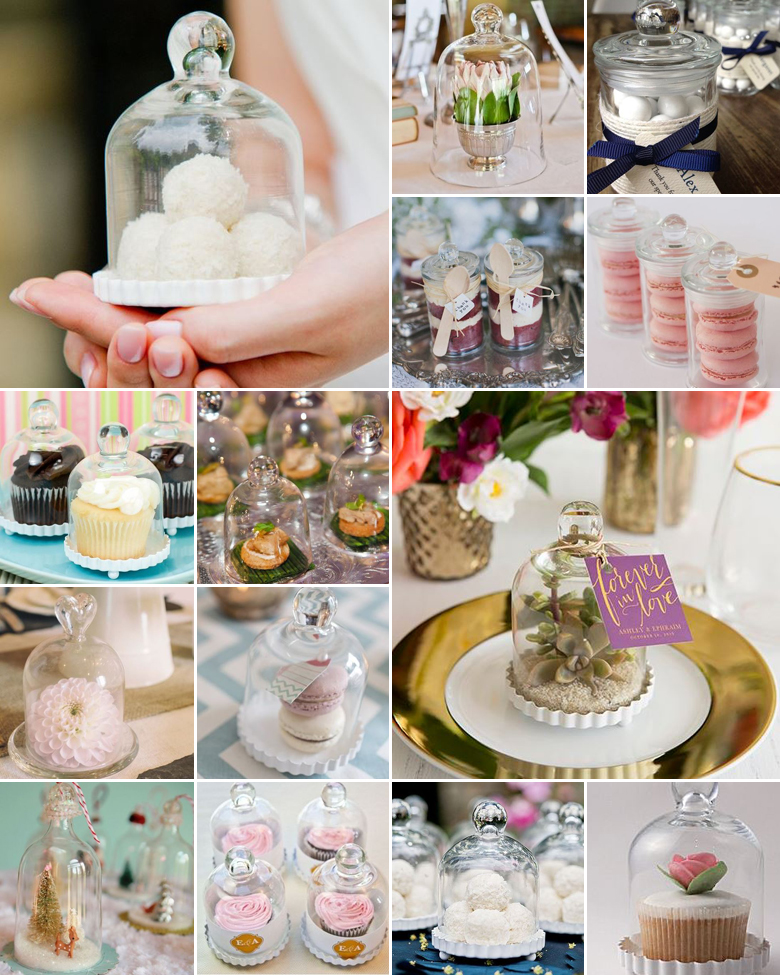 Bell jars have been a firm décor favourite in the wedding world for a couple of seasons now, but today we're talking about one thing and one thing only: Bell jars as guest favours!
In some instances, the bell jar can form part of the actual take-home favour, but if your budget is a bit tight just use the bell jars to present your guest treats. Here are a couple of ways to combine your bell jars and guest favours:
Place a beautifully decorated cupcake under a bell jar at each place setting, or group them in the middle of the table.
If you're opting for a vintage or French theme, macaroons or petit fours displayed under a bell jar is the way to go!
Turn the bell jar into a tiny little terrarium by planting small succulents inside.
Place a little candle inside each bell jar and ask your guests to light it at a certain time during the reception.
We love miniature favours! Place a tiny bottle of gin or vodka under each bell jar which guests can enjoy at the wedding or afterwards.
Present your bridesmaids with a little bell jar containing a dainty necklace, nail polish or lipstick that you'd like them to wear on your big day.
Make the actual bell jar the favour, and simply place a beautiful flower inside to make it eye catching.
Serve your starters under bell jars, and allow guests to take the jars home.
Display each guest's place card under a bell jar, along with a piece of candy or confectionary.
Place one giant bell jar in the centre of each guest table and arrange the guest favours under the jar.
Original images and their credits available on Pinterest