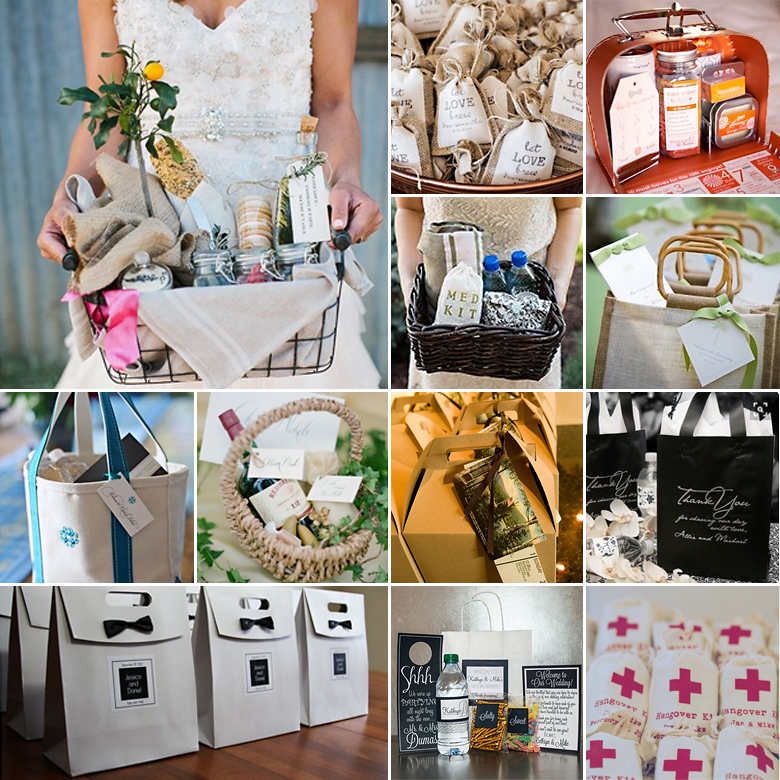 Some consider the welcome bag the evolution of the guest favour. Packed with goodies to survive this action packed day, this bag of joy is the ideal way to spoil special guests. If you can't afford to give every guest a bag, simply reserve it for your honorary guests or entourage.
Here are some ideas for themed welcome bags:
Hangover kit: This bag of goodies is for after the wedding, and packed with headache tablets, energy bars, bottled water, a coffee voucher, and so forth.
Celebration kit: Ensure your guests are ready to celebrate your marriage! Fill the bag with a mini bottle of champagne, glow sticks, sparklers, streamers, a disposable camera and confetti.
Bridesmaid kit: Spoil your bridesmaids with the little things they'll need on the wedding day, like hand lotion, pretty earrings, lip ice, tissues, etc.
Summer wedding kit: The South African sun can be brutal, so the idea with this bag is to keep guests protected – think sunglasses, paper fans, bottled water, some fruit and sunscreen.
Kiddies bag: If you're expecting children at the wedding, keep them entertained with a bag filled with colouring books, crayons, sweets, sandcastle toys, and so forth.
Travel kit: Make sure guests travel home in comfort with an assortment of road snacks.
Need Help with Your Welcome Bag?
We can most definitely assist you! We have helped both corporate clients and wedding clients with welcome boxes and bridal boxes. Contact us today with what you need and we will assist you further AND within your budget!
Original images and their credits available on Pinterest